Art Tatum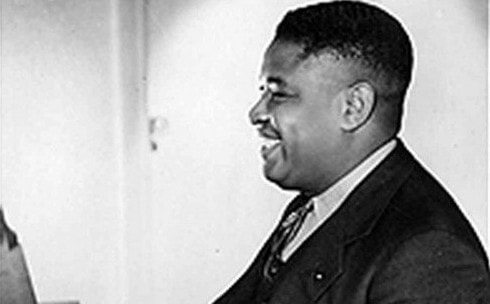 "God is in the house tonight" were the famous words uttered by pianist/composer extraordinaire Fats Waller on Art Tatum.  In Jazz history there have been few players with the imagination and more importantly technique, that astonished everyone who crossed his path.  Born on October 13, 1909 in Toledo, Ohio Tatum was nearly blind at birth.  He grew up in a family that played music at church, where he learned hymns as a toddler and although he had some formal musical training, he sidestepped a classical career after falling under the spell of Fats Waller's playing.  His first recordings were made in 1933, and "Tiger Rag" demonstrated devastating chops and conception.  Living in New York, Tatum became quite well known in cutting contests, musical duels where musicians on the same instruments try to best each other.  It was clear by these contests that Tatum had no competitors.  Norman Granz, the popular Jazz impresario signed Tatum to his Verve label in 1953 for watershed recordings in the history of piano led Jazz.
Initially receiving their release on Pablo Records, Tatum's several albums of solo and group performances have been studied for many years, with the solos tracks being first takes in most cases!  Tatum's approach varied from that of the stride style of Waller, (in which the left hand plays a loping two beat feel as if one is walking down the street while the right hand plays lead and accents) and Earl "Fatha" Hines, (one of the first to adopt single horn like lines on the piano in an smooth manner).  Tatum's excursions on pieces such as "Love For Sale" and Duke Ellington's "Just a Sittin' and A Rockin'" contained elements of stride, but his left hand explored different and expansive harmonic territory while his right hand let off lightning improvisatory runs in his right hand. He was also capable of stunning octave (one low note, and high note eight notes apart) unisons.
Tatum loved to play, and he often played at parties or his home.  Some of these recordings were preserved for posterity and he remained a vital force until his passing of uremia on November 5, 1956.  The continued legacy of Tatum is impressive, having influenced legions of pianists.  Within the past fifty years the most significant is Canadian born Oscar Peterson.  Peterson is a direct descendant of Tatum stylistically, and also recorded for Norman Granz in a similarly prolific manner.
In 2006, a company called Zenph fabricated digital recreations of Tatum's playing through piano rolls, and recorded them in front of a live audience at the Shrine Auditorium where Tatum had made the performances decades earlier.  Of players today, Japanese born, New York based Hiromi Uehara has proved she thoroughly assimilated Tatum's technique and applied them to different areas of Jazz showing Tatum's innovations are not forgotten.