Art Blakey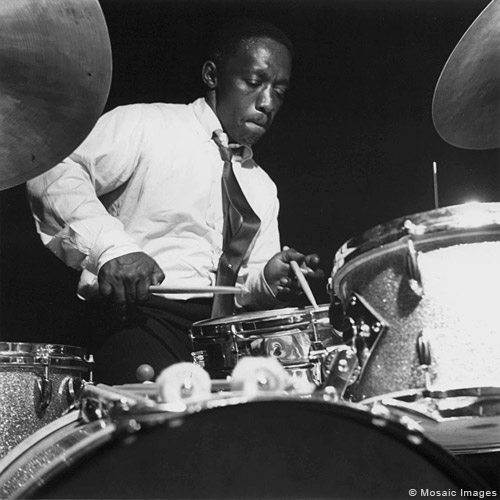 Art Blakey for six decades led one of the greatest small group Jazz ensembles in history. The Jazz Messengers was a university for aspiring young players such as Freddie Hubbard, Wayne Shorter, brothers Wynton and Branford Marsalis, James Williams, Mulgrew Miller, Donald Harrison, and Terence Blanchard who would all go on to lead their own careers. Born on October 11th, 1919 in Pittsburgh, Pennsylvania, Blakey aspired to be a pianist until he heard Errol Garner, and a hold up at gunpoint ended Blakey's pianistic career. He switched over to the drums with his own ensemble in 1937, playing with Fletcher Henderson in 1939, then with singer Billy Eckstine in 1942. Blakey also went to Africa, studying the culture and drum techniques in 1948.
In 1954, he assembled a quintet with trumpet phenom Clifford Brown, alto saxophonist Lou Donaldson, pianist Horace Silver and bassist Curly Russell. The group, taped by Rudy Van Gelder for Blue Note records on February 22 live at Birdland for an important two volume album release. The albums were the seeds of hard bop in utero, though most of the music on the date followed bebop convention. Blakey's hard driving style drove the proceedings with untuned, resonant drums, strong high hat accents on two and four, triplet polyrhythms on the snare or rim and his trademark thunderous press roll, which would spur on soloists.
The following year, Blakey formed a cooperative with Horace Silver, known as the Jazz Messengers. With trumpeter Kenny Dorham, tenor saxophonist Hank Mobley, and Doug Watkins on bass in tow, they taped an evening at the Cafe Bohemia in New York, that signalled the arrival of hard bop. Hard bop was for the people, bringing in the funkier influences from rhythm and blues and gospel, Silver and Blakey were pioneering forces.
Silver left the group in 1956 to form his own, leaving the name to Blakey who recorded albums for a variety of labels, including a seminal date with Thelonious Monk added to the Messengers for Atlantic in 1957. From 1957-1962 Blakey recorded 5 all drum ensemble albums for Blue Note investigating the melodic and rhythmic complexities of the drums. Other star drummers who appeared on these sessions included Philly Joe Jones and Arthur Taylor. Blakey scored a massive hit in 1958 with the album "Moanin'" featuring the precocious teenage trumpeter Lee Morgan, and tenor saxophonist/arranger Benny Golson. The sixteen bar tune gospel inflected tune was composed by pianist Bobby Timmons and featured Blakey's signature shuffle.
The next significant bands led by Blakey included Lee Morgan and saxophonist Wayne Shorter, then beginning in 1961, trumpeter Freddie Hubbard replaced Morgan and trombonist Curtis Fuller was added. The group had a much bigger sound due to the three horns in the front line, and were capable of more detailed arrangements. An essential, must hear track from this group is "Free For All" from the 1964 Blue Note album of the same name. A Wayne Shorter modal original, the title tune caught the band on fire in such a way, you hear band members screaming during the solos, and Blakey's playing comes closest to Elvin Jones and Tony Williams with free use of the high hat and verbose explosiveness.
Throughout the rest of the sixties Blakey led the Messengers with various members including Chuck Mangione and pianist Keith Jarrett, he kept the flame of acoustic Jazz alive in the seventies, and led a notable group with Wynton Marsalis on trumpet, and Branford Marsalis on saxophone in the early eighties. Blakey led groups all the way until his death on October 16th 1990. The legacy of Blakey's combos lives on in mainstream Jazz, the many albums remain undisputed classics. Regarding Blakey's drum innovations, drummer Ralph Peterson put it best: "Art Blakey was every bit as polyrhythmic as Elvin Jones".