Benny Goodman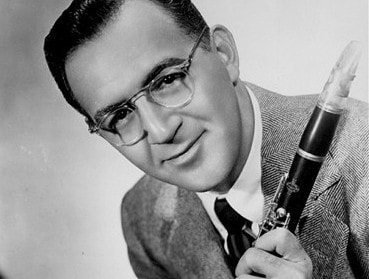 Benny Goodman is one of swing's most famous exponents. The rise to mass popularity, and his racially integrated bands are among his milestones. Born on May 30, 1909 in Chicago, Illinois, Goodman excelled at music from an early age. He learned clarinet at 10 years of age, and quit school at the age of 15 to pursue music full time. He played with Ben Pollack, and formed his own group when the Great Depression struck. Benny's first recordings as a leader were made under the supervision of John Hammond in 1933, and in 1938 recorded a famous concert at Carnegie Hall which remains a cornerstone of his discography.
Goodman's bandleading, and smooth tone anchored several significant developments in the early history of Jazz. One development was a series of small group swing recordings crucial for several reasons; introducing young electric guitarist Charlie Christian, Jazz's first major guitar player, who created a new vocabulary, and was at the cutting edge experimental sessions that birthed bebop at Minton's Playhouse. Even more important, along with Christian, pianist Teddy Wilson and vibraphonist Lionel Hampton in tow, was the fact the band was racially integrated. In the mid 50's Goodman was a ambassor of Jazz, touring Europe and Asia.
In the late 60's and 70's, Goodman was found reunited with former bandmates and later played Carnegie Hall in 1978. Goodman was given honors by the Kennedy Center in 1982, and both a Grammy Lifetime Achievement award, and honorary Columbia doctorate in 1986, a year in which sadly, he passed away. Goodman's legacy will always be remembered in music history for popularizing swing, and making millions happy with his music.