Billy Eckstine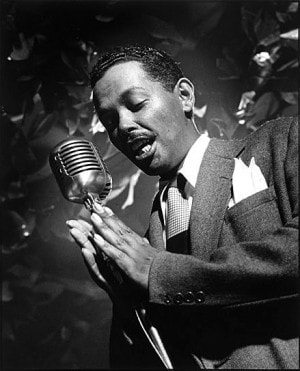 Billy Eckstine was one of the most important male vocalists in Jazz during the 1940's being as popular as Frank Sinatra, the most significant vocalist of the era. Eckstine also pioneered big band bebop. Eckstine was born July 8th, 1914 in Pittsburgh, Pennsylvania. Moving to Washington DC at an early age, education was of prime importance to the Eckstine family. Eckstine at one time wanted to be an athlete, and went on to attend the prestigious Howard University after finishing high school. While at Howard, he won first place in a singing competition, and chose a music career instead of school.
Eckstine relocated to Chicago in 1937 and two years later joined pianist Earl Hines' Grand Terrace Orchestra. He learned many skills over four years with Hines and scored among many successes, "Jelly, Jelly" which Billy would be known for the rest of his career. Eckstine also holds the distinction of being the first black singer to perform on the radio with his rendition of "Skylark". In 1943, he formed his own band which at various times included trumpeters Fats Navarro, Dizzy Gillespie, tenor saxophonists Dexter Gordon, and Wardell Gray, and drummer Art Blakey. The band turned out to be the first bebop oriented big band. Unfortunately, this style proved to be less lucrative for him, than his popular vocals and rich ballad singing in his baritone voice.
In 1944, Eckstine toured the south, in a very important move, the audience was ordered to be desegregated. The tour made over $100,000 dollars. Three years later he was signed to MGM Records where he had a number of hits such as "Everything I Have Is Yours" and "I Apologize", his style of singing was seen as antiquated. He recorded with Sarah Vaughn, a duet titled "Passing Strangers".
Because the popularity of big bands and bebop went down in the fifties, Eckstine did not have the same success as the previous decade. He did record with Count Basie, Sarah Vaughn and many others. He appeared at the Newport in New York Festival in 1972 with an all star combo, and recorded his last album with alto saxophonist Benny Carter in 1986. Eckstine passed away in 1993, leaving a rich musical legacy and an unforgettable imprint among male vocal stylists.