Chick Webb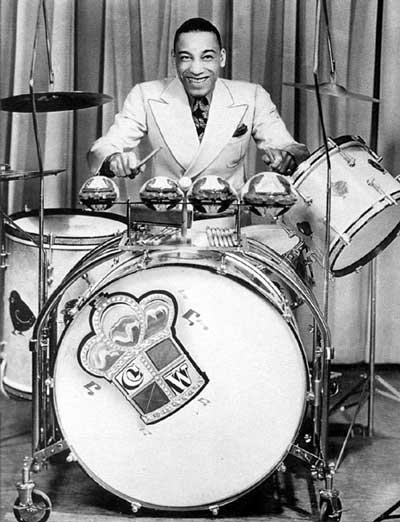 Inventive and dynamic, Chick Webb lead one of the most swinging big bands of the 30's, where he regularly held court at New York's Savoy Ballroom. Born in Baltimore, Ohio on February 10th 1909, Webb contracted spinal tuberculosis which struck him with a hunched back,also mostly disabling his legs. He used special pedals to assist him at the drumkit. Webb saved up money to buy his own drum set after a stint with an ensemble named the Jazzola Orchestra, and when he arrived in New York he played with many luminaries. After gigs with Duke Ellington, Benny Carter and many others, the following year he led his own small groups.
Through the rest of the decade the band expanded from an octet to as many as 11 members, and the gigs got better as Webb's group played major New York clubs. Webb created innovations in Jazz drumming at that time, because on recordings often what was heard was woodblocks, maybe a bass drum, and a cymbal. Webb utilized the full kit in his drum solos permitting a greater flexibility. By 1931 Webb renamed the band the Chick Webb Orchestra, and the group was star studded featuring alto players Benny Carter and Louis Jordan (soon famous for his own jump blues) and trumpeter Mario Bauza. A few years later there was a key shift in personnel.
In 1935, Webb hired the young vocalist Ella Fitzgerald. Fitzgerald as a teen had won talent competitions at the Apollo theater, and she was to receive her big break with Chick's band. The orchestra was signed to Decca Records and in 1938, recorded the Fitzgerald penned novelty "A Tisket A Tasket". The sugary sweet song, which Fitzgerald delivered with her trademark youthful vocals became a huge hit. Webb was also known for his hard swinging rendition of "Stompin at the Savoy", with a round of solos through the band. Webb was a champion in many battle of the bands matchups, where many groups were simply outplayed off the stage.
In 1938, Webb had an operation due to poor health and passed on. Fitzgerald continued to lead the band until 1942. Webb's influence is heard in many drummers, such as Buddy Rich and Art Blakey, where the unflagging drive and swing took center stage. For those qualities, Webb will always be remembered.