Count Basie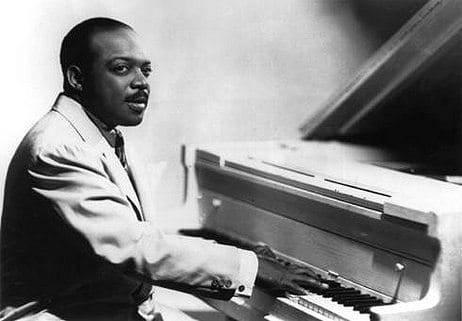 Through a six and half decade career William "Count" Basie exemplified the swing style in a powerful manner.  His bands would often play with the force of a Mack truck, and within a few measures quiet to a whisper.  Basie loved the blues, and it was a launching pad for many great soloists who passed through the band.  Basie was born in Red Bank, New Jersey in 1904 and his mother, a pianist was where he learned the fundamentals.  He became a professional musician quitting school as a teenager and worked silent movie houses, also studying organ with Fats Waller. After leaving Walter Page's Blue Devils ensemble in 1929, Basie would join the Benny Moten orchestra in Kansas City,  proving to be a key ingredient in forming Basie's own sound as bandleader.  Basie left Moten's group after Benny's death in 1935 and he continued to work with selected members of that ensemble.  Producer John Hammond heard Basie's own group and convinced them to move to New York.
Basie's first recorded sides for the Decca label had a significant, highly powered rhythm section consisting of Freddie Green's rhythm guitar, Walter Page, on bass and Jo Jones on drums.  Jones in particular was innovative with his use of keeping time on the high hat cymbal with accents on all four beats falling on the kick drum.  Basie was one of the first musicians to utilize comping, an improvised apprroach to playing chord changes. His style consisted of sparse playing with an excellent understanding of stride piano.  During this period, Basie had an all star collection of soloists which included the tenors of Lester Young, Herschel Evans, Buddy Tate and Illinois Jacquet, (who himself made the honking style of tenor sax incredibly popular his recording "Flying Home").
The Count sized his band down to seven pieces due to economic hardships in the early 50's but he was soon back with a powerful ensemble.  The  Basie bands from the fifties on, frequently referred to as the "New Testament", included stars such as vocalist Joe Williams, trumpeters Clark Terry, Joe Newman, Harry "Sweets" Edison, tenor saxophonist Eddie "Lockjaw" Davis, and trombonist Al Grey, a master of the plunger mute.  The bands made recordings for Verve, Roulette and other labels. Important albums were made featuring vocalists Frank Sinatra, and Tony Bennett, while arrangements were frequently handled by Ernie Wilkins, Neal Hefti and the upstart Quincy Jones.  Among highlights during these years is an explosive Columbia album "First Time! The Count Meets the Duke" (1961) where the Basie and Duke Ellington orchestras played side by side, quieting naysayers who felt the two bandleaders were in bitter competition with one another.  In fact, the album cover was changed to reflect the assertion there was no cutting contest atmosphere.
Ill health sidelined Basie in the mid seventies, in the midst of  a renewed creative vigor o Norman Granz's Pablo records where he made a string of excellent studio albums. Especially recommended are a series of many albums with both small and large groups at the Montreux Jazz Festival in Switzerland.  Featured soloists on these records included Roy Eldridge, vibraphonist Milt Jackson, trombonist Al Grey and tenor saxophonists Eric Dixon, Kenny Hing and Jimmy Forrest.
Count Basie continued to play and conduct on stage though confined to a wheelchair before succumbing to pancreatic cancer at age 79 in 1984.  The Count Basie Orchestra has continued on for many years being conducted by longtime Basie associates Grover Mitchell, and now trombonist Dennis Wilson, who's Basie connection goes all the way back to the seventies.  The band still maintains the fresh snap and swing it always did, and surely the Count is looking on saying "one more once".