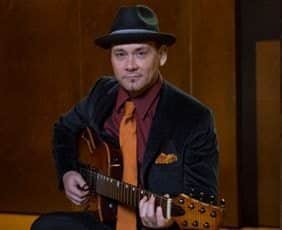 Teaching Topics and Philosophy
Topics:
Adam Smale is an expert on both fingerstyle and flatpicking techniques, whether applied to acoustic or electric guitar. Explore basic to advanced music topics related to guitar including: fretboard knowledge, chords, scales and how they relate to chords and how to use them creatively to improvise, comping (the art of accompaniment), theory, sight reading, and composition. For more advanced students, Adam will teach you the art of trio playing, how to comp for yourself while playing melodies or soloing like a pianist, ala, Lenny Breau & Ed Bickert. Adam Smale also accept beginner electric bass students.
Philosophy:
My goal as a music teacher is to follow a plan based on your goals, especially after some basics are covered. Goals change over time as the student learns more and becomes more proficient, whether playing is a hobby or a professional aspiration. This is why it is important to maintain an open channel of communication
between teacher and student. If the student has a good working knowledge of the basics, they can take guitar and music in any direction they desire.
Biography
Audiences love the sound of Adam Smale seven string guitar. What emerges are distinctive yet subtle nuances, a piano-like quality, often creating the illusion of hearing two guitars. Drenched in traditions of the illustrious past, with a respectful nod to legendary jazz masters, you hear jazz that is genuine, and self realized through an investigation into his art. Whether it is his own compositions, or interpretations of jazz classics, Adam's music ranges from up-tempo and dynamic to gentle and soft, but always infused with passion and his love for music and performing which listeners recognize and appreciate. For the past 33 years, since the age of 12, Adam has been playing professionally and has performed all styles of music, from Bluegrass and Country to Rock, Reggae and R&B. For the past two decades, however, Jazz has been Adam's sole avenue of expression as a musician, composer and recording artist. His natural propensity for improvisation and skill at creating full, vibrant sound from his guitar has afforded him the privilege and pleasure of performing with top Canadian Jazz luminaries such as Don Thompson, Terry Clarke, Bob Mover, and Norman Marshall Villeneuve. In August of 2009, after obtaining a Masters in Jazz Performance in Michigan, Adam now lives in Brooklyn, New York.
Adam has studied with renowned jazz guitarists such as Pat Martino, Ben Monder, and Lorne Lofsky. • Plays self-designed, unique seven string guitar • Fun City CD, an independent debut release, reached No.9 in the Canadian National Jazz Chart • Adam Smale Jazz Quartet placed 2nd in the prestigious Grand Prix du Jazz during the 2002 Montreal Jazz Festival • Adam's Song "It Was Something She Said" made it to the "Top 20" in the Jazz/Blues category of the 2005 Unisong International Songwriting Contest, even though this song is an instrumental competing against songs with lyrics • Festivals performed at: Toronto Jazz Festival (1997-2002, 2005 & 2008); Detroit Jazz Festival (2008); Sault Ste. Marie Jazz & Blues Festival (2004 & 2007); Montreal Jazz Festival (2002)
Private Lessons
Beginner, Intermediate & Advanced Students
| Duration | Trial Class | 4 Lessons | 8 Lessons | 12 Lessons |
| --- | --- | --- | --- | --- |
| 30 Minutes | N/A | $185 | $360 | $527 |
| 60 Minutes | $78 | $327 | $638 | $932 |
All Lessons packages can be paid in installments.