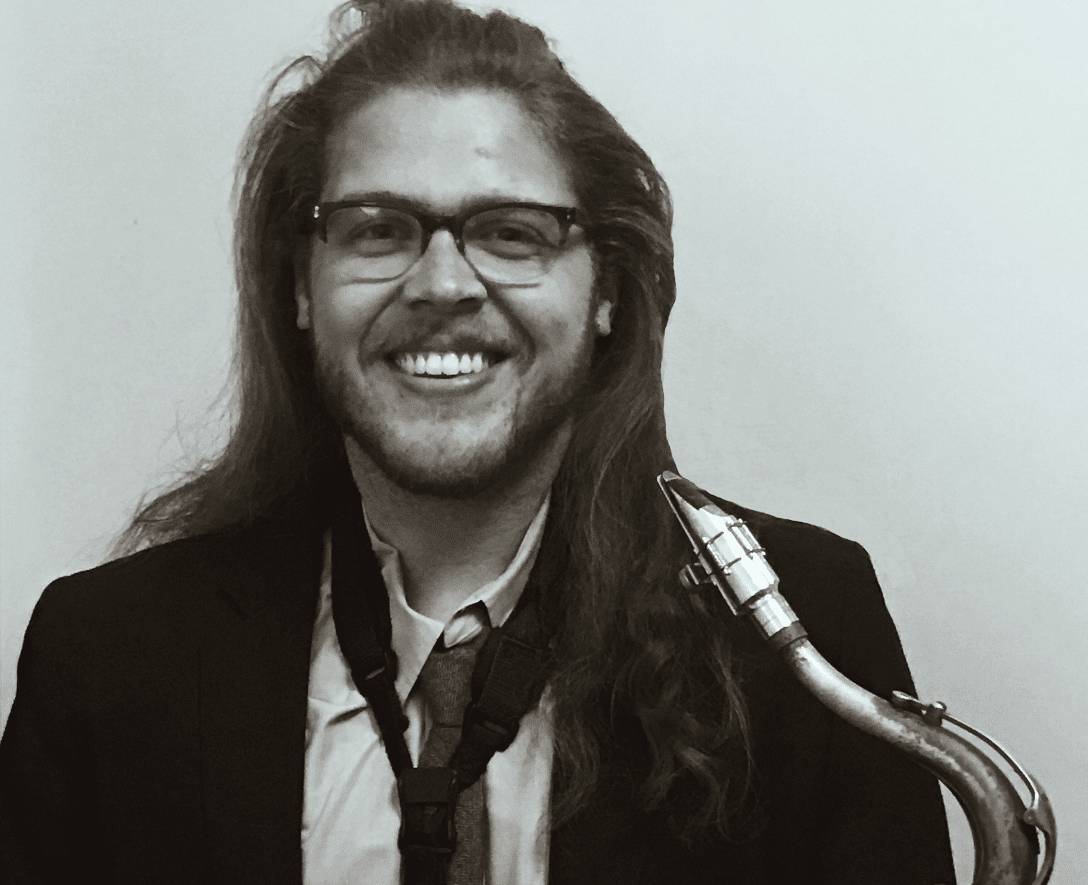 Teaching Topics and Philosophy
Teaching Topics:
Sound and Individuality-Becoming familiar with a sound you're already producing, and being aware enough to work on and develop sound further through listening and exploration.
Fundamental Saxophone Technique– Including Melody, Harmony, Rhythm, Time Feel and Sight Reading. Forming a practice routine that best fits YOU to target your weaknesses when it comes to the basic fundamentals of saxophone playing.
Listening– A very important step to understanding how the above fundamentals fit together. Together we will find the music and the musicians who you love and dig deeper into their philosophies through Listening.
Improvisation– This ties into the ultimate goal of Expression and Individuality utilizing each of the above topics.
Philosophy:
I strongly believe that each instrumentalist has their own path and best-working method to improving on their instrument. My goal is to help my students work out a practice routine that includes elements of each of the above topics. Together, we will determine what level to start with and how to build your regiment over time so that we both see success and improvements. Saxophone fundamentals are the absolute necessary building blocks to succeeding on other areas such as Sound, Improvisation, and especially Individuality and Expression. I welcome all levels of saxophonists with interest in all kinds of music, especially Jazz. Together we will custom-tailor a curriculum to best help you succeed!
Biography
Eli Hershiser is an emerging saxophonist and composer based in New York City. Born and raised in Omaha, Nebraska, he was introduced to the music of Bob Dylan, Neil Young and The Rolling Stones by his father. Hershiser had a natural ear for music and began to gravitate towards the saxophone with the passionate influence of several mentors. As he began to take himself more seriously as a musician, his knowledge and appreciation for the colorful tradition of jazz music blossomed. Joshua Redman, Sonny Rollins, Thelonious Monk, and John Coltrane have consistently influenced Hershiser's playing, while his compositional style and technique stem from an array of music, including his intense love for the great classical composers such as Richard Strauss, Johannes Brahms, Richard Wagner, and many more. Eli is continually working towards merging his tastes together to create evocative and fresh musical works. Hershiser earned his BFA in Jazz Performance from The New School in the Spring of 2017. He is a versatile saxophonist, having performed with the Metropolitan Players, as well as his own groups focused in Jazz and Improvisation. Eli currently resides in Ridgewood, Queens and is available to teach private lessons to saxophonists, composers, and improvisers of all varieties and all levels.
Private Lessons
Beginner, Intermediate & Advanced Students
| Duration | Trial Lesson | 4 Lessons | 8 Lessons | 12 Lessons |
| --- | --- | --- | --- | --- |
| 30 Minutes | – | – | – | – |
| 60 Minutes | $68 | $284 | $554 | $810 |
All Lessons packages can be paid in installments.