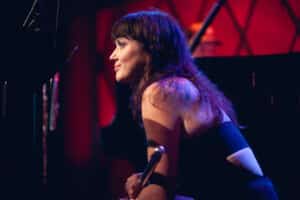 Elsa Nilsson
Flute, Improvisation, Composition
Teaching Topics
The very center of my teaching philosophy is that I want to encourage and expand my students' love of music. I place emphasis on musicality and expression, teaching strong fundamentals in the context of this. My favorite way to approach teaching both group and private lessons is to explore the music the student is interested in, and then work with them to show them the skills they need in order to execute the music they love. From there, I will suggest things that I hope they will enjoy to help broaden their musical tastes and interests as well as dig deeper into the styles and ideas they naturally gravitate toward. This leads to a give and take in the lessons that I find deeply satisfying and fun, and gives the student a sense of agency and exploration in their musical development.
Biography
Brooklyn based Flute Player, Composer and Educator Elsa Nilsson was born and raised in Gothenburg, Sweden. She can often be found playing at The 55 Bar, Bar Bayeux and other New York Jazz venues, as well as touring the US and Europe. Current projects include "Atlas Of Sound – Coast Redwoods" (released April 22nd, 2022, on Ears and Eyes Records) with Jon Cowherd and Chris Morrissey, "Esthesis Quartet" (released May 27th, 2022, on Orenda Records) with Dawn Clement, Emma Dayhuff and Tina Raymond, a quartet with Sebastian Noelle, Matt Aronoff and Mark Ferber as well as a project exploring the musicality of speech with Santiago Leibson, Marty Kenney and Rodrigo Recabarren. Nilsson is adjunct faculty at The New School College for Performing Arts where she teaches Rhythmic Analysis and private lessons. She holds a BM from Cornish College of the Arts and an MM from New York University, both in Jazz performance. She is the winner of the 2018 National Flute Associations Jazz Flute competition and her albums have received rave reviews in Downbeat, Jazziz, All About Jazz and more.
Private Lessons
Beginner, Intermediate & Advanced Students
| Duration | Trial Lesson | 4 Lessons | 8 Lessons | 12 Lessons |
| --- | --- | --- | --- | --- |
| 30 Minutes | N/A | N/A | N/A | N/A |
| 60 Minutes | $101 | $427 | $832 | $1215 |
All Lessons packages can be paid in installments.