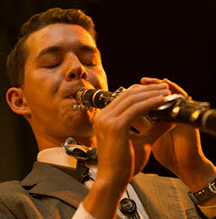 Teaching Topics and Philosophy
Teaching Topics
Sound Production
BREATHING TECHNIQUE: the most important part of playing a wind instrument is, well… the WIND! Learn how to maximise and strengthen your lung capacity in order to achieve the most resonant sound at any dynamic volume.
EMBOUCHURE: How to form good, strong embouchure in all registers, and also how to adjust embouchure to achieve the sound you want for any musical context.
"VOICING": Learning the relationship between what the larynx (voice box) does and sound production in terms of tone and pitch.
Technique
Through learning patterns, scales, etudes, and melodic figures, build your technique to be able to play anything you want to play, free of technical limitations.
Reading Music
Learn strategies for how to develop the ability to read music proficiently.
How to Improvise
Through guided listening, transcription, melodic variation, and chord/scale theory, develop a personalized vocabulary based on what inspires you and the history of the jazz language.
Songs and Repertoire
Learning songs is an important part of building a melodic vocabulary. Learn how to state the melody of a song in a meaningful way and use it as a starting point for melodic variation and improvisation.
Listening to the Greats!
Learn how to practice active listening, transcribe and play along with recordings that inspire you.
My Philosophy:
My primary goal for every lesson is that the student leaves feeling inspired to play and practice! I use a fun and focused approach to developing sound and instrumental technique with a student, thus freeing them to play whatever music inspires them. I feel it's important that all exercises be practiced musically, thus making the process fun and engaging. I encourage students to be masters of extremes (high/low, loud/soft, fast/slow), adding depth, versatility and effectiveness to their playing, and through which they can express their individuality.
As far as music and material goes, I'm well-versed in a wide variety of different styles and can act as a guide for you to become an accomplished player in whatever stylistic vein you enjoy most. Personally, I love of old songs and enjoy teaching students to state melodies expressively and meaningfully. Whether you have three hours a day to practice or only 20 minutes a few times a week we can adjust the practice schedule accordingly to get you making progress toward your goals, whatever they are.
Biography
A third generation musician, Evan Arntzen began learning New-Orleans-style clarinet at the age of seven from his grandfather, who showed him the expressive power of the music of Louis Armstrong and Sidney Bechet. He has since developed his own expressive voice on clarinet and saxophone, which Grammy Award winning jazz writer Ricky Riccardi calls "the very definition of timeless."
Evan moved from his hometown of Vancouver, BC to New York City in 2014, where he has played such venues as the Rose Theater (Jazz at Lincoln Center), Dizzy's Club, Birdland and Cafe Bohemia, as well as toured internationally. Evan is featured on notable recordings by Bria Skonberg (Sony Masterworks), Kat Edmonson, Loudon Wainwright III, and the Grammy Award winning soundtracks for HBO's Boardwalk Empire and Bessie with Vince Giordano's Nighthawks. He performs regularly with Grammy Award winner Catherine Russell and has performed with such greats as Houston Person, Scott Robinson, Wycliffe Gordon, Jason Marsalis, and Michael Bublé. Evan has also released three critically-acclaimed albums as a leader, including 2021's Countermelody on Dot Time Records.
Evan Arntzen is a passionate educator with more than 15 years experience and is well-versed in how to get the most out of the online lesson format. He has taught dozens of masterclasses throughout the US and Canada and also teaches jazz history and appreciation courses for DOROT's University Without Walls. He's dedicated to imparting the love of making music to all his students.
Beginner, Intermediate & Advanced Students
| Duration | Trial Lesson | 4 Lessons | 8 Lessons | 12 Lessons |
| --- | --- | --- | --- | --- |
| 30 Minutes | – | $190 | $370 | $540 |
| 60 Minutes | $90 | $379 | $739 | $1080 |
All Lessons packages can be paid in installments.