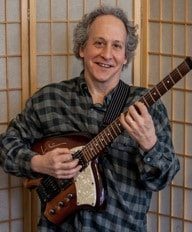 Teaching Topics and Philosophy
Topics:
I teach a variety of styles of guitar, specializing in jazz guitar. I cover jazz harmony, improvisation, chord melodies/solos, chord vocabulary and comping, rhythm work and awareness, line construction, playing over changes, sight reading strategies, and repertoire development. I also teach some concepts that I have been delving into deeply – including: motific development, playing over odd meters, free playing, and Harmolodics (introducing some of Ornette Coleman's concepts and developing ways to incorporate those ideas into your playing). An important area, I like to focus on is good and effective practice techniques. If you learn how to practice, how to grow and develop on your own, you're on your way!
Philosophy:
I have found that one of the basic organizing principles of improvising and playing melodies over changes is good voice leading (smoothly connecting lines and chords over progressions), and I try to focus on developing those techniques in my teaching and my playing. I also focus on fretboard understanding (covering the whole neck), and trying to transcend the normal 'visual, pattern and shape oriented' approach of many beginning guitarists. Improvisers need a working knowledge of harmony, in their ears, head and fingers to be able to negotiate the language of music. I also believe that confidence, fluency and relaxation w/ rhythm is central to good musicianship and I work with students on developing a strong rhythmic sense. In lessons, I spend time playing together with students (in addition to presenting material), as it's the only way to gauge if the concepts and material are being digested.
Biography
Kenny Wessel, a versatile, sensitive and soulful guitarist and composer, has performed in 27 countries. He toured with revolutionary jazz artist Ornette Coleman for over 12 years as a member of Prime Time, Ornette's groundbreaking ensemble. Kenny can be heard on Coleman's CD, Tone Dialing. Performing Ornette's "Skies of America," Wessel has appeared with Kurt Masur and the New York Philharmonic and London's Philharmonia Orchestra. A vital and personal voice on the jazz guitar, he has also worked with Donald Fagen (featured guitar soloist on Fagen's Morph the Cat), David Liebman, John Abercrombie, Karl Berger, Debbie Harry, Gloria Lynne, Adam Rudolph and others from the jazz, pop and world music spectrum.
Ken has a strong interest in world music, particularly with North Indian music, and he has performed with Debashish Bhattacharya, Karaikudi Mani, V.M. Bhatt, Samir Chatterjee, Steve Gorn and others. Wessel co-leads a trio with jazz tabla master Badal Roy. Their CD, Daybreak was included in JAZZIZ magazine's Top 10 Critic's Picks. Ken and Badal toured India and the U.S. with their composition, "Testimony," which was commissioned by the Battery Dance Company. Wessel's most recent CD, Weights & Measures received 4 stars in Downbeat magazine and has made critics' best of 2012 lists. As a U.S. Jazz Ambassador, Ken has toured South Asia and South America, visiting India, Thailand, Sri Lanka, Bengladesh and Venezuela in 2002-03.
A dedicated jazz educator, Wessel currently teaches at LIU, CCNY, and Western Connecticut State University, in addition to leading ensembles at the New York Jazz Workshop. He also gives clinics and workshops around the world and has taught at universities and festivals, including: Oslo Music Academy, ICSMS Festival (Istanbul, Turkey), Mahaidol University (Bangkok), Yale University, Manhattan School of Music, and many others.
Private Lessons
Beginner, Intermediate & Advanced Students
| Duration | Trial Lesson | 4 Lessons | 8 Lessons | 12 Lessons |
| --- | --- | --- | --- | --- |
| 30 Minutes | – | $237 | $462 | $675 |
| 60 Minutes | $104 | $436 | $850 | $1242 |
All Lessons packages can be paid in installments.