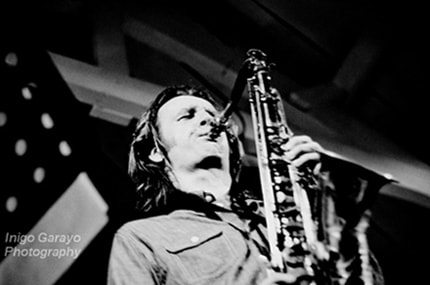 Marc Mommaas
Saxophone, Rhythm, Composition, Improvisation, Counterpoint
Teaching Topics and Philosophy
Topics:
Composition – focus on form, melodic and harmonic development. This includes counterpoint, arranging, classical functional harmony and Jazz styles of composing including tertian, fourth and polychordal harmony.

Rhythm – focus on accent point / mixed meter / counterpoint and cross rhythms. Application as an improvisor and a composer.

Saxophone – Range from tone quality, improvisation, harmony, rhythm, approach notes, melodic development, voice-leading, bebop language and technique to more advanced principles such as rhythmic variation and superimposition.

Prerequisite:
Saxophone – intermediate to advanced
Composition/Counterpoint: basic understanding of modes.
Philosophy:
The way you practice has to be in tune with where you stand in the music. A practicing regime that works for you at this time might not be beneficial for you two years from now since your set of skills and depth in the music will change. Music/life is never static and your practicing routine should be in tune with where you stand and in which direction you would like to go. What you practice depends on a few factors starting with your level. It is necessary to get your basics together no matter what direction you choose. This requires an understanding of your strengths and weaknesses and the willingness to tackle the issues with the ultimate goal being to find an equilibrium with yourself and the music. On a higher level you develop your personal sound by exploring different topics of interest and by using composition as your main tool to establish direction.
Biography
Marc Mommaas is a professor at the New School in NYC, co-founder of Hudson Jazzworks, co-founder of NYJW and co-founder of Center for Rhythmic Studies. Mommaas resides in NYC (since 1997), tours with multiple groups, is a band leader, composer, side man and recording artist with Sunny Sides records. Mommaas teaches Saxophone, Harmony, Improv, Counterpoint, Ear training, Composition and Rhythmic studies.
Mommaas comes from a creative background. He grew up with his mother performing and teaching opera and classical piano, and his father in the center of the Dutch art scene using oil on canvas as his art form. During his study in Amsterdam, NL he combined his musical development with a university education (Masters in Comm.Science/Business). After being awarded two Dutch grants (Stichting Podium Kunsten, Prins Bernard Fonds Anjer Fondsen) in 1997, he moved to New York City. Once in New York, Marc received a full scholarship to attend the Manhattan School of Music where he completed his Masters in Jazz Performance. Upon graduating he was awarded the William H. Borden Award, given to only one student selected from the graduating class for outstanding achievement.
Marc made his debut as a leader in his 1999 recording Global Motion Trio with Nikolaj Hess (piano) and John Hebert (bass). In 2001 the acclaimed drummer Tony Moreno joined the group which became Global Motion. In 2003 after an extensive tour in Europe including a 5 day hit at the Pompoen in Amsterdam, the band returned to NYC and recorded Global Motion, released by Sunnyside Records. This release earned critical acclaim in Downbeat, Jazztimes, Jazzimprov, All About Jazz and numerous online platforms. This record was followed by another well received Sunnyside release titled Balance (2006), a long anticipated duo recording with pianist and longtime friend Nikolaj Hess. In 2010 he jumped into a new project born out of his extensive collaboration with drummer Tony Moreno. It became "Landmarc" the guitar project, a band with three guitars, sax, drums and no bass. The touring band included two guitarists, Vic Juris and Nate Radley. In 2015 Marc released his solo Saxophone project "Irreversible Momentum", in 2019 the acclaimed Ballads and Standards release co-lead with pianist Nikolaj Hess and in 2022 'the Impressionist' including Nate Radley, Gary Versace and Jay Anderson.
Marc has toured the world with many formations including the Amina Figarova sextet, and with other formations lead by Tony Moreno, Tim Horner, Armen Donelian and many more. He played all the main stages, from the New Port Jazz Festival to Carnegy Hall. But besides his impressive career as a saxophonist and improviser he also made his mark as an educator. He co-founded the New York Jazz Workshop with Marco Chelo and Hudson Jazz Works with Armen Donelian, has done masterclasses on conservatoria across the globe, and is an in demand saxophone and composition teacher in NYC. Marc is currently working on a text book on "a rhythmic approach of improvisation and composition for linear instruments" and a text book on "Harmony and improvisation".
Private Lessons
Beginner, Intermediate & Advanced Students
| Duration | Trial Class | 4 Lessons | 8 Lessons | 12 Lessons |
| --- | --- | --- | --- | --- |
| 30 Minutes | – | – | – | – |
| 60 Minutes | $95 | $397 | $780 | $1137 |
All Lessons packages can be paid in installments.