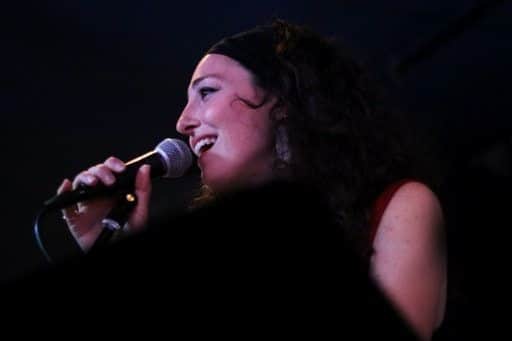 Teaching Topics and Philosophy
Topics:
I teach beginner, intermediate and advanced voice students. My lessons generally include a combination of vocal technique and breathing exercises, and cover fundamental elements of style, rhythm, interpretation, verbal/nonverbal communication, repertoire, phrasing, ear training and improvisation
Philosophy:
Every human being is involved in song at some point in time. As a voice teacher, I strive to provide students with the tools necessary to achieve one's own personal singing goals by promoting healthy and thorough development of their singing voice. Every student will ultimately follow his or her own individual path when it comes to vocal training. I feel it is my job to inspire students to seek out their own voices and explore their own vocal potential in a fun, safe and supportive environment. While working on elements that include vocal technique, alignment, posture, breath management, support, rhythm, color and phrasing, I strongly encourage students to take a step further in interpretation and non-verbal communication. As a singer, I believe that a large part of our craft relies on our ability to transmit our inner selves through our music and thus remain genuine and true to our own personal calling and experiences.
Biography
"Foschi is today's vocalist, blazing the trail for a new style of jazz vocals, not adhering to traditional sounds or rhythms, but appealing to a new generation of listeners, while still honoring jazz as a tradition. She is truly original and far from the norm as a composer and as a vocalist." ~ H. Allen Williams, JazzTimes, May 2013
Olivia Foschi is a jazz singer, educator and composer born in San Francisco and raised in Italy. She started studying piano and guitar as a child and discovered her passion for jazz at an early age. Her stylistic approach to singing shifted in 2001 when she was given the opportunity to study classical Nepali voice with singer and composer Aavaas in Kathmandu. This experience brought immense musical inspiration and left her eager to explore her voice paying particular attention to color and rhythm. She moved back to Italy in 2002 and earned a B.A. in English Literature, Cum Laude, at John Cabot University in Rome while continuing to take voice lessons with Luisa Cottifogli (Imola). In 2005, she moved on to study jazz voice with Cecilia Izzi at the University of Music in Rome and nonverbal communication with Grazia Di Michele. Since then, she attended countless music seminars and workshops both in Europe and in the U.S. and pursued undergraduate studies in jazz performance at the Academy of Music in Bologna.
In 2009, she opened for E.C. Scott and presented her original compositions at the "Jazz Women in Blues" Festival and Vocal Competition promoted by Naima Club, Forlì, Italy. She was awarded first place and was granted full scholarship at the Venice Voice Academy in L.A. for the 2010 summer-session. She moved to New York in the fall of 2010, studying mixed meter and polyrhythm with Marc Mommaas and voice with Fay Victor and Jeremiah Abiah.
Olivia has been teaching private lessons and group classes at the New York Jazz Workshop since 2012 and continues to study classical Indian Konnakkol with Ganesh Kumar. She has taught vocal workshops throughout the world and served as faculty at the Brooklyn Conservatory of Music. Olivia released her debut album, Perennial Dreamer in 2013, followed by Fleeting Windows in 2018, both produced by Ulysses Owens Jr. She has performed at jazz festivals and world-renowned venues across the US, Europe and Japan and was featured on NPR in 2016, 2017 and 2021 on WPPB's live broadcast: The Jam Session Radio Hour hosted by John Landes. Olivia has recorded and shared the stage with Gil Goldstein, Chris White, Warren Smith, Joseph Jarman, Thurman Barker, Ulysses Owens Jr., Gregoire Maret, Alex Sipiagin, Mauricio Zottarelli, Helio Alves, Greg Skaff, Mark Egan, Tommy Campbell, Lou Caputo, Erik Lawrence, Stacy Dillard, Sergio Pereira, Matt King, Marco Panascìa and Yotam Silberstein among many others.
Private Lessons
Beginner, Intermediate & Advanced Students
| Duration | Trial Lesson | 4 Lessons | 8 Lessons | 12 Lessons |
| --- | --- | --- | --- | --- |
| 30 Minutes | – | $261 | $508 | $743 |
| 60 Minutes | $84 | $356 | $693 | $1013 |
All Lessons packages can be paid in installments.