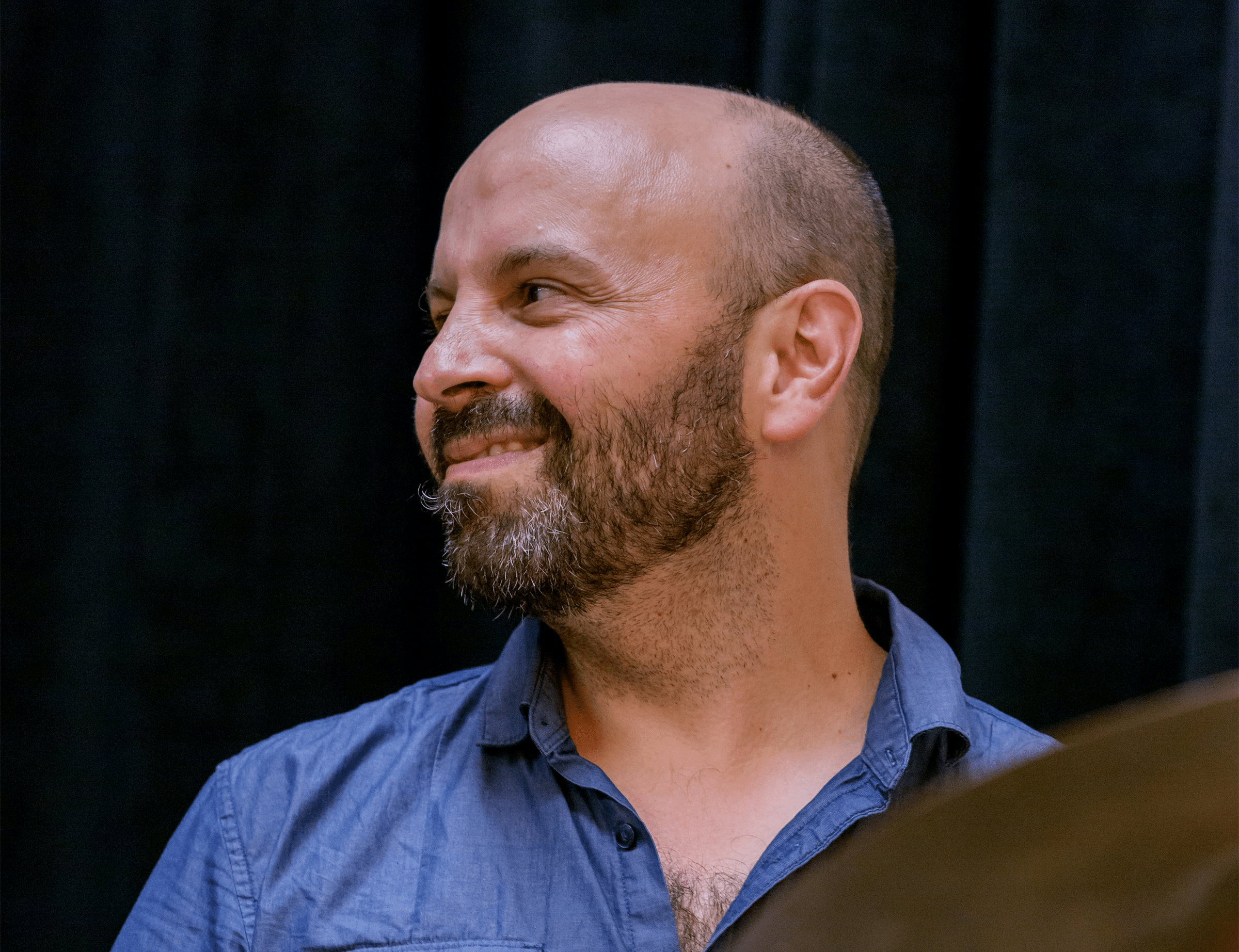 Teaching Topics and Philosophy
Rob teaches at his studio in BROOKLYN
The drummer has arguably the greatest effect on the over all sound of an ensemble. We define how the group feels the time, what the dynamics are, and we create the mood. In my lessons I encourage self-expression, creativity and fun as well as learning the necessary skills to read and play music in an ensemble. I believe in having a strong foundation to build upon. I am well-versed and experienced at playing and understanding all the different sub-genres of jazz through its history. I love it all and am constantly fascinated with the evolution of this incredible American art form. My lessons cover such topics as rudiments, 4 limb coordination, sight reading, reading drum charts, drum rudiments, how to play a variety of styles, dealing with odd time signatures, mixed meter and soloing. I am a big fan of melodic drum solos and can teach how to do it. I also encourage my students to bring in music they like so we can integrate it into the lessons.
My teaching teaching studio is located in West Midwood/Ditmas Park, Brooklyn (near Newkirk Plaza, Q and B train). I am equipped with 2 drum sets, practice pads, a sound system, percussion instruments, bass and guitar amps and a piano. I often play piano while my the students play drums giving the students experience of playing with others; feeling time and musical energy together.
Biography
Drummer, composer, educator, bandleader, Rob Garcia has been performing and teaching for over 25 years as a strong presence in the New York and global jazz scene. He has performed and/or recorded with bandleaders such as Wynton Marsalis, Joseph Jarman, Anat Cohen, Sam Newsome, Judi Silvano, Woody Allen, Howard Alden, Lynne Arriale, John Benitez, John Bunch, Dena DeRose, Chris Cheek, Daniel Kelly, and Vince Giordano. Rob has also collaborated with other top musicians such as: Joe Lovano, Sheila Jordan, Dave Liebman, Diana Krall, Myra Melford, Ben Monder, Donny McCaslin, Marty Erhlich, Jerome Richardson, Reggie Workman, Bob Berg, Bill McHenry, Ken Peplowski, Scott Robinson, Howard Johnson, Sonny Fortune, Bruce Barth, Wycliffe Gordon, Warren Vache, Ted Nash, and Chris Potter, among others. He has played on over 70 albums including Grammy winners.
Rob has released 6 critically acclaimed albums as a bandleader which feature such artists as Noah Preminger, Dan Tepfer, Gary Versace, Joe Martin, John Hebert, Dave Kikoski and Mike Formanek. His CD, "Perennial" (BJUR 012) was in the "10 Best Jazz Albums of 2009" in the New York Observer. His most recent album "Finding Love In An Oligarchy On A Dying Planet" (Brooklyn Jazz Underground Records) includes some special guests including jazz legend Joe Lovano and vocal sensation Kate McGarry. Rob also released a solo drums album called "Drum Solos For Dancers Only" in 2018, and he recently recorded a new album for Fresh Sound New Talent Records which will be released in early 2020. His group has performed at venues such as The Ottawa Jazz Festival, The Toronto Jazz Festival, Iridium, Kitano, Smalls, The Rex, Cornelia Street Cafe, Firehouse 12. and has toured in Europe. Rob has also received grants from Meet The Composer, DCA and NYSCA to support his performances.
Rob has given private drum lessons to scores of students of all ages and levels. He is on faculty for the NY Hot Jazz Camp, and has also taught ensemble and percussion classes at institutions such as the Brooklyn Music Factory, Berkeley-Carroll School, NYC Public Schools, the Brooklyn Conservatory of Music and The British International School of NY. Rob has delivered masterclasses in the U.S. and Europe, and has performed in over a 150 school assemblies organized by Lincoln Center, Arts Horizon, Brooklyn Arts Council and other organizations. He has also done workshops for aspiring musicians with NYU, the Brooklyn Conservatory of Music and Jazz-A-Ma-Tazz. Rob has been a major force in artist-run jazz organizations. He is the founder and artistic director of the non-profit Connection Works, a member of the Brooklyn Jazz Underground and a founding member of the Douglass Street Music Collective. Rob has a Masters of Music from SUNY Purchase and a B.A. in Psychology from NYU.
To add, Rob also put his focus toward holistic healing. He graduated from the IM School of Healing Arts, the Institute for Integrative Nutrition, and is a non-denominational ordained minister.
"remarkable drummer" – Village Voice
"A prime mover in the current Brooklyn jazz scene" – Time Out-New York
"one of New York's great jazz drummers and composers." – Capital New York
"Garcia is a drummer of invention, grace and considerable fire." – Downbeat
Private Lessons
Beginner, Intermediate & Advanced Students
| Duration | Trial Lesson | 4 Lessons | 8 Lessons | 12 Lessons |
| --- | --- | --- | --- | --- |
| 30 Minutes | – | $190 | $370 | $540 |
| 60 Minutes | $79 | $332 | $647 | $945 |
All Lessons packages can be paid in installments.