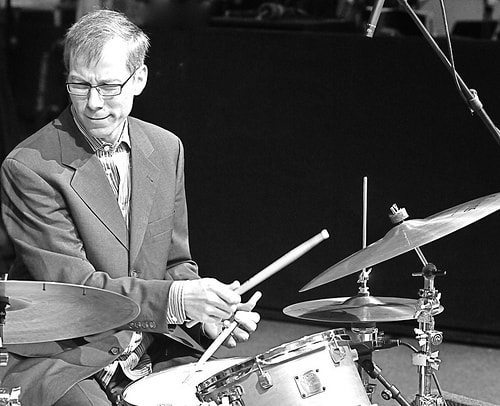 Teaching Topics and Philosophy
Topics:
I teach a comprehensive study of technique and four way coordination for beginners through advanced students.
I also work with students on their role as a drummer within a rhythm-section and how different styles of drumming can shape the different styles of music from early to modern jazz.
Philosophy:
I enjoy working with students of any level and with an understanding of their current ability I focus on maximizing a student's talent and help them develop their skills to become a better player and performer.
Biography
Jazz drummer, Vito Lesczak, has been part of the international jazz scene for more than 20 years and is one of the foremost working jazz drummers in New York City today. Since moving there in 1992, Lesczak has appeared on over 70 records and his performances can be charted from Jazz at Lincoln Center to the Blue Note.
Lesczak, a graduate of The University of Music and Arts in Graz, Austria has played many of the major jazz festivals and concert halls all over the world including the Charlie Parker Festival in New York, the Montreal Jazz Festival, The North Sea Jazz Fest, the Copenhagen Jazz Fest, Vienne Festival in France, Umbria Jazz in Italy, Ravinia Jazz, the Vancouver Jazz Festival, Tanglewood Jazz Festival and the prestigious Kennedy Center in Washington D.C.
Close to home, Lesczak is highly regarded as a regular contributor to the New York City arts and jazz scene. Besides Jazz at Lincoln Center and The Blue Note, Lesczak can also be found at Birdland, The Carlyle, Merkin Hall, Jazz Standard, Iridium, Sweet Rhythm, Smalls and the Cornelia Street Café.
Lesczak is recognized for his ability to seamlessly transition from standards to highly modern arrangements. His technique flawless, Lesczak's drum solos have been categorized as "creative and with brushing to knock your socks off" by many critics.
In addition to leading his own groups, he has been a member of the Grammy-nominated Andy Bey trio since 1997 and performed with John Hendricks/ Annie Ross in 2000 for their reunion tour.
Most recently, he has performed with the group West 73rd on their debut album, "A Song about Forever," featuring the music of Kurt Weill. The critically acclaimed album, recently received a MAC Award Nomination: for "Best Jazz Recording of 2008." The album, a collaboration with the pianist Frank Ponzio, highlights Lesczak's creative arranging skills. He is also a featured player on Andy Bey's most recent recording, "Ain't Necessarily So." Bey has been called by NPR, "a risk-taking virtuoso" and "a vocal master." In supporting the album, Lesczak has toured the most beloved halls and clubs worldwide from New York to Israel to Belize.
Lesczak has had the opportunity to perform and record with many jazz greats including Art Farmer, Clark Terry, Frank Wess, Ernie Wilkins, Steve Grossman, Mark Murphy, Jay Clayton, Don Braden, Bucky Pizzarelli, Gene Bertoncini, Bob Cranshaw, Eric Alexander, Larry Goldings, Keith Ganz , Kate McGarry, and Eric Comstock, Barbara Fasano, John Proulx, Sean Smith, Bill Charlap, Brad Leali.
Quotes:
"…The trio was now in full flight. The subtle pulse of Vito Lesczak, a twenty-year collaborator with Bey, propelled the songs. –"Andy Bey Trio at the Jazz Standard," Riveting Riffs Chris McHale
"…accompanied by the sensitive and adroit drumming of Vito Lesczak," –"Andy Bey Trio at the Jazz Standard," Jazz Inside New York by Yaz Orno
"…Mr. Bey's rhythm section—the drummer Vito Lesczak, a longtime associate, and the bassist David Wong—supported him perfectly at every turn." -"Basking, With Soul, in a Belated Spotlight," The New York Times by Nate Chinen.
"…The trio was playing an original by Bey, 'So Many Ways to Approach the Blues.' Lesczak was in top form with his spirited delivery….[He] supported Bey without being overbearing, instead, blending the dynamics of the trio….[Lesczak] got in some amazing solos. The small but enthusiastic audience knew that something special had happened at the Jazz Bakery." -"Andy Bey at the Jazz Bakery," Bob's Beat by Bob Comden
"West 73rd, which includes the singer Hilary Gardner, the pianist Frank Ponzio, the bassist Peter Donovan and the drummer Vito Lesczak, takes songs, mostly from Weill's American period, that are often treated semi-operatically and turns them into classically informed jazz pieces with swing underpinnings. In several numbers the singer's traditional role as primary interpreter is matched and even surpassed by the other instruments." –"Jazzy Variations on Kurt Weill's Themes," The New York Times by Stephen Holden
"The performances are very intimate and come without the external hype and pressure of performing on the stage,' said Mr. Lesczak. 'What this proves is that you do not need Carnegie Hall or Lincoln Center to make art happen—art can happen anywhere" –"When the Best Seat in the House Is in Your Home," The New York Times by Vincent M. Mallozzi
"The concert, part of the Lincoln Center American Songbook series…Mr. Comstock, who was accompanied by Sean Smith on bass and Vito Lesczak on drums, embodies ultra-professional piano-bar suavity that leans toward jazz." –"Bowing to Styne's Magic and Delivering the Ballads Smoothly," The New York Times by Stephen Holden
"Lesczak wittily bridged 'Speak Low' to the classic 'Mack the Knife' by imitating on the drums the sound of a 78 spinning on an old victrola." -"The Kurt Weill Project," TheaterScene.net by Michael Patrick Hearn
"At Regattabar, he (Andy Bey) led his trio – including drummer Vito Lesczak…-nimbly through an extended opening instrumental in which Bey improvised strident countermelodies." -"Andy Bey's Voice is an Instrument Rich with Feeling" The Boston Globe by James Reed
"…a lengthy and creative Lesczak drum solo (with brushing to knock your socks off)" Backstage by David Finkle
Private Lessons
Beginner, Intermediate & Advanced Students
| Duration | Trial Lesson | 4 Lessons | 8 Lessons | 12 Lessons |
| --- | --- | --- | --- | --- |
| 30 Minutes | – | $166 | $323 | $473 |
| 60 Minutes | $73 | $308 | $601 | $878 |
All Lessons packages can be paid in installments.