Fats Waller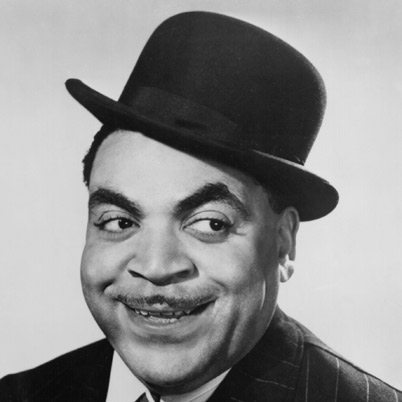 Fats Waller was one of the consummate entertainers during the early years of Jazz into the swing era. Born in Harlem on May 21st 1904, he grew up surrounded in music. His family was involved in music in the church and his mother secured a piano teacher for him: he learned how to read and write music but relied on his ear. He also learned how to play the music of Bach. As a teenager, he won a contest playing the "Carolina Shout" by James P. Johnson. Waller's father wanted him to have a religious career, but he opted for music instead.
Waller began a job playing organ in a silent movie theater and in 1921 followed with a similar job. In 1922, Waller recorded for the popular Okeh label, and also for QRS, and recording several piano rolls. He accompanied other musicians and recorded a string of sides for the RCA label which have since been issued on CD. Waller was rumored to be forced to perform for Al Capone after being kidnapped, recorded with the Fletcher Henderson Orchestra in 1927, and played Carnegie Hall in 1928.
Waller's recordings consisted of briskly swinging numbers, where he played stride piano, singing in a rich slightly nasally voice, he frequently accented lyrics with humor as he does on "Hold Tight, Mama (I Want Some Seafood)" and also tinting them with the risque. He could play flowery ornamented piano, and recorded some of the first Jazz organ recordings on pipe organ. A prolific song writer, he wrote so many compositions that he sold many of them, and was unable to perform them due to others claiming credit. He met Andy Razaf in 1927 who became his most notable writing partner, where they wrote music for the play "Hot Chocolates" and some of their most known compositions include "Ain't Misbehavin'" and "Honeysuckle Rose".
He formed a small combo, "Fats Waller and His Rhythm" and recorded sides somewhere in the hundreds for RCA. He toured Europe, played Carnegie Hall in 1938 and due to war returned to the US in 1939. He was in a featured role for the film Stormy Weather, and contracted influenza during an engagement at the Zanzibar in Hollywood, passing away around Kansas City on his way back to New York. Many Jazz artists have paid tribute to Waller, as his style was highly influential. In 1962, Jimmy Smith recorded "Plays Fats Waller" for Blue Note, a heartfelt, soulful, lightly swinging tribute, and Count Basie had studied organ with Waller. Listening to his music today provides a joyful experience.