Jimmy Smith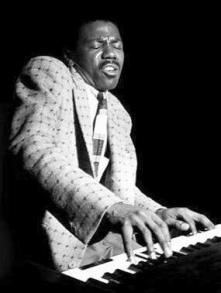 Jazz organ never received the seismic shift it did before Jimmy Smith entered the scene.  Born  on December 8, 1925 (some sources report 1928) in Norristown, Pennsylvania, he singlehandedly changed the way an instrument was approached forever.  Smith joined his father in tap dancing routines for the Major Bowes Amateur hour.  Smith studied at the Ornstein School in 1947, acoustic bass and harmony.  He played piano in various R&B groups including Chris Powell and Don Gardner's Sonotones, where in the mid fifties Smith heard "Wild" Bill Davis at the organ in a life changing experience. A confident Smith told the elder Davis he could learn the bass pedals quickly; the elder Davis retorted it would take Smith fifteen years to learn.
In 1955, Smith was able to buy his first organ, a Hammond B-2, taped a chart of the pedals to the wall, and sat in a Philadelphia where house for three months, and came out with his approach to the organ completely formed.  Smith at first played in duos in Atlantic City clubs, until one evening at Smalls' Paradise in Harlem, he was spotted by Blue Note founders Alfred Lion and Francis Wolff, and signed to the label on the spot.  Before Jimmy Smith, his predecessors "Wild" Bill Davis, Bill Doggett, Milt Buckner, played the organ in a much different manner. Full bodied chords were used in the style of a big band, not so much with a modern post bop conception. When Jimmy taped his first trio session in February 1956 with guitarist Thornel Schwartz and drummer Bay Perry, Smith's sound harkened back to the full tone of Bill Davis, but the ideas were completely new.  Smith was playing horn lines on the organ like Charlie Parker, and integrating the approaches of Bud Powell and Horace Silver to the organ for a fresh sound.  Smith's second session in March with Donald Bailey now becoming a permanent member on drums featured a rendition of Dizzy Gillespie's tune "The Champ", which became a national sensation.  At a swift tempo, Smith pounded out a pulsing hard swinging bassline with his left hand and left foot, debuting a sleeker organ tone, utilizing the organ's first three and last drawbars, playing a relentless series of choruses, showcasing technical facility unheard of on the organ.  Smith also scored a hit with Horace Silver's "The Preacher", which received a definitive treatment on the album "At  Club Baby Grand, Vol. 1" (1956).
Jimmy Smith continued in 1957 recording  three days in marathon sessions at Manhattan Towers in New York, including trumpeter Donald Byrd, alto saxophonist Lou Donaldson, Hank Mobley on tenor, Eddie McFadden on guitar, and Art Blakey on drums.  Rotating quartets and trios featured Donaldson, Kenny Burrell alternating with McFadden, and Blakey alternating with Bailey.  These sessions proved Jimmy Smith was not a novelty and featured some of the finest hard bop of his career.  Smith followed with a genre defining  session at Smalls' Paradise in November, which contains the past, present and future of Jazz organ.  Smith used an approach similar to John Coltrane's sheets of sound (Coltrane said Smith influenced him greatly) and a broken organ allowed Smith the ability to sustain the percussion feature of the Hammond B-3 indefinitely.  Percussion was a feature added to the B-3 allowing a user to have a vibraphone like attack when a note is played, and Smith's organ had a broken percussion circuit. The side effect of this glitch is that the tone stayed instead of fading away creating a tension and thrilling urgency to his improvisations. You can hear this in the example below on "Lover Man".
Smith recorded for Blue Note eight years total, and his style grew from hard bop to a much funkier approach, which can be heard on classics such as "The Sermon" and "Midnight Special".  Smith signed to Verve Records recording a variety of tunes in a big band setting such as "Walk on the Wildside" (1962), and "Who's Afraid of Virginia Woolf" (1964) widening his tremendous popularity.  Smith also made two recordings with guitarist Wes Montgomery, and as his tenure with Verve came to a close in 1973, Smith adopted a lower profile, opened a Supper Club in California, experimented with synthesizers and other keyboards, making recordings on a smaller scale.
Smith's comeback recordings in 1986 for Blue Note, and energized by the popularity of the acid Jazz movement, for Verve in the mid 90's signaled a Hammond organ renaissance. The movement was led by the young prodigy Joey DeFrancesco in turn inspiring legends such as Jack McDuff, Jimmy McGriff and Lonnie Smith (no relation) to return to the instrument.  In 1999 Smith appeared with DeFrancesco on a long awaited live recording, and in 2004 the two recorded a full length studio album.  Jimmy Smith passed away in 2005 shortly before the release of the album, and his presence is eternally felt among all organists today.