Joe Henderson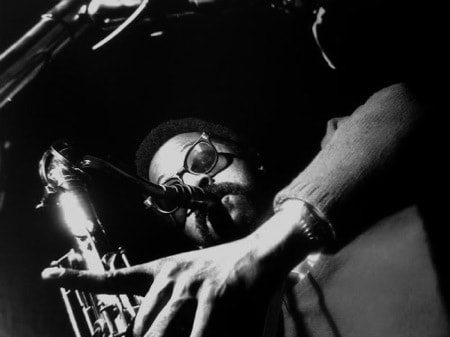 Joe Henderson was one of the most individual tenor players of his generation. As so often happens with many Jazz musicians, Henderson was unfortunately underrated, and after a series of outstanding records for Blue Note, Henderson began a decade long run with Milestone records where he was all but forgotten in most circles. A critical reevaluation occurred in the early nineties when Henderson was signed to Verve records, and the majority of his catalog was seen as extremely worthwhile during the late career accolades.
Born among a family of 15 children on April 24th, 1937 in Lima, Ohio, by high school Joe Henderson was involved with arranging for bands. He studied at Kentucky State College, transferring to Wayne State University in Detroit where he attended classes with trumpeter Donald Byrd and saxophonist Yusef Lateef. Henderson had a brief military stint from 1960-1962, and then he was signed with Blue Note.
Henderson recorded his debut as a leader, "Page One" in 1963. The saxophonist was paired in a quintet with trumpeter Kenny Dorham whom he met at Birdland while sitting in with Dexter Gordon. The Henderson/Dorham pair was fruitful: Henderson's dark tone and harmonically limber ideas matched well with Dorham's warm sound, and unique "running" style of doubletimed lines. The date included McCoy Tyner, bassist Butch Warren, and drummer Pete LaRoca, and included Dorham's classic line "Blue Bossa" among several other memorable compositions from his pen, and Henderson. The duo followed up with "Our Thing", "Una Mas" under Dorham's name, and "In N Out", containing a strong balance of challenging mainstream hard bop flavored with tinges of the avant garde. In 1964, Henderson led a quartet session with McCoy Tyner, Bob Cranshaw on bass, and Elvin Jones, drums titled "Inner Urge" a classic of his output. The modal title track showcased Henderson's ferocity and proclivity for provocative inside-outside playing, anchored by Jones' strong pulse. Henderson's tribute to Thelonious Monk, "Isotope" has become an oft covered standard, and Henderson's Spanish Phrygian mode tinged free improvisation, "El Barrio", added an edge. Despite critics comparing the group to John Coltrane's quartet as the band utilized 2/4ths of Coltrane's group, Henderson demonstrated he had enough of a personal conception to carve out territory where he created his own vocabulary.
Some of Henderson's most enduring compositions appeared on "Mode For Joe", his 1966 swan song for Blue Note. In 1967, Henderson began an association with Milestone where he truly recorded in a wide variety of contexts. Henderson recorded with Blue Note style sextets, experimented with overdubbing and electronics, and free Jazz material. It is puzzling that Henderson's recordings for the label flew mostly under the radar, with highlights including "The Kicker", "Tetragon" (1967) "Power to the People" (1969), "Live at the Lighthouse" (1970) "Live in Japan" (1971) and "Multiple" (1973). On the Japan recording with an all Japanese rhythm section (which on first hearing could be mistaken for Herbie Hancock, Ron Carter and Jack DeJohnette) Henderson delivers a definitive reading of "Round Midnight". Henderson's lengthy solo introduction contains limitless invention moving inside and outside the harmony, recontextualizing the melody, by the time the band comes in, they are effortlessly swinging.
If Henderson's years at Milestone were all but ignored, he was to receive a long overdue appraisal. Henderson returned to Blue Note for a 2 volume set at the Village Vanguard in a trio with Ron Carter and drummer Al Foster, "The State of the Tenor" released in 1986, but it was his signing to Verve in 1991 that increased his visibility to the public. Recordings of Billy Strayhorn, Miles Davis and Antonio Carlos Jobim, received strong promotional push, and contained very fine playing. Henderson remained in his prime and extremely consistent. Henderson passed away in 2000 leaving a strong library of music, and a tenor style that has influenced a generation of young players.