John Coltrane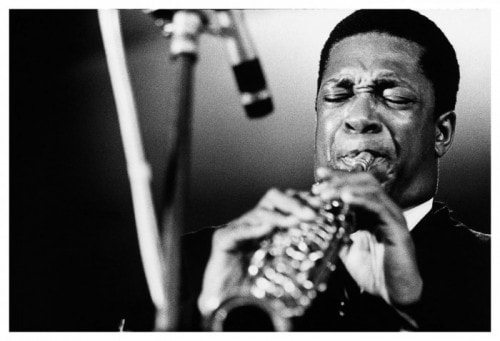 John William Coltrane spent a career of searching and scaling new heights, with thrilling highs, and some things that leave many listeners puzzled.  Coltrane was born September 23, 1926 in Hamlet, South Carolina. His father passed while John was young, prompting he and mother to relocate to New Jersey briefly before finally settling in Philadelphia.  Coltrane played clarinet and later switched to the alto saxophone which he played as a 19 year old on Navy band recordings.   After finishing in the Navy, Coltrane was back to Philadelphia where between 1950-1954 he played with Dizzy Gillespie (switching to tenor), Johnny Hodges, and Earl Bostic.
1955 saw John Coltrane working with organist Jimmy Smith's group  before he was summoned by Miles Davis to join his quintet.  On a series of 4 monumental recordings with Davis for Prestige in 1956, "Workin", "Relaxing" "Cookin" and "Steamin", he exhibited a strong sense of swing, bebop vocabulary and some debt to contemporary Sonny Rollins. Percolating underneath all this was a reaching desire.  These desires lead to Coltrane exploring every nook and cranny of a chord, and while he is not always sure of his ideas on these sessions, they come into sharper focus on his own recordings for Prestige between 1956 and 1958.
Coltrane's approach, dubbed "sheets of sound" by critic Ira Gitler appeared more fully formed on Davis' classic albums "Round About Midnight" (1956) "Milestones" (1958), his lone Blue Note date, "Blue Train" (1957) and the path breaking Davis opus "Kind of Blue" (1959)". Coltrane's hunger for stretching harmonic boundaries countinued on his Atlantic albums, cut between May 1959 through October 1961. Well known Coltrane biographer and scholar Lewis Porter's insightful notes to "The Heavyweight Champion: The Complete Atlantic Recordings" (1995) contain a wonderful excerpt where the saxophonist explained his method in part: "About this time, I was trying for a sweeping sound. I started experimenting because I was striving for a more individual development. I even tried long, rapid, lines that Ira Gitler termed "sheets of sound" at that time. But actually, I was beginning to apply the three-on-one chord approach, and at the time the tendency was to play the entire scale of each chord. Therefore, they were usually played fast and usually sounded like glisses. I found there were a certain amount of chord progressions to play in a given time, and sometimes what I played didn't work out in 8th notes, 16th notes or triplets. I had to put the notes in uneven groups like fives and sevens in order to get them all in." (John Coltrane, The Heavyweight Champion: The Complete Atlantic Recordings booklet liner notes, page 9)
The entire texture of Coltrane's music was about to change as he recorded the equally path breaking "Giant Steps" that same year, a harmonic  exercise in frequently shifting chords  which  continues to be a litmus test today.  He formed his own quartet with pianist McCoy Tyner, bassist Steve Davis (later succeeded by Art Davis, Reggie Workman and eventually Jimmy Garrison) and drummer Elvin Jones. Coltrane's recontextualization of  the show tune "My Favorite Things" in 1961, and the use of soprano saxophone (rarely used since the days of Sidney Bechet) was another shift in Coltrane's sonic temperament.
Tyner's thunderous chords in the interval of a fourth, and Jones' elliptical drumming allowed Coltrane the freedom to experiment with sounds not often heard in Jazz, traveling new ground with multiphonics (playing more than one note at a time) and other extended techniques, moving the music further away from traditionally swinging hard bop.  Early evidence is available on "The Complete Village Vanguard Recordings (Impulse!, 1997) with fellow avant gardist Eric Dolphy.  1964 found Coltrane recording his masterpiece "A Love Supreme", a suite in reverence to his faith, and by 1965 his career entered it's third and final phase.
The recordings of "Ascension" and "Meditations" in November and June of 1965, (the latter composition recorded in two takes of more than 35 minutes each) established Coltrane's continued distance from conventional melody, rhythm and harmony.  "Meditations" utilizes two drummers, with Rashied Ali providing what drummer Jack DeJohnette referred to as panrhythmic conception contrasting to Jones' swing. The tenor saxophonist Pharoah Sanders, whose steely tone, screeches, wails and otherworldly effects joined Coltrane in an exploration less about melodic improvisation but sound.  "Ascension" is a double quartet piece with a set theme but with sections for free and collective  improvisation.  By the recordings of "Om" and "Live in Seattle" (1965) the music could be barely held down.  Tyner and Jones left the group with Jimmy Garrison as the lone holdover, Coltrane's wife Alice replaced Tyner, and Ali replaced Jones, with Pharoah Sanders becoming a full time member.  "Live in Japan" (1966) "Expressions"  "Interstellar Space",  "Stellar Regions", and the "Olatunji Concert" (all recorded in 1967) represent challenging listening. Within this difficult music, careful listening is rewarded with absolute beauty.  Tunes go well past 40 minutes on the Japanese concerts, barely recognizable, with rhythm being completely free. 
Coltrane was searching beyond the universe for sounds and ideas prior to his passing in 1967 from liver cancer. Opinions vary as to whether he found what he was looking for though his music must be taken in it's totality to hear the incredible growth and depth it possesses. Careful listening to the difficult 1965-1967 period music rewards the listener with astonishing beauty.   Coltrane's legacy is represented in just about every modern saxophonist today.