Learn the Tools Like a Pro with Terry Dame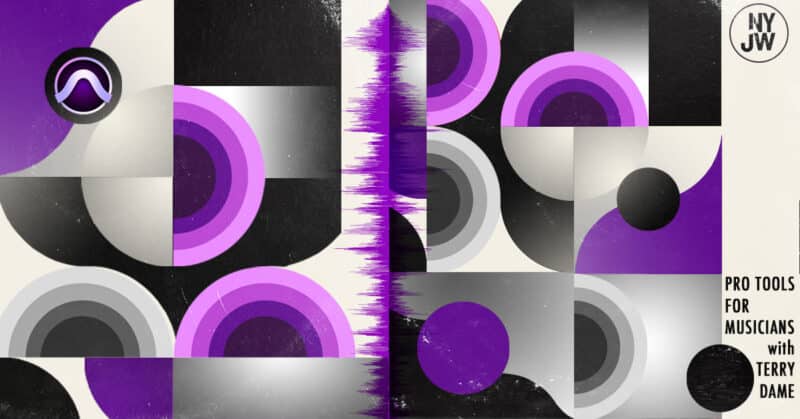 As a producer, you are at your wits end. Learn the Tools Like a Pro with Terry Dame! You have tried the MIDI chord and beat making packs and find they are so limited in scope. Furthermore, you have dabbled in production, but find that going to a university for it is too expensive. That's where you found the New York Jazz Workshop. The New York Jazz Workshop features a cadre of incredible faculty and staff that give all musicians the skills they need to be excellent musicians, and it's not relegated to just jazz. Production has been elevated to high art, and everyone from Alfred Lion, Francis Wolff, Norman Granz, Manfred Eicher, Quincy Jones, J Dilla, and RZA have made their mark as some of the greatest producers in music. In order to be competitive in the industry and make productions musically stand out, one must be familiar with Pro Tools, the Digital Audio Workstation that has been the gold standard for twenty years. It is the DAW by which all others are judged, and the history of the DAW has been a storied one from the predecessors that innovated the many features that are included today. Those innovations were pioneered by the Fairlight, New England Digital's Synclavier, the E-Mu Emulator, spanning to Cubase, and Logic
The NYJW Pro Tools course is taught by the wonderful Terry Dame. Ms. Dame was a practitioner of the trumpet and piano from the age of 8 and she actively pursued those instruments through high school. Her instrumental practice halted for a while as she pursued a Bachelors Degree in Environmental Studies and received her BS. In 1985, the year mentioned above as one for great strides in technological advancement on the music front, she moved to New York, picked up the synthesizer and began sound design, soon being hired by the WOW Cafe Theater where she not only began playing the saxophone but composed four multi media shows. While in graduate school studying composition with Art Jarvinen, Dame began building her own instruments, and studied under some of the premiere names in the avant garde world such as the legendary trumpeter/composer Wadada Leo Smith, Vinny Golia, and in 1998 returned to New York and founded the ensemble Electric Junkyard Gamelan. Currently she has dealt in the development of sensor based musical instruments, and focused on composition in recent years composing for shows like ESPN: 30 For 30 and Hunting in Wartime from Samantha Farinella. Dame has also curated the series Weird Wednesdays.
In 1983, E-Mu released the Drumulator, which by today's standards is primitive drum machine. High school friends who also had mutual interest in recording, music and electrical engineering, Evan Brooks and Peter Gotcher were intrigued by the possibilities of the sister machine to the famous E-Mulator sampling keyboard and sought to find out about more of how the Drumulator functioned. Compared to sampling rates in the modern era that go up to 96 or 128kHz the 12 bit samples that the Drumulator contained, while being amazing for the time, are not much at all currently. In fact, the first digital audio converters (DAC) in CD players were about 12 bits. In the early 80's sampling and recording was only available to those with deep pockets, the sound of pop music in the 80's was dominated by the Fairlight and Synclavier, which also had capacity for recording. When Quincy Jones and Michael Jackson began the sessions for the singer's third album, the smash Bad in 1985 (a year that seemed to mark vast technological change) almost all of the recorded tracks, and what's heard on the album was recorded into and utilized the Synclavier's sampling. Brooks and Gotcher introduced an interface that year that would bring sampling to a broader base, and by 1989, Sound Design, the first iteration of Pro Tools was born.
8 years later, Sound Design would adopt what is now the high resolution industry standard of 24 bit, 96 KhZ resolution for recording. By 2002, with other products on the market such as Logic and Cubase, Pro Tools would become the industry standard. More than likely when you hear a professional recording, it is done with Pro Tools. While there are other comparable products in use like the once industry defining Cakewalk by BandLab, to be competitive in the market today one must be able to use Pro Tools, as it is not just used for music recording but also major news outlets for the recording and editing of audio stories.
The New York Jazz Workshop is an attractive facility for the amount of options it presents for the every day musician. Conveniently located near multiple subway stops and Penn Station, commuting is a breeze. Not only is there 24/7 access to practice facilities via key card, but an outstanding performance space which can also be rented for special events. The school is dedicated to teaching musicians of all levels in a nurturing and warm environment which is designed with the purpose of addressing and strengthening weakness, while praising the strengths of each musician or vocalist. Jazz, or Black American Music is a wide term, meaning many things to different people. There are so many different streams in the ocean that make up the art form, that it can be bewildering for those first coming to it. While some may find jazz to inaccessible due to interactions with lovers of the form or perhaps something they read online, it is also an earth based folk music that continues to thrive and evolve. Jazz is such a big stream that the beginner to advanced rhythmic, harmonic, improvisational and melodic concepts taught at the NYJW it will give all musicians the tools they will need in performing the music of their choice.
Today's musicians require a diverse skillset for multiple genres. The New York Jazz Workshop offers many classes, intensives, private lessons in several boroughs: Manhattan and Brooklyn, as well as Europe. Great musicianship knows no borders or genre. Conveniently located near Penn Station and several subway stations at 265 W. 37th Street between 8th Avenue, it is simple to see why the New York Jazz Workshop is the best choice to meet both musical, and production needs.