Lester Young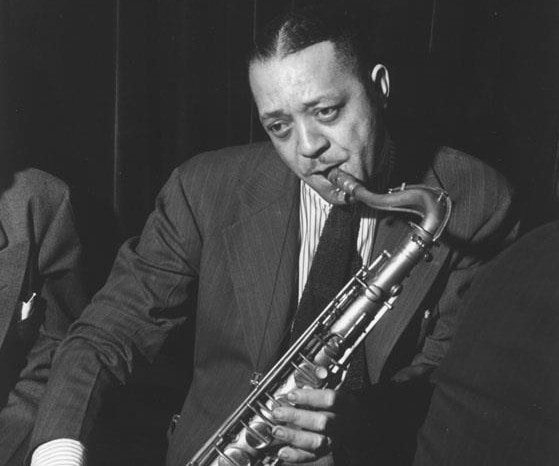 Born on August 27th 1909, Lester Young ( "Prez" )was one of the giants of the tenor saxophone.  In the swing era he staked his claim by being refreshingly different from his peers Coleman Hawkins and Ben Webster.  Young's sound was dancing, light as air and he played mellow ideas that for some were a harbinger of the bebop movement to follow.  Young arrived in 1930's Kansas City, a mecca of Jazz activity and played with various bands including the Benny Moten and Fletcher Henderson orchestras, and in 1936 he joined Count Basie's ensemble.
The association with Basie yielded a combination of big band and small group sides, where Lester's solos stood out amongst the likes of fellow tenor Herschel Evans.  Selections such as "Taxi War Dance" and the "I Got Rhythm" based "Lester Leaps In" were showcases for his sound and ideas.  Young played with Basie until 1949, with an military stint in between where he was drafted and later found guilty of marijuana use.  Young toured with Jazz at the Philharmonic, and his tone and ideas took a darker shade.  In 1957, Young was reunited with Basie on the historic "Count Basie at Newport" album and  captured in fine form on several numbers including the aforementioned "Lester Leaps In", and alongside additional guest Roy Eldridge on the nine minute "One O Clock Jump".
Another of Lester Young's most notable collaborations was with vocalist Billie Holiday.  They had a very strong friendship, and their rapport is beautifully captured on the landmark film "The Sound of Jazz" in 1957.  Young had like others before him moved to Europe, and he returned to the United States, passing away at the youthful age of 49.  Young's impact on the Jazz scene cannot be overstated.

Young's style was an alternative to those who idolized Charlie Parker, Sonny Rollins and the approaches which firmly established them in the still blossoming Jazz vocabulary.  Tenor players such as Stan Getz, Hank Mobley, Al Cohn and Zoot Sims were direct disciples of Young.  Charlie Parker admitted that Young was a huge early influence, and  big toned Dexter Gordon frequently liked to incorporate some of Young's lines in his solos.  Paul Quinichette, a  most known for his Basie stint was nicknamed "Vice Prez" because his tone and lines uncannily resembled Young's.  A good example of hearing the Lester Young influenced tenor alongside more modern exponents like John Coltrane are the Prestige albums "Tenor Conclave" (1956) featuring Coltrane, Mobley, Sims and Cohn, in addition to "Cattin with Coltrane and Quinichette" (1957).  Through players of that magnitude, Prez's legacy lived and continues to burn brightly on.