Pat Metheny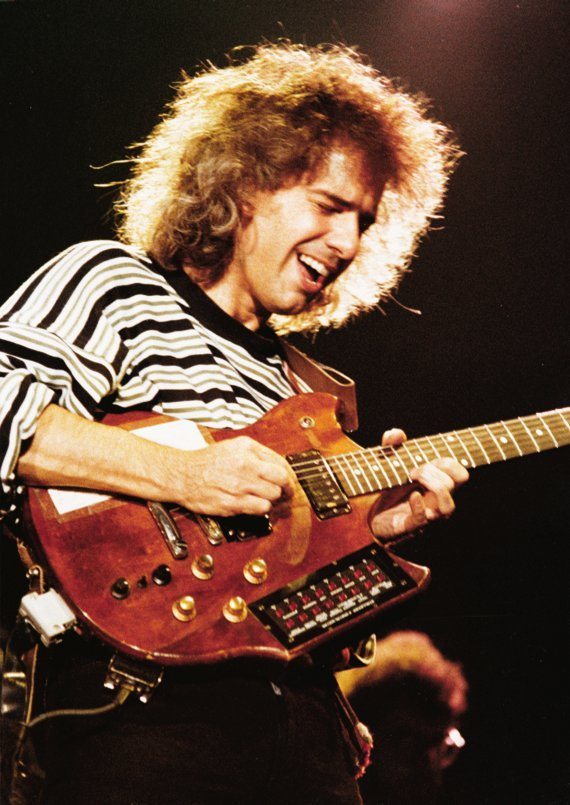 Pat Metheny is one of Jazz's most influential guitar players of the past 40 years. His tone, innovative use of technology and fearlessness of genres, are well known and make him both controversial, and a favorite of many. Born in the town of Lee's Summit, Missouri on August 12th, 1954 Metheny grew up surrounded by music. Both parents were musicians and Pat's brother Mike is an excellent trumpeter. Around the age of 12, Metheny heard the album "Four and More"(1964) by Miles Davis which changed his musical life immediately, another early favorite was Ornette Coleman. Initially a trumpeter, Pat switched to guitar as braces made the instrument difficult to play, and his parents thought that the guitar was also a bit rebellious due too. Metheny was an avid fan of Wes Montgomery and tried everything he could to duplicate his playing. His love for the master's playing was so deep, he dropped a lot of the Montgomery mannerisms such as playing octaves, and began to explore his own unique musical universe to.
Metheny gigged around Kansas City as a teenager garnering valuable experience with h major musicians in the area as drummer Tommy Ruskin and trumpeter Gary Sivils, working all sorts of musical situations; including the Jazz organ trio circuit. Between 1972 and 1974 Pat received a few huge breaks: upon what he described as barely graduating high school, he became one of the youngest guitar teachers at the University of Miami, connecting with the pioneering bassist Jaco Pastorius. He began a three year run in vibraphonist Gary Burton's band which included guitarist Mick Goodrick and bassist Steve Swallow. 1975 saw Pat signed to Germany based ECM Records, and made his first recording "Bright Size Life".
"Bright Size Life" offered something remarkably different from the Jazz-Rock that dominated the era: time floated along the cymbals in straight eighth and triplet syncopated patterns, melody was the focus, as well as a rich sonic bed formed by overdubbing six and twelve string guitars on top of each other. Metheny's sound was spacious, and his solos contained strong logic in their note choices. In 1978, Pat formed his longest lasting ensemble, the Pat Metheny Group in 1978 with pianist and keyboardist Lyle Mays, bassist Mark Egan and drummer Danny Gottlieb. The band essayed a wide range of musical influences and long forms unusual to Jazz and recorded two albums: the self titled Pat Metheny Group (1978) and "American Garage" in 1979.
1980's "80/81" with saxophonists Michael Brecker, Dewey Redman, bassist Charlie Haden and drummer Jack DeJohnette gained Metheny additional credibility in the straight ahead Jazz community. This album also significantly helped the career of the late Brecker who said "there was everything before 80/81 and everything after 80/81". In 1981 the Metheny Group's "Offramp" followed, a significant milestone in the band's sound. Metheny utilized percussion and wordless vocals from Nana Vasconcelos, a standout Brazillian percussion master, and debuted the guitar synthesizer (which remains in Pat's arsenal to this day) and Synclavier synthesizer, with the album centerpiece, an alluring bossa, "Are You Going With Me?". Metheny continued the investigation of Brazillian music with new band members Pedro Aznar (vocals, miscellaneous instruments) and drummer Paul Wertico, and with David Blamires and Mark Ledford (replacing Aznar permanently from 1992 onward) on a series of 3 landmark albums "First Circle", "Still Life (Talking)" and "Letter From Home".
Metheny continued in to the 90's following his muse with straight ahead Jazz trio projects, an ambitious solo album, "Secret Story" (1992) and more Group projects, all through his own production company where owning his masters allows him creative freedom unheard of for most Jazz artists. The 2000's saw a massive change in the Metheny signature sound. In 2010, Metheny debuted the Orchestrion, an army of acoustic mechanical instruments, basses, pianos, blown bottles and other percussion controlled by Metheny's guitar through MIDI implementation. He embarked on a world tour, and has included the hulking behemoth in actual bands. He continues to push the boundaries, inspiring hundreds of players around the world, and his own creativity never ceasing. For Pat Metheny, the sky is the limit.