Roy Eldridge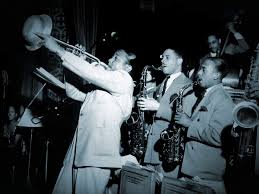 Explosive, boisterous, competitive,  words that describe trumpeter Roy Eldridge.  Born in Pittsburgh, Pennsylvania, Eldridge was one of the most important trumpeters of his generation to emerge on the scene.  Part of the reason why he is so important is because he was one of the musicians to successfully be a bridge between swing and bebop styles with his approach, a middle ground where both styles could meet and learn from each other.  Possessing a distinctive, razor sharp tone, Eldridge was different from trumpeters like Louis Armstrong and Bix Beiderbecke because his primary influences were saxophone players, Coleman Hawkins among them. 
Eldridge's professional start began around 1930, where he arrived in Harlem.  He briefly left New York, but returned in 1934 after working with McKinney's Cotton Pickers.  From there, Eldridge also worked with Fletcher Henderson and Gene Krupa, as well as Count Basie.  The late 1940's saw a breakthrough opportunity for the trumpeter, the impresario Norman Granz, founder of Verve Records had contracted Roy to play and tour with Jazz at the Philharmonic.  JATP )as it was known) brought Jazz to the people in concert halls, often with a raucous atmosphere as the soloists were inspired by the jam session format.  The concerts were a mechanism for social change, knocking down racial divides at Granz insistence.  Eldridge shared the stage with many stars including Illinois Jacquet, Charlie Parker and Oscar Peterson,  led his own groups and made a series of well received recordings for Verve. 
Indefatigable, Eldridge aligned with Granz again in the 70's for Pablo Records in a variety of settings.  He also led groups playing Dixieland at Jimmy Ryan's in New York, until a stroke ended his trumpet career in 1980.   He continued to sing and play piano until his passing in 1989.  Always competitive, he  never shied away from a challenge, once remarking to Norman Granz regarding a musician approaching to jam, "Baby, I roasted him".  Roy took challenges as if Jazz was his ring and he was the Heavyweight champion engaging in battles with Clark Terry, Dizzy Gillespie and Ella Fitzgerald.  His horn is always a joy to hear.
 Recommended listening:
Ben Webster and Associates (Verve, 1959)
Count Basie Jam at the Montreux Jazz Festival (Pablo, 1975)
Jazz at the Santa Monica Civic '72 (Pablo, 1972)
Roy Eldridge 4: Montreux '77 (Pablo, 1977)
<iframe width="560″ height="315″ src="//www.youtube.com/embed/i1W1v0Ev8iI" frameborder="0″ allowfullscreen></iframe>