Stanley Turrentine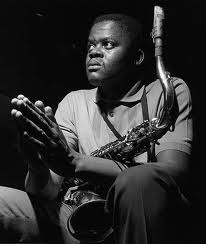 Stanley Turrentine was one of the big toned tenors in the tradition of Illinois Jacquet and Gene Ammons. His sumptuous sound was perfectly suited to bebop, blues and ballads, and he gained widespread popularity through his recordings for both CTI and Fantasy. Turrentine was born into a musical family in Pittsburgh, on April 5th 1934, where his brother Tommy was a trumpeter. Stanley gained early inspiration from sitting in with his hero Jacquet, at the age of 12, and he also worked with Lowell Fulsom's group, and in 1953 Earl Bostic, where he succeeded John Coltrane.
Turrentine's first major break came as being a member of Max Roach's quintet with brother Tommy in 1959, and he recorded an album featuring Roach on drums. Turrentine appeared on the famous April 25, 1960 session that make up the albums Midnight Special and Back At The Chicken Shack by organist Jimmy Smith, Turrentine's first released appearance on Blue Note. By 1961, Turrentine recorded his Blue Note debut Look Out!, establishing a strong rapport with the rhythm section of pianist Horace Parlan, George Tucker, bass, and Al Harewood, drums. The combo followed up with the double volume Up at Minton's with guitarist Grant Green added. These sides showcase a somewhat different side of "Mr. T's" playing than most listeners realize: he was as comfortable on uptempo tunes with fluid bop phrasing as he was on ballads and blues, with wonderfully inventive solos.
Turrentine married organist Shirley Scott in the early sixties, and the pair made several albums for Blue Note, Prestige, and Impulse! firmly establishing Turrentine's reputation as a first call tenor saxophonist for organ combos. He took part in Jimmy Smith's album Prayer Meetin' (Blue Note, 1963) and by the mid sixties he was exploring more commercial material with larger ensembles, foreshadowing things to come. In 1970, Turrentine signed with producer Creed Taylor's fledgling CTI label. CTI was a label that redefined mainstream Jazz with slick, glossy album jackets, equally slick production, and an all star roster of artists that played on each other's records. He released his massive smash Sugar, in 1970 with guitarist George Benson, Freddie Hubbard on trumpet, Ron Carter, bass, keyboardist Lonnie Liston Smith (not to be confused with organist Lonnie Smith) drummer Billy Kaye and organist Butch Cornell. The medium tempo blues based tune (with not quite blues chord changes) allowed Stanley to stretch out in the zone he functioned best, with memorable solos from all concerned. He also put forth a very individual interpretation of John Coltrane's "Impressions" to close the album. He followed up with the Brazillian flavored Salt Song in 1971, an excellent small group session co lead with Milt Jackson, Cherry in 1972, appeared with Freddie Hubbard on the dual volume In Concert further investigating their simpatico blend, and his final CTI album Don't Mess With Mister T. also in 1973.
Turrentine's CTI years were marked by an accessible balance of artistic and commercial. The CTI All Stars California Concert double disc set (CTI Masterworks, 2010) on the concert closing , previously unissued version of Freddie Hubbard's "Straight Life" shows Turrentine really stretching himself. He plays quite harmonically adventuroud on this tune, an area not heard from him much on records. This revelatory moment should inspire serious investigation of Turrentine as a well rounded player. The Fantasy recordings are a mixed bag with larger ensembles, very era specific material, but with the saxophonist playing with much soul.
Through the final two decades of his career, Turrentine reestablished himself as a wonderful mainstream player, resigning with Blue Note, recording a strong album with Gene Harris for Concord, and several sessions with Jimmy Smith. He continued playing in fine form until his unexpected passing in 2000, while he had an engagement at New York's Blue Note. Turrentine will always be remembered for his sound, great albums he made and his truly individual approach, there is no one that quite sounds like Stanley Turrentine.