Tony Williams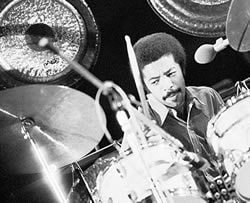 Very seldom in Jazz history have come musicians that singlehandedly change the course of the way their instruments are approached forever.  Only a handful of players have done so, and even fewer are teenage prodigies. Born on December 12th 1945, Tony Williams fits all those descriptors.  Williams' musician father had brought him along to sit in on gigs, and Williams studied with drummer Alan Dawson, and played with tenor saxophonist Sam Rivers at the age of 13.  In 1962, alto saxophonist Jackie McLean was made aware of Williams' talent and upon permission from Williams mother, McLean afforded the young drummer a chance to move to New York.
 Williams appeared on his first session, Jackie McLean's Blue Note album "Vertigo" at 17 years of age, and he also appeared on sessions by trumpeter Kenny Dorham and pianist Herbie Hancock.  By 1963, Miles Davis was interested in hiring him, as Jimmy Cobb left, forcing Davis to use a variety of drummers.  Williams was recruited for part of the sessions that make up "Seven Steps to Heaven" (Columbia, 1963) the first recorded taste of the legendary Herbie Hancock/Ron Carter/Williams rhythm section that formed the base of Miles' Second Quintet. Williams also lead the first complete album of avant garde jazz on Blue Note with the album "Life Time" (1964).  When tenor saxophonist Wayne Shorter joined Miles' group in 1964, the transformation was complete.  Williams with his famous dark, trashy, K. Zildjian cymbals, in tandem with Hancock's piano and Carter's bass, pushed, and pulled time, rhythm and form in ways it had not been before.  They also radically recontextualized standards in Miles' group. Williams redefined drumming, with a constant ride cymbal pulse,
 Williams left the Miles Davis Quintet in 1968, and the following year founded what is considered by many to be one of the very first Jazz-rock ensembles, the Tony Williams Lifetime with the organist Larry Young and British guitar phenom, John McLaughlin. They recorded the double album "Emergency" (Polydor, 1969) which redefined the concept of what an organ trio and what a Jazz trio could be.  The group recorded another album, adding Cream bassist Jack Bruce, "Turn it Over" in 1970.  Lifetime went through various personnel changes and by the mid seventies, Williams slowed down and focused on composition.  He recorded with Herbie Hancock and the V.S.O.P. Quintet, the Miles Davis Quintet with trumpeter Freddie Hubbard standing in for Miles, a string of albums that signalled to purists who hated electric Jazz, that acoustic music was still possible.
 1985 saw Tony assembling a new band, to record his return to Blue Note, "Foreign Intrigue".  The focus was on his compositions and acoustic music, his famous bright yellow Gretsch drum kit, pounding and swinging with enormous force.  Williams formed a permanent quintet with trumpeter Wallace Roney, saxophonist Bill Pierce, pianist Mulgrew Miller and bassist Robert Hurst (later replaced by Charnett Moffett and finally Ira Coleman). This quintet, one of the most prominent bands of the late 80's and early 90's recorded five excellent albums for Blue Note between 1986 and 1992. He also toured with a V.S.O.P. Reunion band this time, with Wallace Roney
 Tony's interests shifted to orchestration, and he released "Wilderness" featuring Herbie Hancock, guitarist Pat Metheny, tenor saxophonist Michael Brecker and bassist Stanley Clarke in 1995.  After one more album, Williams shockingly passed away at age 51 following gall bladder surgery in 1997. 
 There is not one modern jazz drummer today who is not affected by and assimilated Tony's innovations and vocabulary.  His biggest student and disciple, Cindy Blackman Santana is at the top of the list of Williams' inspired drummers as she leads her own bands with similar ferocity, dynamics and drive, making sure Williams is never forgotten.