Charlie Haden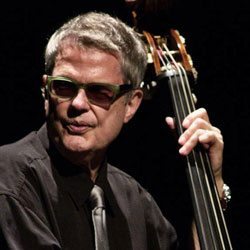 Charlie Haden was one of the most significant bassists to emerge after Jimmy Blanton, Paul Chambers, Ray Brown, Scott LaFaro and Ron Carter. His passing on July 11, 2014 after a lengthy post polio illness has robbed jazz of one the most creative, interesting players out there. In addition to his illustrious career as leader, his luscious tone accompanied by perfect note choices made him an ideal sideman often serving as a sympathetic partner for duets, especially with pianists including Hampton Hawes, Hank Jones and Keith Jarrett. Charles Edward Haden was born on August 6, 1937 into a highly musical family in Shenandoah, Iowa. He debuted at the the tender age of two on his family's radio show where they sang country tunes and spirituals. At age 15 Haden was stricken with polio which weakened his vocal chords.
In 1957, he moved to the West Coast to seek out pianist Hampton Hawes, attending the Westlake College of Music after initially rejecting a scholarship to Oberlin College of Music. The bassist would play with progressive, avant garde pianist Paul Bley, and alto saxophonist Art Pepper.
In 1959, Haden received a big break, one that would make him a household name and one of the most in demand bassists on the scene, by joining alto saxophonist Ornette Coleman's quartet. By the time The Shape of Jazz to Come (Atlantic, 1959) was released the bassist played an important role in Coleman's free jazz innovations, known worldwide as "harmolodics". Although Coleman would compose pieces with their own fully realized structure and logic, Haden's role in the group was to often adapt to whatever the saxophonist played at will, countering what Coleman played by finding the appropriate chords corresponding to the sax line. In the absence of conventional structures found in bop and hard bop, the instrumentalists would engage in 4 way conversation. Haden's playing was not only intriguing and refreshing, but his dedicated beliefs in social and political causes formed a strong foundation for his own music. In 2009's documentary Rambling Boy the companion piece to what would be the bassist's final studio album as leader, he detailed the experience of a 1971 concert with Coleman in Cascais, Portugal, then under dictatorship. At first he attempted to discourage Coleman from playing. Ultimately, the group performed the concert where Haden dedicated his composition "Song For Che" to the highly enthusiastic audience. After the concert, the bassist was detained by the FBI for his political stance, in an experience that Haden described as one of the most frightening of his life.
Haden formed the Liberation Music Orchestra with Paula Bley. The self titled album, recorded for Impulse! centered on the Spanish Civil War, with the musical contents consisting of Spanish folk music and military marches interspersed with sections of free improvisation, and recordings of Spanish folk songs. The Orchestra would continue on with Ballad of the Fallen (ECM, 1983) Dream Keeper (Blue Note, 1990) and Not In Our Name (Verve, 2005). The bassist was also an integral part of Keith Jarrett's American Quartet from 1971-1976.
The eighties would follow with Haden's creation of the successful Quartet West group, which would tackle music from films, often with string backing. Also during this period Haden had a residency at the Montreal Jazz Festival, most of that music was contained on several releases on Verve and ECM. At this time, the material with guitarist Pat Metheny remains unissued. The nineties saw Haden releasing a series of duet albums, most notably with Hank Jones and Pat Metheny, the latter album with Metheny, Beyond the Missouri Sky (Verve, 1997) has become one of the most popular and most loved of Haden's career with appeal that has burst across genres. Haden's aforementioned 2009 Rambling Boy re-examined the music of his youth, and featured his son Josh, along with daughters Petra and Rachael, each an accomplished musician. Haden's final recordings were, 2010's Jasmine (ECM) with Keith Jarrett, the soundtrack of Living With Eyes Closed with Pat Metheny. An additional album from these sessions, The Last Dance was issued in 2014.
Haden's legacy is vast. In the days since his passing, musicians and fans have shown tremendous reverence and love for as a musician and human being which will ensure that his legacy will live on for many years to come.