Kenny Burrell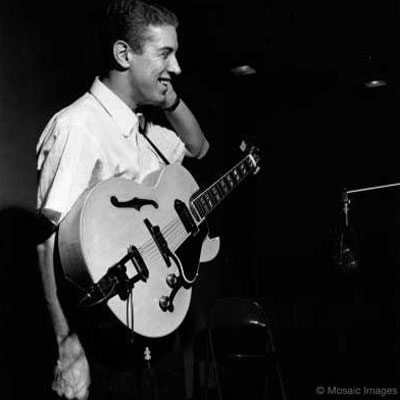 Kenny Burrell, without question is one of the most consistent guitarists in Jazz. Nicknamed the "Velvet Whip", his warm tone carresses on ballads, and can also really dig down on blues and uptempo material. Born on July 31st, 1931 in Detroit, Burrell's family was musically inclined and he picked up the guitar at an early age. He was part of a cadre of musicians that landed in New York from the Motor City along with trumpeter Donald Byrd and bassists Paul Chambers, and Doug Watkins (Chambers' cousin) among the top players on the scene at that time.

Burrell played with Dizzy Gillespie's group in 1951, an engagement with Oscar Peterson in 1955 was instrumental in Burrell making the permanent move to New York. In 1956, Burrell made his debut album for Blue Note "Introducing Kenny Burrell" with pianist Tommy Flanagan, Paul Chambers, percussionist Candido, and Kenny Clarke on drums. The recording showcased Burrell's lyrical gifts on standards, ballads and blues, plus one percussion feature for Clarke and Candido. Burrell would follow up with a few more leader albums for Blue Note and Prestige in the next year. In February 1957, he began a nearly 40 year long partnership with organist Jimmy Smith, proving to be one of Smith's best collaborators, Burrell's cooler exterior matched perfect with Smith's raging ferocity.
In 1958, Burrell recorded his popular jam session "Blue Lights", following up with a live recording with Art Blakey at the Five Spot. By 1963, Burrell recorded his most famous album "Midnight Blue" featuring Stanley Turrentine. The album crossed genres into rock and R&B with the blues "Chitlins Con Carne", that many groups have covered. Burrell made albums for a variety of labels in the mid 60's, and early 70's, making a string of recordings for the Muse label.
Burrell has taught at UCLA for the past several decades, teaching Jazz history. His particular expertise is in the music of Duke Ellington. Called his favorite guitarist by Ellington himself, Burrell has done more for the icon's music outside of trumpeter Wynton Marsalis' efforts, bringing the music to a new generation. Burrell continues to actively play, having made several albums for the High Note label over the past few years. With so many guitarists choosing the chops and flash route, it's refreshing that Kenny Burrell continues to make solid, tasteful music.