Miles Davis: Part II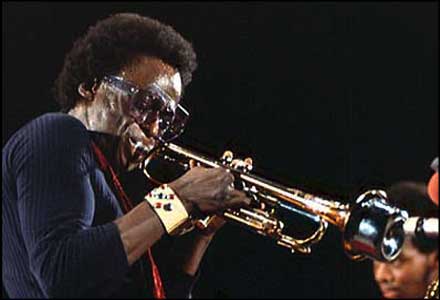 By September 1964, the final piece in what would be known as the "Second Great Quintet" was now in place: tenor saxophonist Wayne Shorter. Davis had hired the avant garde phenom, Sam Rivers for a tour of Japan in July 1964, but found him to be an ill fit for the music. Rivers' tone, in part inspired by R&B honkers, had a hard penetrating edge, and his musical ideas some have felt were too out for Davis. The results of this unusual combination are found on the thrilling Miles in Tokyo where as soon as Miles finished soloing, Rivers and the Hancock-Carter-Williams section would take off into much freer space. The four had logged plenty of playing time together on Blue Note sessions of the period, and their simpatico was evident. Shorter became the permanent replacement soon thereafter, and the band's identity stretching standards and older original material to the limit materialized. Nowhere is this more distinct than the recordings made in December, 1965 at Chicago's Plugged Nickel. Shorter reflected in the notes to the Complete Columbia Studio Recordings of the Miles Davis Quintet: 1965-1968 "We knew that everyone was taking a lot of chances. We were chance-taking anyway but we were taking some real chances now. I would hear Herbie and myself at certain junctures struggling with something. Miles would be grappling with something, and when we finished, it was like he came out of the boxing ring, but something refreshing was going on."
The group recorded in January of 1965, a studio album of original material, ESP . Shorter's composition was a watershed. Producer and musician Bob Belden noted in his detailed analysis of the group's studio recordings that voicing the melody in the interval of a fourth in the track became a signature of the band, as well as the now legendary time keeping of Tony Williams. Williams' drumming became much more aggressive from the recording of 1967′s Nefertiti onwards. At this early stage of the combo's lifespan, he primarily kept a strong pulse on the ride cymbal with minimal snare, tom and bass drum commentary. Miles playing was explosive as it had been in much of the 1963 and 1964 recordings, and the solos followed with each member picking up on each others' phrases. The band followed with several more albums of original material, mostly composed by Shorter, but with valuable contributions made from Davis, Hancock, Carter and Williams.
Some of the more significant numbers in the band's original repertoire came from Shorter's pen on 1966's Miles Smiles . The bizarre "Orbits"; which Belden observed "contains a six-measure section and an 18-measure section. The meters constantly shift between 6/4, 5/4 and 4/4 adding to the musical ambiguity. There are no chord changes indicated and Hancock remains silent, except for his brief solo in which he plays only single (monophonic) lines." Shorter's blues "Footprints" was another highlight, "Circle" was a ballad which is a revision of "Drad Dog" an original Davis recorded on Someday My Prince Will Come . Arguably it is the go to record for this band if an individual is pressed to choose one. 1967′s Nefertiti and it's Shorter composed title track was a revelatory example in the expected function of a traditional Jazz quintet: Davis and Shorter played a repeated winding melody, while Hancock, Carter and Williams added interjections that toyed rhythmically. Tony Williams utilized the unconventional form and approach for a drum solo between the melodic phrases. In contrast, if one listens to this classic version and then a live version recorded on July 26, 1969 with the Lost Quintet, featuring Chick Corea on electric piano, Dave Holland on bass and drummer Jack DeJohnette (available on Miles Davis Quintet: Live in Europe 1969: The Bootleg Series, Volume 2 )the listener or student will recognize the melodic repetition is discarded in favor of solos from the horns and Corea. The Second Great Quintet would move on to include electric instruments R&B and soul elements in compositions as well as a more rock centric instrumentation on the 33 minute "Circle in the Round" from 1968, a sure sign Davis was ready to abandon acoustic music in favor of an electric sound.
In 1969, Miles recorded pianist Joe Zawinul's tone poem "In a Silent Way", also the title of the album. The music on the record signaled yet another significant shift. Miles broadened the textural palette featuring multiple electric keyboards from Herbie Hancock, Zawinul and Chick Corea, plus John McLaughlin on guitar. The ambient nature of the piece served as a precursor to the electronic music that would emerge in the following decades. Although compositions such as "Circle in the Round", and albums like Miles Ahead utilized overdubs and multiple takes to make a composite of a complete tune, In A Silent Way truly was the first collaboration between Miles and his producer Teo Macero to use the studio as instrument. Macero craftily edited sections from melodic fragments and improvisations, using early tape looping to build song forms out of the raw material. When heard in their complete unedited contexts, documented on the many box sets covering Davis Columbia years, they paint an entirely new picture from the edited versions used to produce the albums.
During August of 1969 Miles' next step created a buzz that resounded through Jazz and other music genres. Recorded as Woodstock was taking place in Upstate New York, Miles assembled a group of musicians at Columbia's Studio B in New York City: saxophonists Wayne Shorter and Bennie Maupin, Chick Corea, Larry Young (Khalid Yasin) on keyboards, McLaughlin on guitar, and drummers Jack DeJohnette, Lenny White and Don Alias. The recording was Bitches Brew , his most iconic record since Kind of Blue ten years prior. Despite guitarist Larry Coryell's experiments with rock elements in 1966 and the Tony Williams Lifetime (with McLaughlin and Young in tow) releasing Emergency! in the earlier half of 1969, Bitches Brew represented the revolution, per Davis' stature in music. The rock rhythms and heavy poly rhythmic interplay, Macero's refined production techniques first heard on In A Silent Way and provoking cover art by Mati Klarwein created a true cultural statement.
Davis was most interested in trying to bring Jazz back to black audiences. Jazz had increasingly become a "head" music through much of the decade, the lack of conventional harmony, melody, and rhythm, found in much of modal and Free Jazz alienated many listeners and they turned to the more accessible sounds in Rock, Pop and Soul musics. The passing of John Coltrane in 1967 signified a symbolic death for the Free Jazz movement for many. Some of it's most known exponents, such as Pharoah Sanders began playing in relatively "inside" settings. Jazz was splintering off into many directions–simultaneously grounded in tradition but also undeniably welcoming the imprint of other musics. Davis went to the fundamental core of music: rhythm, inspired by James Brown and Sly and the Family Stone and many othera. Following the funky and rocking rhythms as explored on 1970's A Tribute To Jack Johnson and the Indian influenced On The Corner Miles investigated an even more African inspired rhythmic focus from 1973 to 1975. The final installment of this article will focus on Miles' comeback after his 1976 retirement. Read Part I here.