Trane's Resolution: Essential Small Group Jazz Performances Part XI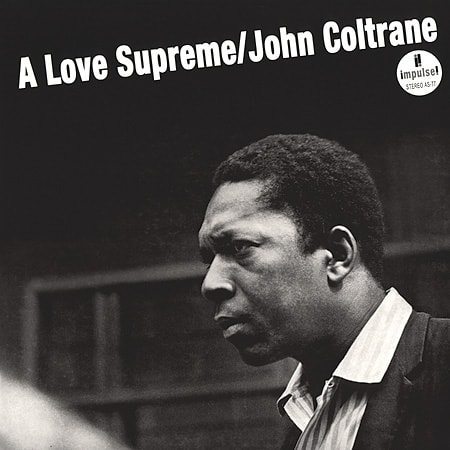 "Resolution" from the album A Love Supreme (Impulse! 1964) John Coltrane: tenor saxophone McCoy Tyner: piano, Jimmy Garrison: bass, Elvin Jones: drums. Recorded December 9, 1964 at the Van Gelder Studio, Englewood Cliffs, NJ. Recording engineer: Rudy Van Gelder. Produced by Bob Thiele.
1964 was a quiet year recording wise for the classic John Coltrane Quartet, stepping into Rudy Van Gelder's legendary Englewood Cliffs studio only twice in April and June to record the lesser known but equally as enriching Crescent. While mainstream America was in the throes of Beatlemania, so too was Coltrane's music changing. He was looking for ways to get past the restrictions of conventional swing rhythms and traditional harmony, and was pushing himself much farther in terms of his playing. Not long after A Love Supreme swing based rhythms would give way to rubato playing that would follow the horn man at will. Perhaps more so than any other earlier recordings, the 1961 dates at the Village Vanguard with his absolute command of the horn, utilizing harmonics and multiphonic tones foreshadowed just how ambitious he was in moving his instrument past conventional tonality and into a world of pure sonic color.
A Love Supreme was the tipping point for many listeners, where they either stayed onboard with Coltrane's further developments, or left with the avant garde realms his contemporaries like Cecil Taylor, Archie Shepp, Pharoah Sanders, trumpeter Bill Dixon and others were forging. Directions paving the way for future stars such as Evan Parker, Peter Brotzmann, Joe McPhee, Hamid Drake, Alex Cline, Mats Gustaffson, Joe Maneri, Susie Ibarra, John Zorn and many others. Inspired by faith A Love Supreme is a suite that simultaneously looked at the present moment in the music, the future of it, and brought many new fans to jazz.
Following the opening movement's iconic bassline of F-Ab-F-Bb melodically spelling out "A Love Supreme", "Resolution" begins with Jimmy Garrison's powerful double stops, a reminder that the bassist was always a huge rhythmic force in the quartet. After Trane states the head, McCoy Tyner takes flight in a magnificent solo, giving way to the saxophonist, who builds an improvisation that is wonderful in it's tunefulness and logic. Pay special attention at 4:30 to the motif that the saxophonist builds upon because it is a textbook example of one of his trademarks to use repetition for tension building, and the multiphonic cries at 5:30 also add to this effect. Throughout this performance, Jones ebullient swing, and comping are inspired, pushing the soloists to greater heights.
A Love Supreme is a perfect microcosm of all the developments that the John Coltrane Quartet had made up to that time. The band was hurtling rapidly to new heights,once the album was released, and it truly was a snapshot of where they were at that point in time. On December 10th, Coltrane brought in Archie Shepp on second tenor, along with Art Davis (who had previously been a part of the group) on bass complimenting Garrison, and sextet recordings of "Acknowledgement" and "Resolution" were taped and are the only surviving takes from this session. These recordings were thought to be lost, and appeared officially for the first time in 2002 on the Deluxe Edition of the album which also included the first official release of the live version of the suite performed only once at the Antibes Jazz Festival in July, 1965. This version is even more passionate than the studio rendition, and the improvisations reflect the startling growth and directional change in Coltrane's music which began a month earlier when he recorded Ascension. Included below are the studio, live, and Kurt Elling's vocalese version for comparison and further study.