What are some good Halloween jazz selections?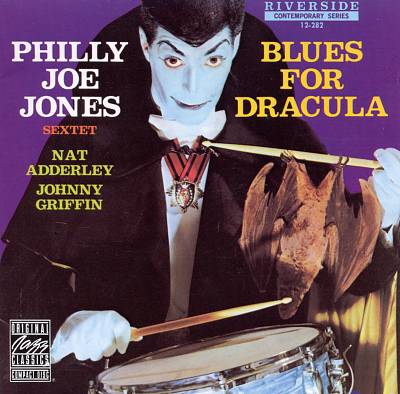 With a few days away before the scariest day of the year, it may be good fun to choose some tunes that conjure images of the macabre, two selections really bring to mind the spirit of the season. One a bit lighthearted with Philly Joe Jones' classic "Blues For Dracula", and John Coltrane's landmark 1965 Om (Impulse!), which stands as one of the darkest, most controversial pieces he recorded.
In 1958, "Philly" Joe Jones was riding the wave of being one of hard bop's top drummers. From 1955 to mid 1958, he was the drummer in the Miles Davis Quintet, and appeared on countless sessions for Blue Note, and as house drummer for Riverside. Following his exit from the trumpeter's group after Milestones (Columbia, 1958) he assembled a band including Nat Adderley on trumpet, Johnny Griffin on tenor, and bassist Jimmy Garrison (appearing twice in this article) for his debut album for Riverside Blues For Dracula. The title track, is a humorous monologue with Jones doing his finest Bela Lugosi impression, and the musical backdrop is a coolly popping blues. A fun addition for a Halloween evening.
In 1965, John Coltrane took his music farther away from the modal direction crystallized on A Love Supreme (Impulse!) the previous year. New directions began in June 1965 with the full out assault of Ascension (Impulse!), and the fall found Coltrane visiting Seattle. Along with an extended group featuring Pharoah Sanders on tenor saxophone and Coltrane's old friend Joe Brazil on flute, they went into the studio and recorded the half an hour long "Om", supposedly high from LSD. The piece, beginning with a resuscitation from the Bhagavad Vita is one of the spookiest pieces in Coltrane's catalog. The collective improvisations are searing, and reach far past conventional tonality, at one juncture Sanders nearly sounds like a wailing, distorted guitar. The chants of "om" carried over into the following evening on Live in Seattle recorded live at the Penthouse club, on the tune "Evolution". At present, all the music from the Seattle date remains unissued. Om remains a cornerstone of late Trane.