Antonio Sanchez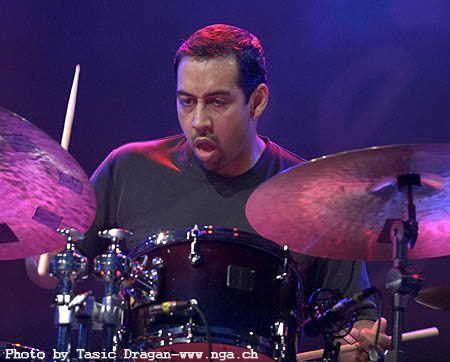 When one thinks of creativity, musicality, passion, and consistent challenge, the name of drummer Antonio Sanchez comes to mind. Since his arrival on the major jazz scene in 1997 with pianist Danilo Perez, Antonio has been known for his supreme feeling and good taste, and as one of the most in demand jazz drummers in the world. Sanchez has lent his unmistakeable beat to recordings from the likes of vocalist Luciana Souza, pianist Chick Corea, vibraphonist Gary Burton, and the late tenor saxophonist Michael Brecker, among many others.
He is most known for his decade plus continuing association with Pat Metheny, sharing the distinction of being the only drummer the guitarist has had for multiple projects with a wide range of different groups. Sanchez is one of the strongest composers in jazz today, something made abundantly clear with the release of 2013's New Life featuring some of New York's finest musicians British born pianist John Escreet, bassist Matt Brewer, saxophonists Dave Binney, Donny McCaslin and vocalist Thana Alexa. The album is Sanchez' most memorable writing to date showcasing his composition skills honed through his study of piano at the National Conservatory in his native Mexico City, his studies at the Berklee College of Music (1993-1995)where he graduated magna cum laude, before advancing his education in jazz improvisation at the New England Conservatory. He has been a jazz educator at NYU, also lending his very accessible teaching style to various drum clinics around the world. Recently he received the 2014 Echo award for best drummer and the New Life album, in addition to receiving 5 Grammies in his career.
Currently, Sanchez is in the midst of a creative upswing. Late 2014 saw the international release of Three Times Three (CamJazz) his fourth leader recording consisting of three trios with bassists John Patitucci, Matt Brewer or Christian McBride, pianist Brad Mehldau and tenor saxophonist Joe Lovano. Additionally, the original score for Alejandro Gonzalez Inarritu's film Birdman was just recently completed. The solo drum score introduces some new production techniques for the drummer, most notably multiple drum overdubs, and the music has won multiple awards already, including just recently the Vegas Film Critics award. The end of the year saw the completion of Metheny's Kin world tour and Antonio just finished recording his new album with his Migration band, The Meridian Suite due out on CamJazz next summer.