Billie Holiday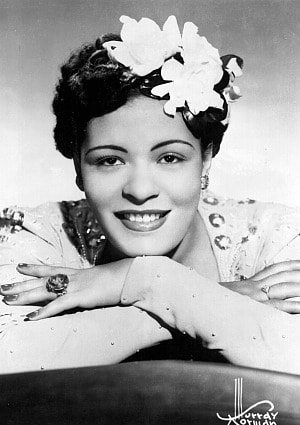 Billie Holiday was an American icon and one of Jazz's most important vocalists. Her life was filled with struggle and hardship, and not surprisingly, a Hollywood movie Lady Sings The Blues (1972) was made on her life. Born Eleanora Fagan on April 7, 1915 she grew up in a household with an absentee father as her parents married when she was three. At age ten she was a rape victim and sent to a reform school. By age 14, she was arrested for prostitution. Holiday moved to New York City in 1928.
Her first gig was at Jerry Preston's Log Cabin. Producer John Hammond found her performing in a Harlem club, and signed her to Columbia Records in 1932. She recorded a number of popular sides with pianist Teddy Wilson and a crack team of sidemen, and in 1937 she toured with Count Basie. Holiday was the first black artist to tour with Artie Shaw's band as well. It was during her tenure with Shaw that she experienced the hardships and challenges on the road where segregation took place throughout the country. She quit the band when she was not allowed to enter the front door of a hotel. In 1939, she recorded her composition "Strange Fruit".
On loan from Columbia, she recorded the song for Commodore. The graphic depictions of lynchings in the Deep South allowed the tune to become a hit, but not without controversy. Radio stations banned the song for it's graphic subject matter, and a 1957 rendition in the pivotal Jazz film The Sound of Jazz showcased a weary, weathered Holiday, her vocals conveying a dreary sense of jaded detachment that make the performance incredibly powerful. She continued to record for Columbia until 1944.
As her career wore on Holiday had an increasing dependence on substance abuse. She was signed by the Decca label in 1944, and recorded some of her most enduring work. Holiday was arrested for drug possession in 1947 and spent a year in a rehabilitation facility. Prior to her arrest, she performed at Carnegie Hall and later barred from venues that brandished alcohol. Holiday recorded for Norman Granz' Verve label in her final career phase, from 1952-1957. Her voice had deteriorated substantially, with some critics making strong statements about this fact. She died on July 17th, 1959 in New York City.
Billie Holiday's legacy is incredibly important in Jazz. Though she differed from peers such as Ella Fitzgerald in the sense she did not scat sing, Holiday took creative liberties with phrasing, often going behind the beat, a hallmark of her distinctive style. A Broadway show about her life called "Lady Day" is currently running, starring noted Jazz vocalist Dee Dee Bridgewater.
If you would like to learn more about Billie Holiday and how to sing jazz standards check out the New York Jazz vocal workshops with Fay Vitor and Olivia Foschi under weekly vocal classes  and summer vocal intensives.