Donald Byrd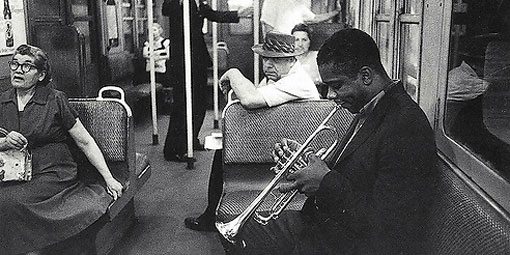 Donald Byrd was one of the most consistent trumpeters to come out of the fertile Detroit Jazz scene that immigrated to New York in the mid fifties. Born on December 9th 1932, Byrd possessed a beautiful, round, brassy tone, and intriguing ideas. Among some of his early associations were with , Art Blakey a brief stint with the Horace Silver Quintet on the classic "Six Pieces of Silver" (Blue Note, 1956) and Gigi Gryce and the Jazz Lab Quintet (1957). Byrd was often on many jam session dates for Prestige, and he can be heard mixing it up along the likes of John Coltrane and tenor saxophonist Hank Mobley on pianist Elmo Hope's "Informal Jazz" (Prestige, 1956) and with Kenny Burrell on both "All Night Long" and "All Day Long" (Prestige, 1957).
Byrd completed his degree at Manhattan School of Music, studied composition in Europe in the early sixties with Nadia Boulanger, and he began a teaching career teaching at Rutgers and Howard University among many others. A brilliant mind, he was one of the few Jazz musicians to actively pursue a law degree, and he was a noted scholar of Afro American history. Extremely business savvy, during his lengthy tenure at Blue Note (1959-1976) Byrd established his own publishing company; Alfred Lion and Frank Wolff, the founders of Blue Note, though not necessarily exploiting their stable of artists, Byrd thought it important to own publishing rights. He imparted this information to pianist Herbie Hancock (aged 23 at the time), who was part of Byrd's group. Hancock heeded the advice from the trumpeter and recorded his own debut "Takin' Off", (Blue Note, 1962) an album of all Hancock originals.
Beginning in 1960 Byrd teamed up with baritone saxophonist Pepper Adams in a quintet. For several years they made a series of excellent albums including "At the Half Note, Volumes 1 and 2" (Blue Note, 1961) and "The Cat Walk" (Blue Note, 1961). His mellow tone matched well with Adams' aggressiveness which some fans have described as "brawling". In 1963, Byrd recorded a landmark album of original music with a band including Kenny Burrell on guitar, Herbie Hancock, and Hank Mobley among the principal soloists, called "A New Perspective". The album is notable because it blends Gospel and Jazz sonorities in a way that had not quite been done before, and it stands alone in being one of the finest examples of it's type. Augmented by an eight voice wordless vocal Gospel choir led by Coleridge Perkinson, the music is powerful and is one of the finest works in Byrd's recorded output. The choir is rather rough in places, coming in a few bars too early and missing entrances at times but the music will captivate secular and non secular fans alike. Byrd mined territory similar to Miles Davis in the late sixties and early seventies with the albums "Kofi" (1969) and "Electric Byrd" (1970).
1972 saw a shift in Byrd's career. Former Motown producers Larry and Fonce Mizzell presented "Blackbyrd", a project originally intended for the departed trumpeter Lee Morgan. The album blended a visceral mix of R&B and funk, with Byrd's improvisations over the top. The album was a massive success, and Byrd continued to work with the Mizzell brothers for the next five years. Although for pure Jazz fans, the value of albums such as "Street Lady" (1973), and "Places and Spaces" (1975) is questionable and hotly debated in communities of Jazz fans on the internet. The immacutely produced albums were received by the R&B and soul communities at their time of release. Through this association Byrd founded and produced the Blackbyrds, an R&B group of Howard University graduates that had a hit with "Walking in Rhythm".
Byrd's chops steadily declined from the mid 80's on and he sporadically recorded. He was a central figure in the Jazz hip hop movement of the early 90's, appearing and performing with rapper Gangstarr. Byrd continued his teaching career, and sadly passed away in February, 2013. Donald Byrd left behind a wonderful lifetime of music.