Experience the joy of jazz improvisation with Patience Higgins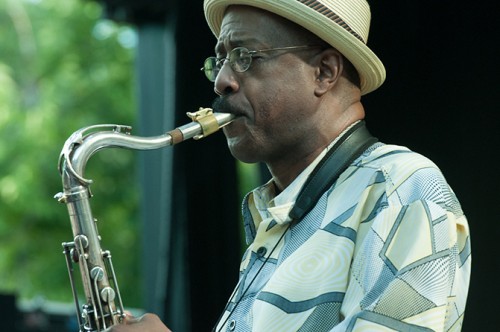 You are a musician, working at your instrumental or vocal technique yet you reach a dead end.  Your goal is to play jazz, and you may have had private instruction but found that is not really working, and that's why New York Jazz Workshop can assist with your needs.  The New York Jazz Workshop provides instruction from top well known musicians, with the objective of gaining the tools to flourish in any musical environment.  Through courses such as the weekly Jazz Improvisation class taught by renowned tenor saxophonist Patience Higgins, you can experience the joy of jazz improvisation. The wealth of knowledge that the faculty at New York Jazz Workshop imparts to instrumentalists, vocalists and even producers, the value in the thriving, fast, electric pulse of New York City cannot be beat.
Higgins is a marvelous improvisor. He has played with an incredible array of artists, racking up a stellar track record playing in the ensembles of both the Count Basie and Duke Ellington ghost bands with the latter under the direction of both Mercer, and Paul Ellington, and playing with Stevie Wonder. He has also performed with original AACM member, and Art Ensemble of Chicago legend, Muhal Richard Abrams (offering up a searing solo on the track "Plus Equal Minus Balance" from Abrams' 1991 big band album Blu, Blu, Blu for example) Dee Dee Bridgewater, and in the pit bands for shows including Avenue Q and Yoko Ono's Rock And Roll New York.In Higgins' own Sugar Hill Quartet he has performed repertoire as diverse as George Coleman's "Bohemia After Dark", the great Stanley Turrentine composition "Minor Chant" or Wes Montgomery's "Road Song".
What makes improvisation so joyful and especially appealing to musicians or vocalists of all levels, is the element of surprise. While improvisation in jazz adjacent areas like the blues, pop and rock are satisfying in and of themselves, jazz improvisation is truly special. Learning the multitude of different scales, and possibilities that are available in the standard and classic jazz chord progression that are inherent within the jazz lexicon, not only increases the tools available to become a fluent musician in jazz's wide spectrum, but any spectrum. Since the goal of any New York Jazz Workshop weekly course, or intensive is to bulk up musicianship and arm students with the skills needed to play music of all styles, the more advanced aspects of jazz improvisation can just make anyone a better, and more competent instrumentalist or vocalist. In fact, among the crop of today's most cutting edge jazz musicians– the music is actually a foundation as opposed to a means to an end. The use of jazz improvisation whether it be New Orleans, swing, bebop, modal or avant garde, can add spice to any musical situation, and also enhance the finer points of listening, for hobbyist musicians or those with a steady gig.
When individuals partake in every day conversation whether it be face to face, on the phone, or even through messaging apps on a smart phone, improvisation naturally occurs. As an example, a very basic conversation, in plain every day language might be parallel to the basic structure of a standard blues, or "I Got Rhythm" based progression. On the other hand if an individual plans a speech in front of a group of people, in a topic as complex as neuroscience, or quantum physics, it's akin to learning some of the improvisational grammar and syntax of John Coltrane, Sonny Rollins, Cecil Taylor, Michael Brecker, Ornette Coleman. Learning a varied set of improvisational vocabularies in both Improvisation 1 and Improvisation 2 taught by Mr. Higgins can just like in a conversation, the more vocabulary you have, the more one will be able to maintain musical interest.
Based on methods taught by the brilliant late pianist and educator, Barry Harris, in a warm and open setting, participants will become open to the magic of improvisatory techniques in a variety of configurations.  Not only will musicians learn how to play together, feed off the energy and ideas of one another but the concepts can be applied to a variety of styles within the jazz idiom, or as mentioned above.  Jazz is an amazing tool to learn about life, because the concepts of learning how to play in ensemble and play with others can truly allow people to get to know one another, and through the common language of music share a common goal and purpose.  The methods that Mr. Harris taught are known worldwide, and exhaustive in terms of an individual learning to master a bebop oriented improvisational language.With Mr. Higgins' breadth of experience and expertise playing in a wide range of groups, Count Gigula as he is often lovingly referred to will make the process an absolutely essential one for students who are seeking to expand the range of ways in which they can express themselves. Having a musician with live gig and recording experiences can bring absolutely indispensable knowledge insight that will stick with a student for a lifetime.
Improvisation allows for any musician to create their own story, not just be bound by notes written on a page. Improvisation engenders a declarative statement that is limited only by someone's imagination. With the concepts that Mr. Higgins provides in the course, musicians of any ability will be able to surprise and delight with their improvisations. Improvisation is a real time process where anyone can change the course of a musical situation. A bluesy lick from a soloist can suddenly make a rhythm section perk up, the keyboardist while playing the form may suddenly vary the rhythm of the way the progression is handled, it may cause a drummer to tighten, or loosen a rhythm, and in conjunction with the bass player, as Miles Davis' Second Great Quintet did, with the piano, bass and drums working as a tightly coiled unit of moving parts, diverge suddenly in different paths, never losing sight of the bigger picture, return to where they began in a thrilling way.
The course with Mr. Higgins is taught for two hours each week, and is conveniently located at 265 W. 37th Street between 8th avenue, where a subway stop is near every corner, and near Penn Station.
Today's musicians require a diverse skill set for multiple genres. The New York Jazz Workshop offers many classes, intensives, private lessons in several boroughs: Manhattan and Brooklyn, as well as Europe. Great musicianship knows no borders or genre.