Horace Silver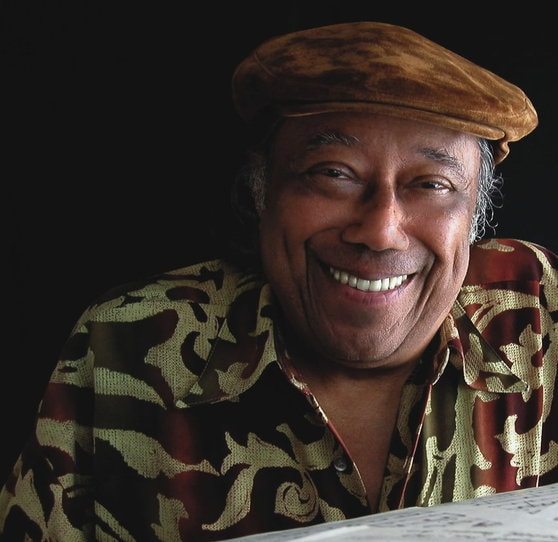 On June 18th, 2014 the jazz world lost a true icon, the great pianist Horace Silver. Horace's impact on jazz cannot be understated, his legacy as a tremendous composer and bandleader will be felt for decades to come. Along with Art Blakey, the pianist founded the cooperative group the Jazz Messengers, and gave birth to the hard bop sound. When the pianist left to form his own combo, Blakey retained the name. Silver's writing and playing was a breath of fresh air; his right hand spiraling funky, bop, and some times romantic lines, his left hand punctuating with percussive stabs, his comping providing the smoldering sound of big band riffing.
Silver was born as Horace Martin Ward Tavares Silva in Norwalk Connecticut on September 2, 1928. His father hailed from the Cape Verdean islands, and his mother was of Irish-African extraction. The Cape Verdean folk music in the Silver home was a huge influence on his compositional style, where many of the pieces feature his interpretation of Latin and Portuguese rhythms. He began on tenor saxophone inspired by Lester Young, and then switched to piano, with Bud Powell serving as a prime influence. In particular, if one listens to Blakey's classic A Night at Birdland albums, the Powell influence is rather evident but the quirky phrasing and flirtation with quotations is purely his own. Silver's first major break came with tenor saxophonist Stan Getz in 1950, when Getz hired Silver's group to become his quartet.
Silver relocated to New York the following year where he came into contact with Alfred Lion and Francis Wolff, the founders of Blue Note Records, for whom Silver cut his first leader LP Horace Silver Trio (1953). Silver and Blakey's relationship began in the formation of the cooperative Jazz Messengers in 1954, the album Horace Silver and the Jazz Messengers was recorded, and as Silver told Josef Woodard in 1998 for JazzTimes: ""Well, we were playing bebop. The only difference, when me and Art got together, myself being a person who loved the blues and loved black gospel music, more of that music came into the bebop. It wasn't just all bebop. It was bebop, yes, but we brought in 'Doodlin', 'The Preacher' which was more on the funky side, bringing the blues and the gospel elements into the music, whereas the bebop didn't have that before then. Initially, Lion considered "The Preacher" a bit corny, but Silver persuaded him into recording it and it became a major hit. The Jazz Messengers (Columbia, 1956) was taped before Silver moved on to form the Horace Silver Quintet.
The Silver Quintet's 1956 Blue Note debut Six Pieces of Silver contained a program of strikingly original music, and the album's most notable tune, "Senor Blues", is a shining example of what makes his music so beloved in jazz: the piece begins with a piano/bass unison, one of his favorite devices, and the extended form with blues changes for the solos showcases his knack for big band style writing for a small combo. Check out the habanera in the piano and bass during Silver's solo, bringing into modern context a form Jelly Roll Morton so loved. Horace's use of irregular forms on tunes such as "Metamorphosis" and "The Back Beat", from 1957's The Stylings of Silver always provide interest. His most famous combo of the late 50's and early 60's with Blue Mitchell, on trumpet and Junior Cook on tenor saxophone produced some of Silver's great work, and his biggest mainstream success was , "Song For My Father", where Silver aimed to use an authentic bossa nova feeling, after he had visited Rio.
Unfairly, some critics and fans typecast Silver as a funky and soulful pianist, when he had much wider interests. His well known United States of Mind trilogy, beginning with 1970's That Healin' Feelin is significant, because not only did Silver expand the core of his basic sound by including rockish electric guitar and electric bass (the latter instrument appearing on 1968's Serenade To a Soul Sister ) but Silver began to include self penned lyrics reflecting spiritual and metaphysical ideals. Silver was always into physical health, a drug free lifestyle, studied yoga philosophies and other areas, and these albums reflected this. Much of the music was initially off putting to longtime fans, particularly because of the vocals and subject matter, though Silver continued to explore an expanded direction with the 5 album Silver 'N series throughout the 70's. The music on these albums is quintessential Silver despite the glossier production on some later albums such as Silver 'N Brass (1975) and Silver 'N Voices (1977).
After Blue Note dissolved in 1980, Silver formed his own label Silveto, with the help of Bill and Camille Cosby. These records included more vocals, and deeper looks into Silver' views on health, and spirituality as many of the earlier Blue Notes did, but the mainstream jazz audience was less accepting of these titles. When Silver returned to a major label, Columbia in 1993 for It's Got To Be Funky Silver reestablished his more accessible style, dispensing with the vocals for his last three albums.
No matter the setting, Horace Silver's music was created with tremendous heart, humor and self belief. His death has created a void that can never be replaced. Even through the late period Blue Note albums, and the albums on Silveto which were artistically fulfilling but otherwise a commercial failure, through to his major label comeback, there are moments of brilliance.