Marc Mommaas' "Irreversible Momentum" by CJ Shearn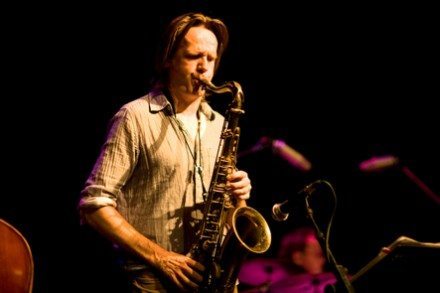 Marc Mommaas is a multifaceted saxophonist, and jazz educator who is free of boundaries; freedom is the very essence of this music we call jazz. In 2009 he co-founded New York Jazz Workshop School of Music and Marc's generous spirit has contributed mightily to the school's mission of affordable jazz education. Mommaas was born in Holland, where his father was an artist, and his mother a pianist and opera singer. He was exposed to a wide array of experiences, earning a masters degree in comm. science and business to his musical studies. He moved to New York City in 1997 and has since recorded several releases including Global Motion (Sunnyside, 2003) Balance (Sunnyside 2006) and Landmarc (Sunnyside, 2010) an innovative 3 guitars, drums and saxophone project featuring fellow New York Jazz Workshop faculty and jazz heavyweights Tony Moreno and Vic Juris. Owning your own masters as a creative artist is one of the most important facets in how the music is presented, and through this method, he has issued the new solo saxophone recording Irreversible Momentum (Mommaas, 2014) a challenging, thought provoking work.
Marc was kind enough to take time from his busy schedule to speak with me about the new recording, his musical background, influences, and approach as a jazz educator. He is very articulate, self effacing, and gave carefully considered answers. I would like to thank him once again for this great interview, which is very much like the improvisational content of his new release.
CJ: You come from a very musical family, your mother played piano and sang opera while your father was an artist.  Explain a bit about how those two approaches informed your stylistic imprint. 
MM: My father was all about freedom of expression in his art and his way of living. Independence was recognized as a crucial element in creating a foundation upon which great art can grow, and it was understood that in order to create you need to live your life as an artist, without conformity, with stubbornness and relentless persistence.
The counterpart of my father's anarchistic approach was my mother who grew up in the classical tradition. Shaping your tools and refining your skills with patience is associated with the great classical tradition. I become a product of these elements and very early on it became clear to me that jazz and improvisation was the ultimate canvas for me upon which I would pursue my quest.
Stylistically this notion resulted in an open mindedness, wary of dogmas, restrictions and 'bags' so to speak. And it cultivated the trust that I needed to permit myself to follow my instincts without being influenced by conformities of what something supposedly should sound and feel like. The ultimate example of this path in sound is my new solo release Irreversible Momentum.
CJ: What made you fall in love with jazz and discuss some of your early influences?
MM: My father brought me to jazz concerts at a very early age. We went to the North Sea Jazz Festival on a yearly basis for the full three days to see all the masters in action. I have incredible memories of those moments. Besides it being special to have had a father that included me into everything (he was great to hang with) it was amazing to see Miles Davis, Stan Getz, Joe Henderson, Dizzy Gillespie, Oscar Peterson, Dexter Gordon etc. The list goes on and on and I feel very fortunate to have experienced the live sounds of these legendary giants in jazz. There was also the local jazz club (Café Alto in Amsterdam) that had a strong reputation, and the high profile Bimhuis. There was no lack of exposure and very early on; I was drawn to the tenor saxophone with my first influence being Ben Webster whom I met when I was 4 years old. Later in life it was in Café Alto where I got my chops together, playing four and sometimes five sets on a given night. As a matter of fact, it was my mentor, Peter Guidi (a great flutist, alto saxophonist and beloved educator), who was the first one to drag me on the stage. He was also the one who introduced me to Coltrane, Sonny Rollins and Cannonball Adderley. Equally important was my first teacher, Ronnie Rem, who introduced me to Stan Getz, Charlie Parker and Bill Evans. These introductions have been invaluable to me. Both were extremely generous and had a warm heart and passion that was equaled by very few. I only hope to be as generous to my students as they have been to me.
CJ: How did you meet Marco Chelo?  What kind of need in jazz education do you think New York Jazz Workshop fills?
MM: I met Marco Chelo at Roberto's Woodwinds / Michiko studios. I was walking around with the idea to start a workshop-based school so that my students could get a chance to play with a rhythm section and experience what it feels like to play in a band. Coincidentally, when Marco presented the exact same idea to me it became inevitable that we should join forces. In our first meeting we immediately locked in our web address and here we are, five years later, with our own location and with New York Jazz Workshop going full steam ahead with 14 weekly workshops including a big band. It has been great working together with Marco, and I truly could not wish for a better business partner.
CJ: What made you want  to become a music educator?
MM: Never did it enter my mind that I should become a music educator. It developed organically as a piece of the puzzle that makes you a true artist; and hopefully in due time a master in your craft. I believe that a true master needs to be a great musician, a well-developed composer and a passionate and giving educator. One of my role models is David Liebman (also my teacher for a while), who falls into that category. He is on the top of his game, and influenced young musicians (including myself) all over the globe with his music, his publications and his master classes and above all his passion and dedication.
Teaching makes you a better musician. You learn so much from your students, plus you need to be crystal clear in what you would like to present which means that you are always soul searching and looking at yourself in the mirror making sure that you stay honest with your art. I am greatly indebted to my students and value the experience very highly.
CJ: For you, what makes a great teacher?
MM: I have had great teachers myself and one thing that stood always in the center of all these different characters was their generosity, their passion and love for the music, their positive approach, and their compassion to their students. Knowing what you are talking about is one thing, but to be able to light or fuel the passion-fire in a students heart, that is the power of a truly great teacher.
CJ: Describe a bit about your teaching philosophy
MM: I believe in the "nuts and bolts" approach. In other words, make sure that you know how to speak the language fluently. In my developing stage I had help from pianist and educator Gary Dial. Gary has the ability to scan you top to toe, and is able to present to you in crystal clear fashion the information you need to fill in the gaps and holes. It was during that period that I started to find my balance, everything started to lock in.
Balance is essential, with this your voice can truly come out in full glory, without any technical restrictions. This obviously means that you need to get deep into the technicalities of your instrument, harmony, melody, rhythm and form. All this information that you need to acquire can be overwhelming at times, yet it also needs to be recognized that you do not have to be Coltrane or Keith Jarrett to enjoy playing music.
It is important to teach your student, no matter what level, how to enjoy the process and they need to be exposed to all the great sounds and concepts developed by the masters that preceded them. A great teacher is sensitive to the individual strengths and weaknesses of each student and the educator has to be able to adjust the materials accordingly. This will keep the student inspired and light on their feet. And I believe in honesty and direct criticism. In other words, be very clear to your student what needs to be addressed and why, but with compassion. This is what I live, play and teach by.
CJ: What is advice you would give to improvisers just starting out?
MM: Listen to a lot of music of all genres of interest, keep an open mind, be kind, and learn from your colleagues irrelevant of their level, and work hard. Be relentless in your pursuit of your art, and cut through the nonsense of the business with clarity and reflection. And above all, understand that music is a gift, and that you are blessed with being able to expose yourself to this great world of sounds.
CJ: I hear echoes of Sonny Rollins, Wayne Shorter, baroque,  (most obvious on "Bach Improvisation") Philip Glass and everything in between on this new album.  The website mentions the project came into being as something inspired by your father; the vehicle of solo saxophone as a creative litmus test. Talk a bit about the thought process behind  "Irreversible Momentum".  I also hear consistent risk and challenge, going into the unknown, and thinking of creative ways to answer the musical questions you pose to yourself.
MM: To take on a solo project is quite a trip and something I hesitated to do for a long time. This idea was initiated by my father who understood the value and the challenge of standing in front of an open canvas, solo. It is a different dynamic to be completely on your own. You are the ultimate and only generator of sounds, shapes and colors. In order to create a shape for this project I went back to the artists that I admire so much, Kandinsky, Malevich, Bach, Bartok and Schnittke to be more specific. They helped me establish different approaches to each piece and gave me something to work with. It was liberating, exciting, inspiring and ultimately this whole process strengthened my conviction and belief in my own voice. I am very excited about the end result and it pretty much stands for everything I believe in, going back to the freedom of expression as the foundation of my journey on this planet.
CJ: I also wanted to say as a person into good sound, even just from listening on a streaming music service, the mastering and dynamic range is outstanding.  As a lifelong lover of the music, and the horrendous shift towards loudness wars in jazz records over the years, I'm glad we're returning to a more dynamic avenue in regards to mastering, especially in high resolution formats.
MM: Thank you for noticing the sound quality, I agree with you a 1000%, I can't stand the low resolution formats and the flat to the roof mastering. As a musician you work all your life to get to the greatest sound possible and it has been a challenge to safeguard this against cheap and fast consumption.
This project was recorded by Michael Marciano from Systems Two in Brooklyn. He did an incredible job capturing the sound of my horn. The mix actually sounded so good that we did nothing in the mastering. It was fantastic. We did record this in a large room with two mics, one ribbon (RCA) and one condenser (Neumann). It all really blended beautifully. So if you want to check out the music the way it is supposed to sound, do not download it as an mp3 but get it in AIFF or another high grade format.
It is kind of interesting that my next project is quitE the opposite, ballads and standards. I always enjoy the opposites and this project was equally rewarding to get into. This should come out in the end of spring and was recorded in another great studio, Skyline productions with as engineer Paul Wickecliff. Here I also used two mics, one ribbon (RCA) and a beautiful sounding condenser mic (Telefunken).