New York Jazz Workshop Remembers Jimmy Cobb (1929-2020)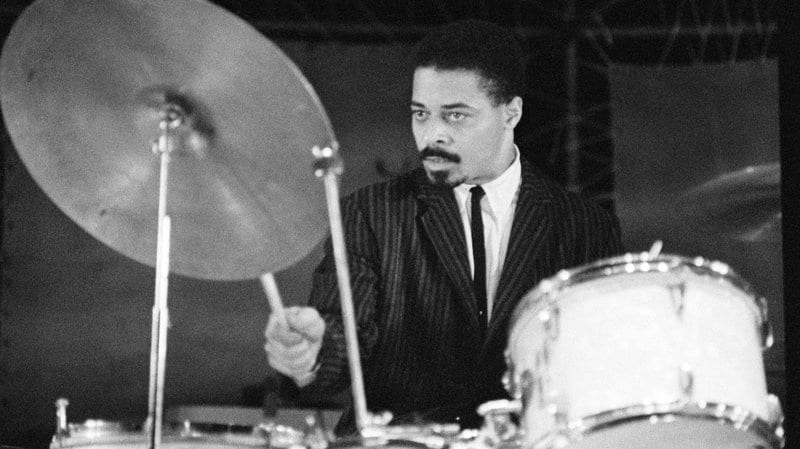 The jazz world mourns the passing of legendary drummer Jimmy Cobb. 2020, with the horrendous pandemic sweeping globally will go down as one of the worst years in history, if not the worst ever. The jazz world this year has lost some of the greatest musicians including pianist Mike Longo, trumpeter Wallace Roney, and alto saxophonist Lee Konitz as a result of the pandemic. Perhaps the biggest and most heartbreaking loss this year is the loss of drummer Jimmy Cobb, the lone surviving member of Miles Davis' legendary Kind of Blue session recorded over two dates in 1959. Cobb, whose resume includes Earl Bostic, Dinah Washington, Wes Montgomery, Wayne Shorter and Miles, and as well as leading his own bands for many years remained a strong player till the end, was known for his insuperable ride cymbal beat, incredible sensitivity to dynamics, fantastic brushwork and peerless ability to swing. Cobb passed away at his Manhattan home at 91 on May 24th.
Wilbur James Cobb was born in Washington, DC on January 20, 1929. Entirely self taught, the drummer was inspired to take up drumming from watching an older boy in his neighborhood, and by the age of 21, was already on the road with legendary R&B tenor saxophonist Earl Bostic. The drummer met Bostic through bassist Keter Betts, and began touring with the saxophonist after meeting him on 125th Street and St. Nicholas in Harlem and began touring one nighters with the saxophonist. Bostic, incidentally was a huge influence on John Coltrane, and the saxophonist along with others like Jay McNeely, through their use of extended techniques were tremendous influences on the avant garde movement that would occur in the 60's. After the tenure with Bostic, the drummer later joined Dinah Washington, and her pianist was one, Wynton Kelly whom Cobb would play with until the pianist's untimely death in 1971 with Paul Chambers, the drummer's rhythm section mate with Miles Davis, and Wes Montgomery. Cobb had also spent one week playing with Charlie Parker as part of disc jockey Symphony Sid's All Stars, a group that included a young Miles Davis, vibraphonist Milt Jackson, and the recently arrived Belgian sensation Toots Thielemans, then still on guitar before he picked up the instrument for which he is most known– harmonica.
1959 was a pivotal year in jazz. The music was rapidly changing, with directions moving from chord changes to modal based jazz, John Coltrane stretching harmony to the breaking point, Dave Brubeck introducing new time signatures into the form, and Ornette Coleman was discarding traditional melody, and harmony, into a unique blend he called harmolodics. Cobb had joined Miles Davis' group formally in 1958, having been taped at the Newport Jazz Festival for Columbia in July, and having replaced Philly Joe Jones for half the sessions that produced Porgy and Bess when Jones had failed to show up. The trumpeter called Cobb one evening, and explained that Jones had left the group, and would he be interested in making the gig? Cobb said yes, according to an interview with NYU's Jazz Department director David Shroeder and explained that Davis had called him at 6 PM, and the gig was at 9 PM! The drummer hurriedly packed a bag, his drums, and took a plane, a shuttle that went from NY to Boston in 55 minutes and arrived when the band had just been playing "Round Midnight" and entered following the iconic interlude section. Cobb was on Kind of Blue and recalled no one had anticipated the kind of success it had. His cymbal crash beginning the round of solos on "So What" is a perfect example of the kind of drive and swing he brought to the band, and his brush work on "Blue and Green" "All Blues" and "Flamenco Sketches" are all textbook examples of supreme sensitivity, and the uplift he brought two years later to the recording of "Someday My Prince Will Come" with his brush to stick transition is absolutely magisterial.
After leaving Davis, the Kelly-Chambers-Cobb rhythm section went on to join guitarist Wes Montgomery. Though Cobb had participated in the 1963 session that produced Boss Guitar (Riverside) with organist Melvin Rhyne, the Kelly-Chambers-Cobb unit really found it's stride the previous year when they taped Full House with the guitarist the previous year, featuring guest, tenor saxophonist Johnny Griffin. Cobb's driving pulse and relentless ride is behind Montgomery's famous version of "No Blues" from Smokin At The Half Note (Verve, 1965) a half live, half studio album which influenced a whole new generation of guitarists. Cobb remained active, teaching, and being an incubator of young talent including those who have gone onto stardom like Brad Mehldau and tenorist Eric Alexander, releasing the albums The Original Mob (2014) and his final album Dis I Dig Of You earlier this year on Smoke Sessions, the label run by Smoke Jazz and Supper Club, Cobb's strong pocket will never been forgotten and live on forever.
The New York Jazz Workshop is offering online classes during this time of quarantine.