Charlie Parker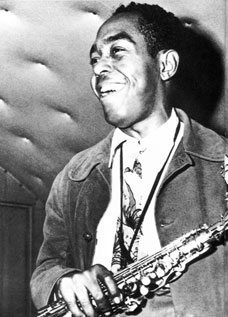 Very few artists in jazz have had the impact of Charlie "Bird" Parker. "Bird" changed the music dramatically, and like so many innovators did so in a short burst of time. There have not been many alto saxophonists since Bird, who haven't used him as a model– among them, Jackie McLean, Lou Donaldson, Julian "Cannonball" Adderley, and Sonny Stitt. The story of Charles Parker, Jr. began on August 20, 1920. His family relocated to Kansas City, Missouri while he was still young, and he took interest in playing the baritone horn and later switching to alto saxophone. Parker's move to the alto horn came at age 15, when he left school to become a professional musician. For a period of four years beginning in 1935, he played with a variety of groups, and in 1938 joined the Jay McShann orchestra. During his tenure with McShann, Parker visited New York City for the first time, so energized by the atmosphere; he stayed in the Big Apple working for a year. Parker's recordings under McShann's leadership show significant development of his style: On McShann's hit "Confessin' the Blues", Bird is prominently heard in the ensembles reflecting the influence of Johnny Hodges. On the tune "Swingmatism", his behind the beat phrasing and melodic sense owe a large amount to Lester Young on McShann's version of "Cherokee", the listener can discern Parker's concept fully formed. Parker was attracted to the new sounds of bebop, and collaborated with such artists as Thelonious Monk, Bud Powell, and John Birks "Dizzy" Gillespie.
Parker left McShann in 1942, to join the Earl Hines Orchestra. A move that would prove to be pivotal because the ensemble included future bebop titans such as Dizzy Gillespie, Dexter Gordon, and Billy Eckstine. The one year strike from the American Association of Musicians, unfortunately left this group undocumented to a large degree, and Parker would rejoin McShann after his stint with Hines. Bird's year long stay in New York yielded many playing opportunities, and he had the chance to participate where the stylistic innovations were happening. Bebop was an attempt to bring jazz away from the mass popularity swing enjoyed, as musicians would frequently use unusual harmonies, fast tempos, short melodic lines designed to set up environments for improvising. The bebop movement also was about re appropriating a music felt to have been taken over by white musicians. Looking at the history of jazz, the music was invented by African Americans, but the first recorded example of the music was the Original Dixieland Jass Band in 1917, of the feeling they got from black musicians. In 1927, the self professed "King of Jazz" Paul Whiteman had a major hit with "Whispering", something that was designed to make jazz an easier sell to white audiences; with the top bands including Duke Ellington's playing high society gigs, that were quite different in tone from the heated, hard swinging music they played to black audiences. The beboppers wanted to take those cultural shifts they saw, and bring it back towards themselves and other musicians. The previous generation of musicians including Louis Armstrong reacted negatively, with the trumpeter famously calling it "Chinese music". A funny claim from Armstrong, because his ideas on his early recordings foreshadow that of boppers.
Loren Schoenberg notes in his analysis to The Complete Charlie Parker Live Performances On Savoy: September 1947-October 1950 (Savoy, 1998) "Although his music is frequently cited for its revolutionary qualities he was essentially a classicist. The great majority of his improvisations (and the all-too-few compositions) strike an elegant balance of musical components that place him as one of the great American composers; yet the emotional impact of these solos frequently obscures the ingenuity of their design. Unfortunately, Parker paid scant attention to expanding his band's repertoire beyond a dozen or so songs– this from a man who continually expressed a desire to change his musical surroundings and study classical composition, and who was a competent big band arranger. Even in terms of the recorded legacy he left behind, Parker straddles categories. His studio recordings (usually representative of the "official" side of an artist) run the gamut from sober reflection to panic just this side of a nervous breakdown". Indeed, Schoenberg's analysis seems to support Parker's intense stylistic growth that occurred with his stints in McShann and others' bands, his own work, and the debt to classical composition. The dissonant harmonies brought to bebop by Parker and Gillespie, and their immediate circle come from the music of Stravinsky, and other Western art music composers, and Parker in particular had an affinity for Stravinsky's music, which was mutually shared. The composer reportedly attended a club gig of the saxophonist's that moved the iconic composer so much through Parker's quotation of "Firebird Suite" that, Stravinsky threw his drink in the air! Parker's grammatical breakthroughs in the new form were discovered as he was exploring ideas on "Cherokee", while playing with guitarist Biddy Fleet. In an 1950 interview, Parker recalled the events of that December 1939 jam session: "I realized by using the high notes of the chords as a melodic line, and by the right harmonic progression, I could play what I heard inside me. That's when I was born."
Parker's solos often would explore ideas which, like a composer, he'd seek to extend and expand. His recordings for Musicraft with Gillespie, Guild, Savoy and Dial records are pivotal, for their exploratory playing and new ideas. Listening to the above mentioned box set of live recordings is revelatory because of how quickly the surrounding musicians invested in the new style, and how they learned the new grammar so fluently. Lucky Thompson, the great swing to bop saxophonist can be heard on a series of jam session recordings from the Royal Roost, with his solo quotations of Ellington's "Main stem" that at once reminding listeners of the past, but easing them into the new language. While Parker's solos are filled with incredible invention, that would soon make bebop the lingua franca of most jazz modernists.
Unfortunately Parker's addictions were impacting him tremendously, and the infamous July 29, 1946 session that produced "Lover Man" provides some of the saddest audio documentation of a musician in jazz struggling with personal demons. Conflicting accounts of historical events of the date and the reasons for his mental breakdown abound, but it has been ascertained he was going through heroin withdrawal, alcoholism, and a variety of other maladies; which led to his admission to Camarillo State Hospital. Bird would continue on after the hospitalization, recording more of his finest work between 1947-8 in the studio again for Savoy and Dial, and recording for Norman Granz' Clef and Verve labels, including the famous Charlie Parker with Strings session. (Mercury, 1950, Verve reissue, 1995) In the next decade, Parker would appear under the name Charlie Chan for the taping of Miles Davis' Collectors' Items (Prestige, 1951) on tenor saxophone, alongside Sonny Rollins. Parker sounds quite good on the date, but he was beginning to be gripped by personal issues again, and on March 12, 1955, he was found dead in Baroness Pannonica Nica de Koenigswarter's Stanhope Hotel room in New York City at the age of 34. He suffered a heart attack but also had pneumonia and cirrhosis, and the resultant internal damage lead a coroner to incorrectly label his body as someone much older. Parker's legend rose after his passing, and in 1988 Clint Eastwood released the film Bird starring Oscar winning actor, Forrest Whitaker.
The film is not without much criticism; jazz historians, academics, and fans all cite the questionable choice to focus on Parker as a drug addict, and social deviant as opposed to his musical innovations. Another problematic issue is the digital lifting of Bird's solos into a post bop context, with more recent musicians overdubbed underneath , and with technical advances such as bass direct (going into the mixing board capturing the sound of the bass pickup, more so than the woodiness of it) creating a sound that could not have existed in Parker' time–the rubbery quality of the bass (something that plagued jazz from the 70's through to the next decade) dates the soundtrack as a product of it's time to some degree despite the outstanding music. Charlie Parker will forever be a vital force in American music.