5 indispensable Michael Brecker solos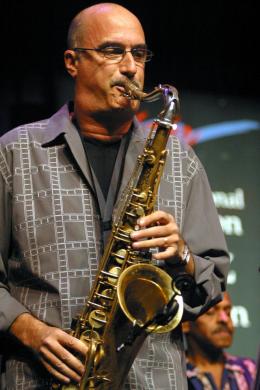 Here are 5 indispensable Michael Brecker solos to study and learn from.  When tenor titan Michael Brecker passed away in 2007 after a lengthy battle with MDS, a form of leukemia it left a huge void not just in jazz but music.  Brecker, a native Philadelphian like trumpeter Randy, grew up in a musical household, and Michael was according to his brother an astonishing player at the age of 19, and being a major presence in the Indiana University jazz program.  The saxophonist appeared on the pioneering jazz-rock album Dreams (Columbia, 1970) with a cast including Billy Cobham, John Abercrombie, Barry Rogers, bassist Doug Lubahn (who was studio bassist on three Doors' albums) and founder/vocalist Jeff Kent.
Michael would be a member of the Horace Silver Quintet for Pursuit Of The 27th Man (Blue Note, 1972) and log incredible session work with the likes of Parliament Funkadelic, Bootsy Collins, Frank Zappa, Michael Franks, and contributing perfect pop solos on James Taylor and Carly Simon  hits.  When the saxophonist was a  part of the session for the seminal Pat Metheny album 80/81 it marked a shift in his post Coltrane conception, and particularly when playing with The Brecker Brothers, he would mix the Coltrane, Rollins and Joe Henderson influences with those of Stanley Turrentine, King Curtis and Junior Walker.  Brecker was also a pioneer of the EWI or electronic wind instrument, and solos such as on "Beirut" from Steps Ahead's Live In Tokyo (Video Arts Music/NYC Records, 1986) or the dazzling through composed overdubbed unison on "Syzygy" from his self titled 1986 debut are testaments to his genius.  He was a wonderful composer and his self titled, fourth, Tales From The Hudson (Impulse, 1996) and final solo album Pilgrimage (Heads Up, 2007) have a multitude of examples. Of course, choosing five solos out of a multitude is a tough task, some more well known solos are eschewed for some deep album cuts, but all present Michael Brecker at his best.  Workshops and intensives offered at New York Jazz Workshop can enhance the concepts heard in these solos.