Adam Rudolph in Conversation with CJ Shearn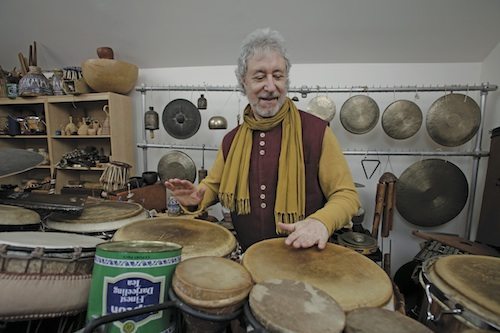 Percussionist Adam Rudolph has been called a "pioneer of world music" by the New York Times and rightly so, for the Chicago native has thrived in a variety of musical situations. In 1977 while living in Ghana he formed the important Mandingo Griot Society with legendary kora master and griot Foday Musa Suso, in 1978 he lived in Sweden and studied with Don Cherry, learning about Ornette Coleman's harmolodic theory in the process. One of Rudolph's biggest associations was with the late, great Dr. Yusef Lateef, a saxophonist who shared an equally borderless vision of not just combining different styles of music, but elements, a quality the percussionist feels transcends any notion of genre.
Rudolph's new release Glare of the Tiger on his own Meta label, (the digital version of the album available through MOD technologies) expounds greatly on his theory of layered rhythms he calls Cyclic Verticalism. The new disc features a stellar cast with long time compatriots saxophonist Ralph Jones, James Hurt, cornetist Graham Haynes, the incredible Hamid Drake on drums, New York Jazz Workshop's very own Kenny Wessel and many others. I spoke with Rudolph at length about the new recording, rhythmic concepts, the mystical power of sound, and some drummers both of us really admire, such as Hamid Drake, Art Blakey, and Tony Williams.
Thanks go to Adam Rudolph for his generous time and insight, and Antje Hubner of Hubtone PR for coordinating this interview.