Chris Potter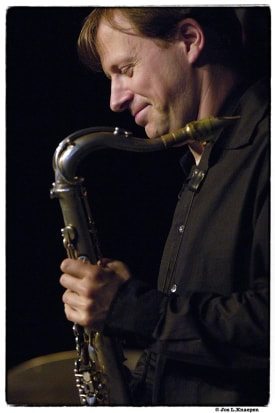 Chris Potter is one of the most versatile musicians, in mainstream jazz today. His musical knowledge is vast, the entire tradition of jazz saxophonists from Coleman Hawkins, Charlie Parker extending through to the post Coltrane and Michael Brecker stylistic models can be heard in his playing. He is equally at home with his large, burnished tone in pop and R&B settings as well, having played with the likes of Steely Dan.
Potter was born January 1, 1971 in Chicago Illinois, though his formative years were spent in Columbia South Carolina. He played many instruments including piano, guitar and saxophone. Upon hearing alto saxophonist Paul Desmond, Potter switched to saxophone as his main instrument, and played his first professional gig on alto at age 13. Chris attended the New School in New York, followed by the Manhattan School of Music, where he quickly gained attention in the group of trumpeter Red Rodney. Potter recorded Presenting Chris Potter (1994) and Sundiata (1995) on the Dutch Criss Cross label before being signed by Concord Records. The saxophonist's diverse palette was displayed on a range of challenging material with all star groups on assorted projects, including guitarists John Scofield, Kurt Rosenwinkel, and drummers Bill Stewart and Jack DeJohnette.
During this time period Potter further honed his skills starting a decade long association with bassist Dave Holland in 1998 beginning with the album Prime Directive (ECM, 2000). Potter has also lead quite the list of distinguished bands; his quartet with Kevin Hays on piano and Fender Rhodes, Scott Colley on bass and Bill Stewart on drums recorded three albums, ending with the excellent live album Lift: Live at the Village Vanguard (Sunnyside, 2004). Check out the opening track, "7.5" for some stunning examples of Potter interacting with drums. Potter's group "Underground" provided a forum for his melodic, intriguing compositions, with much funkier and rock based elements with no bassist. The group which featured either Wayne Krantz or Adam Rogers on guitar, Craig Taborn on Fender Rhodes, and Nate Smith on drums recorded two albums, created a unique freedom and rhythmic identity for the band.
Potter is currently a member of the Pat Metheny Unity Group which has brought him much wider exposure. The band originally began as a quartet in 2012 with Potter serving a more traditional saxophone+ rhythm section role in a blowing record context, but following the release of Kin(Metheny Group Productions/Nonesuch) the saxophonist is heard on an assortment of horns to fit Metheny's detailed compositional concept married with the more improvisational focus of the Unity Band (Metheny Group Productions/Nonesuch, 2012) quartet. On the tour Potter can be heard on guitar! Along with Joshua Redman and Mark Turner, Potter is one of the most influential and widely emulated voices on the tenor saxophone today.