Clark Terry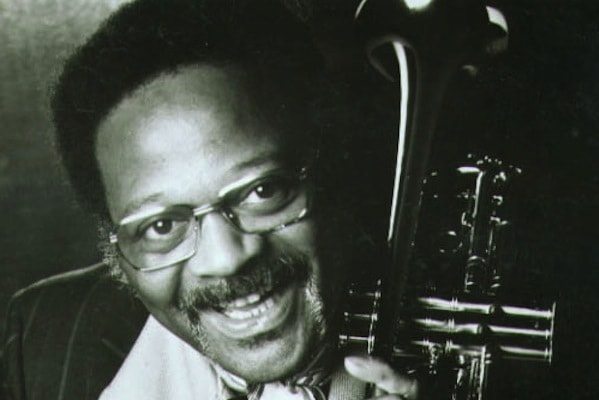 Clark Terry was positively a giant, one of the most joyful forces in jazz. A huge irreplaceable void has been left in the jazz community since his recent passing at the age of 94 on February 21, 2015. His sense of humor, slippery phrasing, signature plunger muted trumpet and flugelhorn playing will always live on. Born in St. Louis Missouri on December 14, 1920 his career came to a fruitful start through the bands of greats such as alto saxophonist and vocalist Eddie "Cleanhead" Vinson, Charlie Barnet, and Charlie Ventura to name a few. In 1948, he joined Count Basie's band, and in one his most notable associations, Duke Ellington where he remained from 1951-1958. Terry was also instrumental in pioneering the use of the flugelhorn in jazz, along with Freddie Hubbard and Chuck Mangione as the horn's most famous exponents.
In Ellington's orchestra, it was where the trumpeter would become truly known for his unique, individual sound, sense of humor, technique and stylistic range. On the classic Such Sweet Thunder (Columbia, 1957) Terry, playing the part of Puck from Shakespeare's "Midsummer Night's Dream", makes the famous quotation of "Lord, what fool these mortals be!" a demonstration of his much loved, vocal like technique applied to the horn, and in pieces written by Ellington, Terry would showcase his playing ranging from swing all the way to bebop ("Newport Up" from Ellington at Newport (Columbia, 1956).
While as a member of Ellington's orchestra, Terry embarked on a series of solo recordings for Riverside, and in 1961 he recorded as part of Oscar Peterson's group Oscar Peterson Trio+1 (Verve) debuting the blues "Mumbles" where Terry's signature rambling, purposely unintelligible scat vocals were used to hilarious effect. Terry was the first trumpeter to explore the use of the Varitone attachment, made most famous by saxophonists, Sonny Stitt, Eddie Harris, and Lou Donaldson on the album It's What's Happenin (Impulse! 1967).
Throughout the sixties and seventies Terry remained busy by playing in the Tonight Show orchestra as well as touring with the reformed Jazz at the Philharmonic aggregations, appearing as a leader and sideman for the Pablo label, taking part in memorable recordings featuring matchups with Freddie Hubbard, Dizzy Gillespie and Roy Eldridge. and the Newport All Stars. Terry remained an ambassador of jazz for many years, even as he suffered through health complications from diabetes, causing him to lose his sight, and have both legs amputated. His tone and ideas continued to be effervescent, and he remained teaching even as his health failed. Students from all over the world would attend his home to be taught, as shown in last year's documentary Keep on Keepin' On where Terry befriended young pianist Justin Kauflin and mentored him. Clark's influence and spirit in this music has been huge, it's so fortunate seasoned listeners, students and new listeners of jazz will have the wealth of music he made to enjoy for generations to come.