Dizzy Gillespie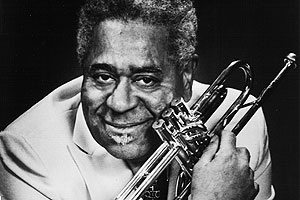 In the nearly one hundred years of recorded jazz, it's challenging to think about what innovations sounded like at the time of conception since everything is available at an individual's fingertips. Dizzy Gillespie blazed a fiery trail of virtuosity that hadn't been heard since the days of Louis Armstrong and his many disciples. Known for elastic cheeks that puffed up like a blow fish, and his horn bell that pointed skyward at a 90 degree angle, he was one of the most recognizable trumpeters in popular culture alongside Armstrong and Miles Davis. Additionally, Gillespie's collaboration with Charlie Parker helped foster bebop, and his investigations with trumpeter Mario Bauza and arranger/percussionist Machito gave rise to the use of Afro Cuban elements that had not quite been heard before. His humor and generous spirit helped bring jazz to many people's lives.
Born as John Birks Gillespie on October 21, 1917 in Cheraw, South Carolina, he was the youngest of nine children in a poor family. Gillespie's father, who passed away when the boy was nine, led his own groups on the weekends. Dizzy began to learn piano from age 4 and was self taught on the trumpet, as well as trombone by the age of 12. His skills earned him the opportunity to study at North Carolina's Laurinburg Institute. When Gillespie left school to move to Philadelphia with his family and upon hearing his idol Roy Eldridge on the radio he decided to become a professional musician. Gillespie was a member of the Frankie Fairfax group in 1935 followed by a stint with Teddy Hill's orchestra in 1937. Serendipitously, he succeeded Eldridge, and duplicated his solos courtesy of fellow trumpeter and bandmate, the great Charlie Shavers. From the time Gillespie joined Cab Calloway's ensemble two years later, he planted the seeds of the so called world music movement when trumpeter Maurio Bauza introduced him to Afro-Cuban rhythms. Subsequent collaborations with Chano Pozo, and Machito authentically promulgated these ideas, with 1947's "Manteca" the most famous example. The Cab Calloway association lasted for two years, when Gillespie was ousted from the band after blowing spitballs at the leader! The trumpeter's impish sense of humor gained him the career nickname of Dizzy, and throughout the rest of his career he plied that humor, especially in live concerts.
1945 was the year he gained national attention. Gillespie hooked up with Charlie Parker and made several notable recordings both under his name and Parker's for the Musicraft, Savoy, Dial and Guild labels between 1945 and 1947. Gillespie's mark as a composer was immediately evident on "Salt Peanuts", which borrowed a line that the trumpet and trombone section played from "Little John Special", a piece he played with Lucky Millinder's Orchestra in 1942. He also had a way with harmony that broke new ground in jazz, his "Groovin' High" made magic out of the Paul Whiteman Orchestra's relatively cheesy 1927 hit Whispering", and wrote numerous compositions that would become jazz standards during this time period, "Shaw Nuff" and "Blue N Boogie" among then. It is noteworthy that the trademark upturned trumpet bell, was the result of an accident at a party in 1951, with all of Dizzy's horns maintaining the design from then on.
He also led a big band, which unfortunately had to be disbanded due to the economy. The important Dizzy Gillespie at Newport (Verve, 1957) featured big band bebop, with a who's who of bop and hard bop stars including trombonist Al Grey, pianists Wynton Kelly and Mary Lou Williams, tenor saxophonist Benny Golson, drummer Charles Persip, and most significantly the 18 year old prodigy Lee Morgan on his way to superstardom. The teenager was showcased on "A Night in Tunisia" taking a lengthy characteristically emphatic trumpet solo filled with trademark cocky swagger. Morgan was known for his Blue Note albums of the time, but the association in Gillespie's orchestra raised his stock considerably. In addition to musical concerns, Gillespie was very conscious socially, and his efforts throughout the next two decades demonstrated that.
Jazz has always reflected social change, this was especially true during the 1960's as rapid political and social movements began to dismantle Jim Crow laws that had subjugated African Americans as their struggle for equality escalated. Throughout the decade Gillespie served as a goodwill Ambassador from the United States, promoting jazz to further peaceful ideals during the cold war era. Pianist Herbie Hancock recently pointed out in an excellent series of Harvard lectures that Gillespie helped break through heated political situations alongside Benny Goodman Armstrong, and improved diplomatic relations through the music. Perhaps these successful diplomatic ventures prompted him to make two unsuccessful presidential runs in both 1964 and 1972. In 1971 his conversion to the B'ahai faith had a lasting impact on his music and way of life through the rest of his career as he promoted peace. The early 70's also brought tours with Thelonious Monk and Art Blakey in a configuration billed as the Giants of Jazz.
Signing with Norman Granz' newly formed Pablo imprint in 1974 found him recording in a variety of contexts. His first release was the highly regarded Afro Cuban Moods (1975). He was heavily featured in a revitalization of Jazz at the Philharmonic, teaming up with Roy Eldridge and trumpeter Clark Terry for The Trumpet Kings at Montreux (Pablo, 1975) the memorable Oscar Peterson Jam: Montreux '77 (Pablo Live, 1977) and studio jams session dates with guitarist Joe Pass, Clark Terry, and trumpeter Freddie Hubbard. Incidentally, it was a surprise Hubbard signed with Pablo after his much publicized, critically panned jazz funk albums on Columbia. Norman Granz' label was typically musically conservative, but Gillespie contributed a series of albums quite taking a stab at disco on Dizzy's Party (1976) and Free Ride (1977) with pianist and arranger Lalo Schifrin. Gillespie also did much to highlight his disciples' trumpeter Jon Faddis, and Arturo Sandoval. Sandoval defected from Cuba and was brought to international recognition with Gillespie on To a Finland Station (Pablo, 1982).
Gillespie continued to play until his passing from pancreatic cancer on July 6th, 1993. Though a few fans and critics felt his playing had passed it's prime by the 70's he continued to be an ebullient force in the music, with his humor, fire and willingness to try new things. Vocalist Chaka Khan's brilliant recasting of "A Night in Tunisia", "The Melody Lingers On" from 1985, also featuring Herbie Hancock on keyboards, is testament to Gillespie's enduring presence in jazz. The bebop flame he carried shone brightly to the end and has continued to be an inspiration and template today.