Where did jazz head in the 1970's?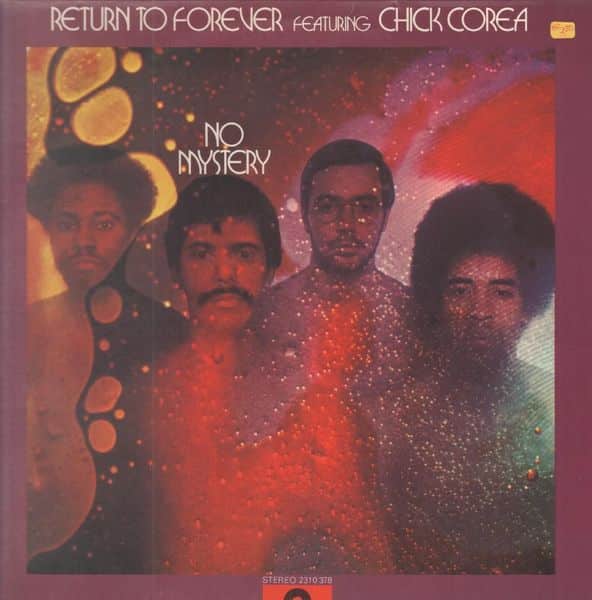 Where did jazz head in the 1970's? The  music expanded texturally and technologically as it moved away from the swing, and bebop rhythmic continuums.  Much of the music broke free of the traditional 12, 16, 32 bar and A-A-B-A song forms of the previous two decades.  Complex compositions became the norm, marrying tightly written sections with improvisation, rooted in structures found in classical and music from around the globe.  The technology advancements allowed for instrumentation to change drastically, and opened innovations mined to this day.
Instrumentation
By the early 1970's, advancements in technology and amplification allowed jazz musicians to expand the scope of their sound and playing.  The first advancement discussed will be bass direct.  Those familiar with Ron Carter, Eddie Gomez, Stanley Clarke or Niels Pedersen on a 70's recording know this sound, which is much derided.  The bass direct allowed acoustic bassists to plug their bass directly into the mixing board or amplification systems reducing vibration. The side effect this created was that rather than the wood tone of the bass, there would be far more finger board heard. Therefore bass solos would take on a guitar like sonority as in the cases of Gomez, Pedersen and Clarke.  Drummers like Billy Cobham and Tony Williams utilized bigger drum kits on the level of rock drummers, and the Fender Rhodes electric piano, a technology dating back to the 40's, but unveiled in it's full size incarnation in 1965, became the preferred axe of Herbie Hancock, Chick Corea and Joe Zawinul among others.  Analog synthesizers from Moog, Arp, and Oberheim were in their infancy, and players and programmers rushed to the new technology to find it's sonic potential.  Electric guitars and basses rounded out the sound to match that of rock groups.
The Children of Miles Davis
The advancements in the 70's were all begun by musicians who played in the bands of Miles Davis.  The music found different pathways to what was heard on In A Silent Way and Bitches Brew.  Tony Williams was the first with his group Lifetime in 1969 in the creation of jazz-rock, but by 1970-72 the rock influence in Williams' playing grew massively.  Herbie Hancock's Mwandishi focused on a more ambient, avant garde approach, employing Hancock on Fender Rhodes and effects Bennie Maupin on bass clarinet and saxophones, Eddie Henderson on trumpet and flugelhorn, Julian Priester on trombones, Buster Williams on bass and Billy Hart on drums.  The group recorded Mwandishi (Warner Bros 1971) Crossings (Warner Bros. 1972) and Sextant (Columbia, 1972) all large on multihued textures, and odd metered vamps, (the 15/8 of "Ostinato For Angela", and the 19/8 of "Hidden Shadows").  The latter two albums added Dr. Patrick Gleeson on Moog synthesizer, whose atmospheric, eerie textures brought much to the music.  By Sextant Hancock added the Hohner D-6 clavinet, and Arp synthesizer and while the album wasn't as out as Crossings it was a worthy end to the trilogy.  "Rain Dance" influenced a generation of electronic music producers with it's sequenced opening.  Unfortunately, Mwandishi was not economically sustainable.   Inspired by James Brown and Sly And The Family Stone, Hancock brought over Maupin from the previous band, brought in Paul Jackson on bass, and Harvey Mason on drums and formed the Headhunters.  Their self titled debut spawned massive hits: "Chameleon", and a retooled "Watermelon Man" with heavily funky rhythms, liquid Rhodes and chunky keyboards.  Later in the decade Hancock added the vocoder in his arsenal in crossed over to R&B and disco realms, alienating jazz purists who no longer considered him a jazz musician.  Hancock did record acoustic projects, but mainly for CBS/Sony, Columbia's Japanese division, with the majority of the 8 albums receiving their U.S. debut in The Complete Columbia Album Collection 1972-1988 (Columbia/Legacy, 2013).
Chick Corea would move from the avant garde that marked his mid 60's albums to something different with Return To Forever (ECM, 1971).  The Fender Rhodes was a catalyst for a new sound for the pianist, a floating, joyful blend with Brazilian leanings featuring the cast of Flora Purim on vocals, Joe Farrell on reeds, Stanley Clarke on bass and Airto Moreira on drums.  This lineup would record Light As A Feather (Polydor, 1972) with the classic "Spain" before a significant lineup change with Farrell, Purim, and Moreira leaving, Bill Connors joining on guitar along with Lenny White on drums.  The focus shifted drastically in a more rockish direction for Hymn Of The Seventh Galaxy (Polydor, 1973) virtuosic playing and song forms more in line with classical writing, a far cry from the 16 and 32 bar song forms of the previous decade.  The "classic" version of RTF would cement itself with Al DiMeola replacing Connors, and releasing Where Have I Known You Before? (Polydor, 1974) and band defining Romantic Warrior (Columbia, 1976) whose compositional constructs took things to another level, akin to progressive rock.  Indeed, the crossover appeal the album generated was massive.  RTF would be disbanded after 2 more albums with a expanded lineup, and Corea would record some of his greatest successes as a solo artist such as The Leprechaun (Polydor, 1977).  The Dimeola/Clarke/White edition of RTF would reunite for a major world tour iin 2008, producing a double live album and a concert video of their 2008 Montreux Jazz Festival appearance showing the depth and majority in the material more than 30 years on.  Corea would do an acoustic tour with the core trio and form a new version of Return to Forever with his Elektric Band comrade Frank Gambale on guitar and another jazz rock icon, violinist Jean Luc Ponty.
Mahavishnu and Weather Report
John McLaughlin's Mahavishnu Orchestra with violinist Jerry Goodman, bassist Rick Laird, and drummer Billy Cobham would make a huge statement with Birds Of Fire (Columbia, 1973).  Not only did McLaughin feature dizzying unisons redolent of Indian classical music, but astounding use of odd meter.  It was here Cobham began to experiment with a much larger kit with an array of cymbals and a double bass drum, first en vogue in the swing era with Louis Bellson. Classic compositions such as "Birds of Fire" blended an unusual 18/8 time signature with guitar groupings of 5+5+5+3, drums of 6+6+6+6 and violin in groupings of 3+3+2+3+3+2+ (Davies, 1985, 48-49) and thrilling melodic daring, "Dance of the Maya" and it's brooding opening almost foreshadowing metal, while Jerry Goodman's violin solo was flanked by Billy Cobham's shuffle groove, bringing things to an earthier wavelength. "Vital Transformations" percolates between 9/8 and some 4/4 passages.  With Mahavishnu, a new way of thinking burst the door wide open in the jazz rock arena, and with Return to Forever, Mahavishnu, Herbie Hancock, and Weather Report co existing in the same space, boundless individuality was offered.
Weather Report also evolved out of Miles' groups, with Joe Zawinul and Wayne Shorter leading the group with Miroslav Vitous on bass, Airto on percussion and the late Alphonse Mouzon on drums.  WR started as a very different ensemble, the self titled Weather Report (Columbia, 1971) opened with the startling "Milky Way", the studio used as a full blown instrument, eerie airborne textures were created by Zawinul playing chords while Shorter blew soprano saxophone into the piano.  The avant garde direction of the band was  best showcased on what could arguably be their finest recording Live In Tokyo (Columbia, 1972).  Lengthy album side medleys  feature post In A Silent Way textures, Miroslav Vitous' wah wah'd bass emulating Miles Davis' wah wah'd trumpet, ethereal percussion and vocal effects from Dom Um Romao.  It is Weather Report's most volatile, unrestrained, playing on record– quite a different animal than what most people associate with the band on albums like Black Market (Columbia, 1976) and their best seller, Heavy Weather (Columbia, 1978). By 1973, Zawinul felt a need for the direction in the band, moving away from the abstraction of the band's first three albums, into a more groove driven direction that would contain more than a few seeds sprouting the world music genre starting with Sweet Nighter (Columbia, 1973). By 1978, there was a consistent drummer with Alex Acuna, Jaco Pastorius would replace Alphonso Johnson, and recorded Heavy Weather. The album contains some of the group's most polished compositional efforts with "Birdland", "A Remark You Made" and Wayne Shorter's "Palladium". Critics despised the fact the band attained rock star status, and Zawinul hand became much heavier compositional wise, and in the textures of the music, which eventually lead to Jaco Pastorius' exit due to Zawinul's increasingly overbearing influence. Shorter's compositions became increasingly fewer on the albums and following 1985's This Is This, the group disbanded. Weather Report's music remains massively influential in jazz and other musics– for example the band was a huge influence on the French based electronic group Deep Forest, lead by producer and keyboardist Eric Mouquet and Michel Sanchez.  They  featured Zawinul on the cut "Deep Weather", a sly nod to the name of the band.
Miles Runs The Voodoo Down (Again)
By the early 70's Miles Davis was knee deep in the influences of Jimi Hendrix, James Brown and Sly Stone, music he deeply loved thanks to being turned onto it via his wife Betty Davis. The trumpeter looked to push the envelope once more, and sought to capture the sound of the streets in Black America, and what resulted out of that need to capture the urbanity of what he heard was On The Corner (Columbia, 1972), a wonderful melange of Indian, electronic and African elements.  In a fascinating, often times vitriolic exchange, percussionist James Mtume debated Stanley Crouch (known for his extremely right wing acoustic jazz purist stance) on the merits of the music.   Using the concepts of  aesthetic decline, technical exhaustion and social obsolescence posited by classical music critic Henry Plesants, Mtume explained that Davis searched for new avenues of expression, via the use of the wah wah, the intense African rhythms, and metric modulation to create something new.  The metric modulation used in Davis' bands of 1973-75 is particularly fascinating for the sole reason that it is completely rehearsed to transition seamlessly, yet maintain the illusion of something totally improvised.  This body of work, particularly the live recordings, remain some of the trumpeter's most stimulating and some of the most powerful jazz of the decade.
Other streams and conclusion
While jazz-rock and jazz-funk dominated sales, there were other movements in the music.  ECM, founded by Manfred Eicher in 1969, offered an ambient, largely acoustic chamber approach to the music with the label known for peerless, crystalline sonics, and lush, spacious quality with tons of reverb.  Keith Jarrett, Paul Bley and Chick Corea all made significant contributions to the solo piano arena, with Jarrett and Bley in particular redefining the idiom.  With drummers on board such as Jon Christensen and Jack DeJohnette, a rhythmic conception between swing and straight eighths was established, that redefined a new generation.  Pat Metheny, Gary Burton, Ralph Towner and others all made significant work on ECM, and to this day the label remains a progressive force.  Labels like Pablo, Concord and Xanadu brought forth in the tradition straight ahead jazz, and Herbie Hancock's VSOP Quintet with Freddie Hubbard, Wayne Shorter, Ron Carter and Tony Williams laid the groundwork for the full scale acoustic jazz revival lead by Wynton Marsalis in the 80's.  Acoustic, straight ahead jazz was always being produced in the 70's, it just wasn't as popular, and there weren't lots of chances to record it.  Groups like vibraphonist Mike Mainieri's Steps Ahead featuring studio aces like Don Grolnick, Michael Brecker, Eddie Gomez and Steve Gadd mixed straight ahead with current trends, laying down the roadmap in part for what would eventually become smooth jazz, along with Bob James, Lee Ritenour and GRP records.  To understand the impact of 70's jazz, workshops like Modern Jazz Ensemble taught by Sebastian Noelle can help fortify musical devices today that have evolved out of that era at the New York Jazz Workshop.