Herbie Hancock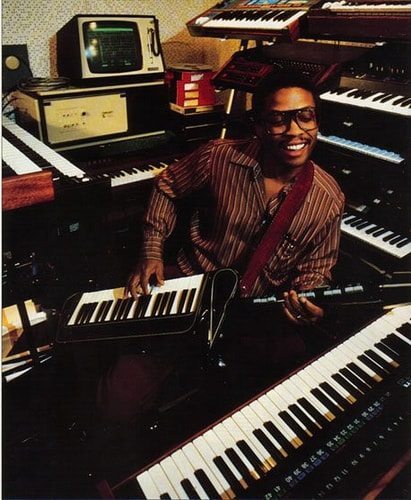 Herbie Hancock, who has recently celebrated his 75th year, is an innovator, explorer, a trendsetter, and one of music's greatest composers. Whatever he plays abounds with youthful energy. While the general populace knows the keyboardist primarily for hit tunes including "Watermelon Man", "Chameleon" and most famously,"Rockit", Hancock is a deep multifaceted musician who, just like his former employer Miles Davis, has been fearless in pursuing his muse that has taken him beyond tradition despite the outcries of a segment of fans, and critics.
Born on April 12, 1940 in Chicago Illinois, Hancock was a prodigy appearing at age 11 with the Chicago Symphony Orchestra. A short time later, he discovered jazz, and an important early mentor was local Chicago pianist Chris Anderson whose extended harmonic knowledge made a major impression on Herbie, and the innovations that would come in the future. The pianist's deep love of harmony also came from his interest in composers such as Ravel, and Debussy. In 1960, Hancock graduated from Grinnell College with a degree in music after a switch from electrical engineering and decided at that point he wanted to become a musician. Upon arrival in New York Hancock met trumpeter Donald Byrd, who the pianist would be employed by for the next several years. He has referred to the late trumpeter as a "big brother". The association with Byrd brought forth several important landmarks in Hancock's career: the establishment of his own publishing company, but also a seven year association with Blue Note records, where Hancock's debut album Takin' Off (1962) established him as one of jazz's most notable composers, with the gospel inflected "Watermelon Man", but the albums Empyrean Isles (1964) and Maiden Voyage (1965) truly established the pianist as one of jazz's most influential pianists following Bill Evans and McCoy Tyner, and composers. Maiden Voyage built upon the concept album nature of it's predecessor Empyrean Isles by focusing an album entirely on compositions that as much as they are technically appealing, create sonic canvases, telling a story in music that reaches the core of the listener's heart. The album featured the rhythm section of bassist Ron Carter, and drummer Tony Williams his bandmates in Miles Davis' pivotal quintet, (which he joined in 1963) with a front line consisting of former Davis reedman George Coleman, and trumpeter Freddie Hubbard. The title track, a modal composition, with chords famously moving slowly every four bars, added to the beautiful sea vessel vision the tune attempted to convey, which incidentally was composed for a commercial!
In 1963, Hancock joined the Miles Davis Quintet for the recording of Seven Steps To Heaven (Columbia, 1963). Though the rhythm section of Hancock, Ron Carter and Tony Williams only recorded three tunes for the album something was immediately apparent in the simpatico between them that would soon be the trumpeter's rhythm section until 1968. By February 1964, when the band recorded at Lincoln Center resulting in the classic Davis albums My Funny Valentine: Miles Davis Live in Concert and Four and More (Columbia, 1964) the arresting inner dialogues between Hancock, Carter and Williams shaped the language of post bop jazz to the present day. Though Miles would be playing well known standards and originals from his 50's repertoire, the tunes themselves became skeletal structures for exploration, where the rhythm section expanded and contracted at will. The prime example of this is contained in the Complete Live at the Plugged Nickel (Columbia/Legacy, 1995) where over the course of two nights in December 1965 the Davis Quintet deconstructs standards to their fullest potential.
In January of that year, the Quintet, with Wayne Shorter as a permanent member on tenor sax, after a succession of brief placeholders following the departure of George Coleman, the group embarked on a ground breaking series of 4 LP's over the next three years. With Shorter contributing the bulk of compositional duties, Hancock pioneered the harmonic style that has since been dubbed "time, no changes". Although the tunes did have changes, what would occur is the rhythm section, reacted to each moment as one organism. The result is that every take, as the box set Miles Davis Quintet: 1965-68 The Complete Columbia Studio Recordings (Columbia/Legacy 1968) demonstrates was different, with many surprises at every turn. Live, this band took the material to it's absolute apex.
By the recording of Miles in The Sky (Columbia, 1968) Davis began to incorporate the textures of popular music, and had Hancock play the Fender Rhodes electric piano for the first time on record. Ironically, Hancock was reticent to try the electric keyboard at the session, but the timbre of the instrument appealed to him as he explored it further. In the years following his exit from the Davis quintet Hancock was able to blend his love of science and music together, and synthesizers would be the next step in his evolution as a player, one that created a path that led musicians in all genres over the next three decades to follow.
Following the releases of Speak Like a Child (Blue Note, 1968) The Prisoner (Blue Note, 1969) and Fat Albert Rotunda (Warner Brothers, 1969) all featuring large ensembles with intriguing writing, Hancock started in on a new sound. Enlisting the talents of Bennie Maupin on alto flute and bass clarinet, Julian Priester on trombone, Eddie Henderson on trumpet, and flugelhorn, the bass of Buster Williams and drummer Billy Hart, with Hancock now on electric piano, the new band offered it's first album Mwandishi (Warner Brothers, 1970). What this group created was remarkably different, another new direction in the landscape created of wholly original expressions and sounds that alumni of Davis' groups had manifested. Herbie dove deeper into the avant garde realm than he had ever had before, his echo plexed and ring modulated Fender Rhodes electric piano bringing forth sparkling raindrops of textures, as the music moved freely between grooves and floating. By the second album Crossings (1972) Hancock added synthesizers to his palette, aided by the addition of Dr. Patrick Gleeson on Moog synthesizer, the music brought in even more influences such as the musique concrete experiments of Stockhausen, dense African rhythms, and the pieces on the album would be merely templates for much wider live renditions. The final album Sextant (1972) and Hancock's first for new label Columbia, explored the textures from the previous two albums more deeply, the opening "Rain Dance" presaging many styles of electronic music with it's sequenced rhythm, and the side long "Hornets" providing a memorable conclusion.
By 1973, Hancock had disbanded Mwandishi because economically the band was not viable. He wished to try something new, which went to the core of people's emotions, rather than continue the music with the sextet, that was rewarding for him, but financially disastrous. The pianist wanted to reach deep into the types of sounds James Brown and Sly Stone were bringing to the masses and make music that was intricate, but that also people could feel. Hancock's new band featured Maupin as the lone hold over from the previous group along with Paul Jackson on bass, percussionist Bill Summers and drummer Harvey Mason, who was quickly rising as one of LA's top session musicians. The lead off track of their debut Headhunters (Columbia, 1973) "Chameleon" with Hancock's famous synth bassline, and equally famous ARP soloist and Rhodes solos became a smash hit, with the epic 15 minute tune being distilled into a much shorter single for radio airplay. Besides ushering in more of Hancock's adroit and ever present funkiness, the album's re imagined take of "Watermelon Man" opened up sonic vistas in jazz funk that were previously unheard. Bill Summers, besides being an excellent percussionist, is also an ethno musicologist. Using beer bottles and vocalizations he emulated the sound of hindewhu, a style of singing and whistling native to the Babenze pygmy people in Africa, which has since become one of the most notable and most sampled aspects of the track.
The group followed with Thrust (Columbia, 1974) which featured Oakland based drummer Mike Clark replacing Mason, and while Mason's style of playing was more linear, Clark brought a special groove that was ultra syncopated and flexible, the type of thing David Garibaldi was playing with Tower of Power. Clark's affinity for an elasticity stemming from Tony Williams and Elvin Jones proved him to be a perfect foil for Hancock's predisposition for rhythmic playing that incited and engaged the drummer. This is most evident on the album's most well known track "Actual Proof", which received a definitive treatment with Hancock on acoustic piano rather than Rhodes on the formerly Japan only live album (Columbia, 1975 and reissued as a single disc licensed from Columbia on Wounded Bird in 2014) considered by many fans to be the Headhunters greatest album. Flood also contains a nearly 20 minute definitive pre Man-Child (Columbia, 1975) rendition of "Hang Up Your Hang Ups" which, in the absence of additional horns and tighter, slicker production of the studio version takes many more risks on the version presented on Flood making it one of Hancock's greatest performances.
In 1976 at the Newport in New York festival, a concert was planned called "A Herbie Hancock Retrospective" in which the keyboardist presented three groups: the VSOP Quintet (a Miles Davis Quintet reunion with Freddie Hubbard substituting for the recently retired Davis) a Mwandishi reunion, and his then current funk outfit. The results of the evening were released on the double album VSOP (Columbia, 1976) and the appearance of Hancock playing acoustic with Wayne Shorter, Hubbard, Carter and Williams led many critics and fans to exclaim acoustic jazz was back in an era when jazz-funk and jazz-rock were the dominant directions musically and in album sales. The assertion that acoustic jazz had somehow disappeared looking through the lens of the complete history of the music is almost funny now, because Hancock's label mates the great tenor saxophonist Dexter Gordon, and most notably trumpeter Woody Shaw had been making strong acoustic albums that decade. Independent labels like Concord (founded, 1972) and Pablo (founded, 1973) served the market hungry for bop and hard bop based jazz while the visionary label ECM was recording both cutting edge acoustic and electric jazz of all stripes.
The general public (and purist critics) had seemed to forget that Hancock was still devoted to the acoustic piano as well as electric keyboards, and at this point in his career, was recording material for two different markets: America was releasing his funk and disco projects such as the excellent, sometimes overlooked Sunlight (Columbia, 1978) featuring Hancock's first use of Sennheiser vocoder and the follow up, the purely discofied Feets Don't Fail Me Now (Columbia, 1979). Around the same time Columbia's sister label CBS/Sony in Japan had been releasing acoustic, straight ahead music such as the VSOP Quintet's Tempest in the Colosseum(CBS/Sony, 1977) and the double album Live Under The Sky (CBS/Sony, 1979) In total, Hancock recorded eight albums purely for the Japanese market beginning with the solo, experimental Dedication (CBS/Sony 1974) featuring one side solo piano, and one side synthesizers and Fender Rhodes culminating with two trio albums with Carter and Williams, the live in studio, direct to disc DirectStep (CBS/Sony 1978) with a revamped Headhunters, the astonishing solo piano disc The Piano (CBS/Sony, 1978) and the only VSOP studio date Five Stars (CBS/Sony, 1979). All of this music, has been made available recently in the US in the Complete Columbia albums (Columbia/Legacy, 2013) and reissued as stand alone discs licensed by Columbia for distribution on the Wounded Bird label, represent some of Hancock's finest music of his career, that makes it a shame that the rest of the world had to wait many years to hear it.
Between 1980 through 1982, Hancock released the masterpiece Mr. Hands (Columbia, 1980), and the R&B centered Monster, and Lite Me Up (Columbia, 1982) featuring the song writing of Rod Temperton, known for his work with Michael Jackson, and Quincy Jones. Admittedly these albums sound like Hancock was almost appearing as a sideman, though his harmonic and rhythmic identity are completely present in that music. By 1983, through the medium of the just fledged MTV, an innovative unforgettable video, and the sound of a new musical form on the streets, Hancock would become a mainstream pop star and iconic presence.
The keyboardist teamed with bassist and producer Bill Laswell, and his group Material for Future Shock (Columbia, 1983) the first in a trilogy of albums exploring electro music. Hancock once again innovated on the synthesis front by prominently featuring the Fairlight CMI, modified Apple IIe computers, and a bit later, the Yamaha DX-7 on this trilogy. Future Shock produced the smash single "Rockit", featuring some of the first turntable scratching on record by Grand Master DST (later DXT), and the tune, accompanied by it's memorable bizarre video with robotic mannequins created by artist Jim Whiting, demonstrated in no uncertain terms that the pianist was interested in expanding the scope of jazz, lending jazz flavors to other genres.
It is argued amongst the Hancock fan base, those who embrace the acoustic, and electric sides, whether these albums represent the best or worst of the eighties decade; however "Rockit" is one of the most important items in Hancock's catalog. Without that tune, it would simply not be possible for jazz musicians today like pianist, Robert Glasper, bassist Ben Williams and drummer Chris Dave, who all grew up with hip hop as a significant foundation in their musical DNA, "Rockit" was responsible for turning a few generations of hip hop fans to jazz. Hancock released singles for the tunes "Autodrive", "Hardrock" (the humorous accompanying video finds Hancock portraying a conductor on New York subway) and "Vibe Alive" from 1984's follow up Soundsystem but none of those tunes or videos captivated the imagination of the popular conscience the way "Rockit" had and consequently, many people are unaware as his role as a fantastic acoustic pianist, or groundbreaker in jazz funk.
From the mid 80's to the early 90's the pianist spent much of his time devoting energies to both acoustic and electric concerns. Composing the score for the Oscar award winning Bernard Tavernier film Round Midnight starring Dexter Gordon. After a high profile sideman gig in the superstar trio with Pat Metheny and Jack DeJohnette for the drummer's Parallel Realities (MCA, 1990) and tour that resulted in the live concert DeJohnette, Hancock, Holland and Metheny in Concert (Pioneer, 1990) he returned to his own projects. In 1994, Hancock released Dis Is Da Drum (Mercury) a project nearly as grand in scope as the Laswell collaborations as the he investigated jazz and hip hop through an updated lens. The project was originally supposed to include an interactive CD-Rom component where users could choose from various tracks in the music for their own immersive experience, but the idea never came to fruition. He then returned to straight ahead jazz with the acoustic New Standard (Verve, 1995) composed of a stellar band with tenor saxophonist Michael Brecker, guitarist John Scofield, bassist Dave Holland and Jack DeJohnette on drums essaying modern pop tunes. Herbie collaborated in a duo with Wayne Shorter for 1+1 in 1997, produced and guested on three tracks of a Headhunters reunion Return of the Headhunters (Verve Forecast/Hancock Music, 1998) and the multi genre spanning Gershwin's World (Verve, 1998).
The dawn of the 21st century cemented Herbie Hancock's place as an eternal explorer, and brought about some of his greatest career successes. First was a reunion with Bill Laswell for Future 2 Future (Transparent Music, 2001) perhaps the finest of all their collaborations, this time investigating current electronic and ambient music trends, with a variety of guest artists. Hancock's Possibilities (HEAR Music/Hancock Music, 2005) was a social statement about peace and unity amongst different cultures, featuring pop mega stars such as Christina Aguilera (on a soulful reading of Leon Russell's "A Song For You") and John Mayer. His album River: The Joni Letters (Verve 2007), featuring music honoring the great singer/soongwriter Mitchell created a historic accomplishment by becoming the first jazz album to win Album of the Year at the Grammy awards. Hancock's vision of unity in music regardless of genre, was a huge reason for this milestone. In 2010, Hancock followed up on this success with the Imagine Project (Hancock Music) another look at what brings people together as a culture.
In addition to being designated a UNESCO ambassador for peace, Hancock received a Kennedy Center honor for his lifetime contribution to jazz, and a highlight of the performance was Snoop Dogg joining in on "Cantaloop" the hit sampling "Cantaloupe Island" by the UK group Us3– the first group ever allowed to sample directly from Blue Note's vast archives, thus turning another new generation of hip hoppers onto Hancock.
In early 2014, Hancock was a guest lecturer at Harvard, giving a fascinating series of lectures called the "Ethics of Jazz" where he spoke on everything from what he learned from Miles Davis through to Buddhism, and what we can do as a society to achieve peace. While the multifaceted keyboardist has not composed new music in quite some time, he continues to mine new territory in his own best loved tunes, often transforming the melodies and harmonies rendering them unrecognizable. He has reunited with Chick Corea for a duo tour, and has had a series of unique solo concerts where the idea he took on Dedication goes a step further with Hancock utilizing acoustic piano, synthesizers and vocoder to accompany himself in fresh looks at many tunes. No matter people's preferences, Herbie Hancock was, and continues to be an innovative force, and it will be exciting to see what musical galaxy he inherits next.