Hank Mobley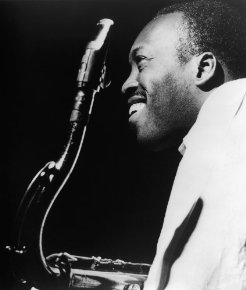 When many think about the prototypical hard bop tenor, Hank Mobley automatically fits the bill. Known as the "middleweight champion" of the tenor sax, coined by Leonard Feather, Mobley was truly a musicians' musician. Blessed with a beautiful, buttery tone, fluid ideas and songwriting chops, Mobley was called upon by some of New York's finest players. Born on July 7th, 1930 in Eastman Georgia, Mobley's upbringing was in New Jersey. He played in various R&B bands and the Paul Gayten group of which some early solos were captured.
Mobley was signed by Blue Note 1955 and recorded the hard to find (though reissued by Mosaic in the "Complete Hank Mobley Blue Note Sessions" in 1998) "Hank Mobley Quartet", his debut as a leader. Aided by Horace Silver on piano, Doug Watkins on bass and Art Blakey on drums, the nucleus of the Jazz Messengers, Mobley showcased excellent writing skills, and a mastery of bebop vocabulary. The latter facet particularly highlighted well on uptempo numbers such as "Hank's Prank". This configuration recorded with Kenny Dorham on trumpet for the Silver led "Horace Silver and the Jazz Messengers" taped in February 1954 and November, 1955. Mobley also was a part of the historic November 23rd, 1955 session that resulted in the two volume "Jazz Messengers at the Cafe Bohemia" which rank among the most essential hard bop records of all time, and he continued to lend his services on many Prestige blowing session dates. 1957 found Mobley leading a session featuring Art Farmer on trumpet and Blakey featuring his famous "Funk in A Deep Freeze", part of a three tenor triangle with Johnny Griffin and John Coltrane and Horace Silver's "The Stylings of Silver" and many others.
1959 saw him rejoin the Jazz Messengers for a rejected studio session, and for a Birdland engagement in April resulting in the double volume "At the Jazz Corner of the World", both for Blue Note. Mobley was later incarcerated for drug possession. Mobley recorded "Roll Call", and the highly regarded "Soul Station" with Wynton Kelly on piano, Paul Chambers on bass and Blakey on drums In 1961 he got the call to join the Miles Davis Sextet, in an underrated group which many critics and fans feel Mobley was an inappopriate fit. He provided a beautiful soulful counterpoint to returning Davis alum John Coltrane on "Someday My Prince Will Come", and held his own on the other numbers. Mobley taped at Carnegie Hall with Davis, and two days at the Blackhawk in San Francisco, reissued on "The Complete Friday and Saturday Nights at the Blackhawk" (Columbia/Legacy, 2003). Perhaps the dissappointment people feel with this excellent group is that Mobley, with his Lester Young inspired tone was too much of a cool foil after the heat Coltrane provided in Davis' band between 1955-60. Mobley cut the excellent "Workout" with Grant Green on guitar and the all Miles rhythm section of Wynton Kelly, Chambers and "Philly" Joe Jones on drums, where Mobley stretched out at length.
Mobley exhibited a new commitment in 1963 to playing and composition, with a much stronger modal Coltrane influence in his lines and recorded the classic "No Room For Squares". The first in a long string of notable and hit albums. He holds the distinction of being an artist with one of the longest recording streaks for Blue Note from 1955-1970, with the other artists being alto saxophonist Lou Donaldson (from 1952-1974) and Horace Silver (from 1953-1976). After 1970, the saxophonist recorded sporadically, and with a much darker, baritone like sound on the session he co led with pianist Cedar Walton on "Breakthrough!" (Cobblestone, 1972).
Worsening health problems due to drug and alcohol abuse, and having lost a lung, he continued on, appearing one more time on record in 1980 with pianist Tete Montoliu. By this time, his tone, chops and execution were heavily diminished, but his ideas were unmistakeable. Mobley, homeless and penniless was scheduled to play at the historic 1985 Blue Note relaunch concert at New York City's Town Hall, though he appeared only as a guest. He is heard giving a speech on the exclusive 45 RPM LP issued with the Japanese version of "One Night With Blue Note, Preserved". Mobley died in Philadelphia, in 1986. His contributions to Jazz are substantial, and have finally received their just due along with other neglected Blue Note masters such as tenor saxophonist Tina Brooks and guitarist Grant Green.