Guitarist Pat Metheny discusses his new collaboration with Cuong Vu and reflects on his brand new quartet in conversation with CJ Shearn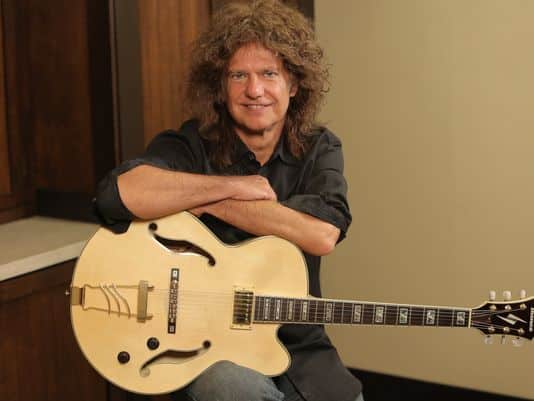 Guitarist Pat Metheny is gearing up for a busy 2016. Last year was relatively low key after wrapping up the Kin (<–>) world tour with the Unity Group in 2014. In January 2015, he appeared as a featured artist at a gala concert for bassist Eberhard Weber in Germany. The guitarist premiered his big band piece, the half an hour long "Hommage" centered around recorded snippets of the pioneering German bassist (unable to play since his 2007 stroke) and crafting new environments for them utilizing the ensemble and soloists including himself, vibraphonist Gary Burton and former Pat Metheny Group drummer Danny Gottlieb. The results were recorded and released on the terrific live concert album Hommage a Eberhard Weber (ECM, 2015) marking Metheny's first appearance on the label in over 30 years since 1984's First Circle. Metheny also appeared as a sideman alongside the crack group of pianist Jason Moran, Harish Raghavan; bass, and Nasheet Waits; drums on alto saxophonist Logan Richardson's phenomenal new Blue Note album Shift.
Additionally, he was artist in residence at the 2015 Detroit Jazz Festival playing with a variety of groups, most notably with legendary bassist Ron Carter in a duo setting, a collaboration extending into a series of gigs this year. Metheny is releasing a new recording on May 6th on Nonesuch with former bandmate trumpeter Cuong Vu, who was a member of the Pat Metheny Group for Speaking of Now (Warner Bros/Metheny Group Productions, 2002) and The Way Up (Nonesuch/Metheny Group Productions, 2005) entitled The Cuong Vu Trio Meets Pat Metheny. Metheny also has a new quartet with rising stars UK pianist Gwilym Simcock, and Malaysian/Australian bassist Linda Oh plus Metheny's main collaborator, Antonio Sanchez (coming off a pathbreaking 2015 with his success from the score to the film "Birdman") once again on drums.
I spoke with Metheny recently to talk about the Vu collaboration and the new band, which will tour Japan beginning on May 16th. In addition to the album with Vu on May 6th, Metheny is also releasing the double album The Unity Sessions featuring all the music from the Unity Sessions film released late last year documenting the Unity Group immediately following the Kin (<–>) world tour gorgeously and intimately filmed black box style at the 5 Angels Theatre in New York City. As always my sincere thanks to Pat Metheny for taking time during a very hectic schedule, and to David Sholemson for setting up the interview.
CJ:Let's start with the Cuong Vu album. Cuong brought something to your band that you described once as an "x factor" with his unbelievable command of the trumpet and fresh approach to creating sound. The way you played together, particularly the GR300 guitar synth/trumpet collective improv section of part 2 of The Way Up really highlighted the ease in which you play together. You've expressed the belief that you could add something special to the trumpeter's band for this release. The hookup you have with (bassist) Stomu Takeishi on "Let's Get Back",  the track Nonesuch released to promote the album is stunning. The way you complement him playing the changes is really great, the kind of harmonic area you love. What is it about this particular group, the Cuong Vu Trio that piqued your interest?
PM: When I first heard Cuong all those years ago, I was really impressed with his individuality. Maybe that is a quality that has a kind of weighted importance to me. The fact that his playing and particularly his band sound was difficult to place on the spectrum was immediately attractive to me.
That he was not only aware of and conversant of my thing, but went on to tell me how central it had been to his development was incredibly gratifying – especially because  he had already gone so far along a developing a persona that was so distinctive. And I love the work he did with me. He is such a unique talent, and yet the basic harmonic vocabulary of what my thing demands kind of required him to take a look at some things that had just not come up for him before – all in a really good way I think. It was great for both of us I think.
And yet, when I heard him on his own with his band, in an environment where the harmonic results were achieved in a very different way thanks to the lack of piano or guitar and opening up all that space that one can only find in a trio-type situation like that, I really hoped one day to be able to join him in a setting like that as well. This record is a great documentation of that for me.
His is just a great band, a great trio. Those guys have played a lot together over a long period of time and you can really hear that. And individually, they are all interesting and amazing musicians. I really love that band.
CJ:The new quartet you have assembled features some spectacular young players, Gwilym Simcock on piano, Linda Oh on bass and of course Antonio Sanchez on drums, who had a mind blowing 2015. Quite recently you've lovingly nurtured established young players like Ben Williams and helped them truly shine. Both Oh and Simcock have been influenced by your music, just talk about the new band members a little bit and what they bring to the quartet format
PM: This is a bit of an unusual thing for me. The standard thing for quite some years now has been the a)write some music b)make a record c) do a tour thing. But actually, I didn't used to do it that way. When I started, I would often tour for a long time before I recorded the music. This time I decided I would find some favorite musicians who I knew could hang with me in the territory that I kind of inhabit at this point in time and sort of see where it goes. I have written a bunch of music for them, but we can also play everything from every step of my thing along the way – in fact they play it all great. So it is an exciting thing, and not exactly knowing where it is headed or even what this is is actually exactly right for me right now.
CJ: A two pronged question here: You mentioned that this band can play a lot of new music and old music as well. Will the focus be more on new pieces with some meat designed for blowing, a la the first "Unity Band" record, or will you again be exploring the deeper compositional concerns with expanded orchestration and some Orchestrion scattered about in this new configuration? How will you be utilizing each player's unique skill set?
PM: Good question!
CJ: Oh that exciting! I'll guess we'll see where it goes!
CJ: There is quite a bit mentioned in these questions about bass players. With every bassist in any number of your bands there has always been a strong emphasis on the way the bass handles the rhythmic and harmonic details in your music. Often times discussion will focus on the cymbals and the way the drummers play your music, but talk about the role of the bass, especially in how it will relate to Linda's position in the band.
PM:I have been really lucky in the bass department over the years. Like really, really, really lucky. And my feeling is that Linda fits totally in there with what that list of names would represent in the trajectory of how this music has evolved over the time period that I have been around. Somehow whoever the bass player is always defines something about the personality of the band and the music. Ben was a great person and player to do that on the Unity thing and there are a bunch of bass players who I hope to build something around in that same way that I have yet to – Scott Colley comes to mind – one of the best musicians I know and someone who I love playing with and he is the kind of guy I would love to build a project around. In previous lineups of course Christian McBride, Steve Rodby and Charlie (Haden) and Jaco (Pastorius) and (Steve) Swallow and Larry Grenadier and Dave Holland and so many others . Each are so important to me. The bass inspires so much.
Linda is exactly right for me for this because she somehow embodies the kind of listening that I always love but that I am particularly looking for right now. She is one of the most exciting new musicians I have heard in a long time on her instrument. She kind of has all the things you want, great time, a really big and yet dynamic sound, a fantastic harmonic sense and real facility on the instrument. But that isn't what did it for me. She has an indescribable presence in the music that is really hard for me to find in musicians. She kind of owns the space around the notes she plays in a way that really adds up to something more than exactly the notes and sounds of it all. There is a kind of transcendent thing happening there that is really what makes music music.
If you are interested in the music of Pat Metheny, the New York Jazz Workshop offers a variety of jazz guitar specific intensives that focus on ear training, improvisation, 7th chord voicings and more.  Check out courses with world class faculty including Vic Juris, Kenny Wessel and Miles Okazaki