Thelonious Monk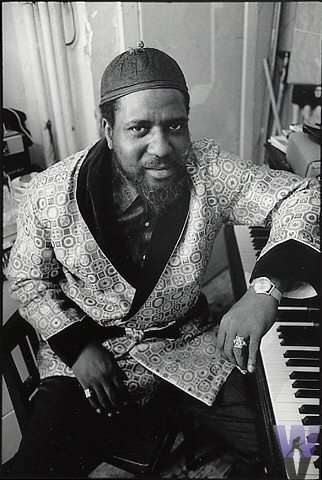 One of the most important, and colorful figures in all of jazz Thelonious Monk's contributions as innovator were massive. His advances in the harmonic, and rhythmic vocabulary have influenced nearly every pianist that followed, and his relatively brief book of compositions (only 70!) are the standard language of modern jazz standards. Born in Rocky Mount, North Carolina on October 10, 1917, Thelonious spent his formative years growing up in Harlem's San Juan Hill neighborhood, and at an early age he showed a high aptitude for music. He began piano at the age of nine after playing trumpet, Monk played rent parties, and played both organ and piano in church. He attended Peter Stuyvesant high school, dropping out during his sophomore year, and functioned as pianist for a preacher and faith healer.
In 1941, Monk would begin to make his mark at the jam sessions at Minton's Playhouse, and three years later make his first recordings with Coleman Hawkins. It was not until 1947 through his first recordings for Blue Note records which took place between a 4 year period would the pianist's music wider exposure. Though the challenging compositions, such as "Criss Cross", "Skippy" and "Four in One" were not as well received by some musicians and fans alike because of their angularities and tricky rhythms.
In 1951, Monk's cabaret card was taken away from him after he was found in a vehicle with Bud Powell, containing drugs. The reason for the revocation was because he would not testify against Powell. Playing clubs are the livelihoods of many jazz musicians, and at that time, the lack of a cabaret card made it very difficult to find work. Monk recorded a series of acclaimed albums for Prestige, and in 1955 he began a five year association with Riverside records where he recorded some of his most enduring albums. Among these albums were Brilliant Corners (Riverside, 1956) with the tenor of Sonny Rollins, altoist Ernie Henry, bassist Oscar Pettiford, Max Roach on drums, and on "Bemsha Swing", Clark Terry on trumpet, and Paul Chambers instead of Pettiford. The title track was so difficult, that the final performance is a composite of more than 20 takes edited together! Another pivotal album during the Riverside years was Thelonious Himself (Riverside, 1957) his second solo piano album containing some of his most to the point playing. On CD reissues, the 21 minutes of "Round Midnight" (in progress) are fascinating as the pianist works on the chord structure and general approach of the tune before recording the master take. Monk's Music recorded the same year with John Coltrane, Coleman Hawkins, Ray Copeland, Gigi Gryce, Wilbur Ware and Art Blakey is an undisputed classic, "Well You Needn't" showcasing the contrasting styles of Coltrane and Hawkins. In the summer of 1957 and important engagement with Monk's quartet featuring Coltrane at the Five Spot in New York was instrumental in developing both the pianist and saxophonist. Unfortunately no recordings of this engagement surfaced, Blue Note released an album Discovery sourced from a homemade reel to reel tape made by Naima Coltrane, John's first wife. In 2005 Blue Note released Thelonious Monk and John Coltrane: at Carnegie Hall a revelatory document, with the tapes being found at the Library of Congress and recorded by the Voice of America. This album is the definitive example of their partnership.
1959's Thelonious Monk Orchestra at Town Hall introduced his music in a big band format, with arrangements by Hal Overton which really utilized the oddities in Monk's music really well. The album was superseded by Big Band and Quartet (Columbia, 1964) Monk's second big band album.
1962 was the start of an eight year association with Columbia records. By this time Monk's working quartet featured tenor saxophonist Charlie Rouse who first joined the pianist for the Town Hall concert, bassist Butch Warren and drummer Frankie Dunlop. The first Columbia LP Monk's Dream (1962) became his biggest selling album of his career, and in 1964 he finally garnered mainstream acceptance when he appeared on the cover of Time magazine. Of course, it is cliche to say that with bigger exposure, there are sentiments that the music is weaker, but Monk's Columbia period is considered by some his least worthwhile and essential period. This could be due to the relative lack of new compositions, with his most popular tunes being re investigated on various studio and in person concert albums. 1967's Straight No Chaser contained the most new Monk compositions in years. However, despite the criticisms of these recordings, there is much to be enjoyed. Eventually, Warren and Dunlop were replaced by Larry Gales and Ben Riley respectively. The Gales-Riley combo provided an effortless swing and drive for Rouse and the pianist to improvise upon. Astute listeners have observed this is Monk playing his music the way he wanted it to be played, and arguably Charlie Rouse was perhaps his finest saxophonist. While many continue to debate the greatness of Sonny Rollins, Coltrane and Johnny Griffin in various groups, Rouse really got into the nooks and crannies of the music in a unique manner.
The Columbia years ended with the ill received Monk's Blues a big band date conducted by Oliver Nelson, and the pianist toured with the Giants of Jazz group featuring Dizzy Gillespie and Art Blakey, and made his final recordings in London on November 15, 1971 both solo and in a trio with bassist Al McKibbon and Blakey. Monk had suffered from severe mental health issues for years, passing away from a stroke in 1982 at the home of his dear friend Baroness Nica de Koenigswarter. The career of Thelonious Monk was full of amazing music which continues to be a indelible part of the landscape today.