Tiny Little Pieces: A Profile of Cuong Vu by CJ Shearn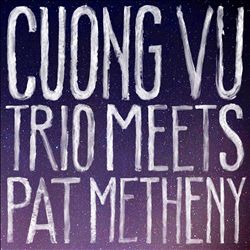 Trumpeter Cuong Vu has for many years, been a musician on the cutting edge of exploration. He made his debut on the New York downtown scene after relocation from his homebase of Seattle, Washington where he had been living since the age of five years old after his mother fled Saigon, Vietnam. Vu's fearless approach to improvised music, and his unique use of electronics quickly established him as a singular and individual talent, releasing his debut recording, Bound for the OmniTone label in 2001. Vu's instantly recognizable approach and border less attitude to music is what caught the attention of guitarist Pat Metheny, who had contacted the trumpeter about joining his flagship Pat Metheny Group. Metheny's featured the trumpeter's effervescent extended techniques, rich tone, and vocal abilities on the PMG's albums Speaking of Now (Metheny Group Productions/Warner Brothers, 2002) and The Way Up (Metheny Group Productions/Nonesuch, 2005). Since leaving Metheny's band, the trumpeter has put out some excellent recordings including It's Mostly Residual (Artistshare, 2005) with guitarist Bill Frisell, and Vu-Tet (Artistshare, 2007). In addition he has been an assistant professor at the University of Washington for the past several years, changing the culture of the music program and inspiring students with his innovative pedigree stemming from his musical experiences.
Vu is reunited with Metheny on his new album, Cuong Vu Trio Meets Pat Metheny (Metheny Group Productions/Nonesuch, 2016). I had a conversation with the trumpeter recently about the album, and also about his role as a jazz educator, and excerpts of what he spoke about are contained herein. The new recording on which the legendary guitarist is joined by Vu's trio of phenomenal bassist Stomu Takeishi (a Vu collaborator of fifteen years) and drummer Ted Poor is marvelous in it's improvisatory and textural scope. In his succinct, and thoughtful manner Vu said that the genesis of this project "was on the tour bus. Pat had wanted to produce three albums of mine, with him playing on the first". By the time Speaking of Now was released in the Fall of 2002, the music industry was going through some major changes. File sharing networks like the groundbreaking Napster and Kazaa had changed the way many were consuming music, the purchasing of singles rather than albums was always an industry trend, but the fact that people could now download tracks and albums for free on file sharing networks meant that artists were not being compensated for their hard work and effort in crafting albums. Just as he had with his then unprecedented run at Geffen records as the only jazz artist signed to the label, Metheny had his own imprint Metheny Group Productions, where he was given free reign to produce his own albums with no concessions to commercial demands, and he was also free to produce other artists, the albums would just be distributed by a major label. Just as Metheny had produced albums for keyboardist Lyle Mays, and vocalist Noa, on Geffen, part of the deal he had with Warner Brothers Vu explained, allowed the guitarist the latitude to produce other artists to make albums under his production aegis and release them on Warner Brothers. "Pat was supposed to play on 'It's Mostly Residual' but his schedule was so crazy at the time, we couldn't sync up. I ended up meeting Bill Frisell, and writing music for Bill Frisell". When "It's Mostly Residual" was released in 2005 for Artistshare, the Warner Brothers jazz division had completely shut down. Artists like Metheny, alto saxophonist Kenny Garrett, pianist Brad Mehldau, and tenor saxophonist Joshua Redman were shuffled over to Warner owned Nonesuch, and other artists and key employees were dropped entirely.
It would not be until many years later until "the highlight of his career" when the guitarist joined Vu's trio for three days at Avatar Studios in New York this past February, for the recording of the album. For only the second time in his career, the trumpeter brought out a piece he had previously recorded "Acid Kiss" to the session, which was originally recorded on Bound. For Vu it was a matter of figuring out a way to navigate the piece in a way that was satisfactory, and he felt he got there on the new rendition of the tune with it's rustling rubato improvisation unfolding for about four and a half minutes before it's anthemic melody reveals itself. Metheny is at his inspired best on the album unfurling a firebreathing solo on his signature Roland GR300 guitar synthesizer, morphing into sonic territories rarely heard on record. Most of the tunes were achieved in just a few takes, with "Let's Get Back" which Vu referred to as the "simplest tune of the session" requiring five or six takes to "get the feeling right" as he remarked "mostly for me so I could practice what to play". "Acid Kiss", and the dense "Tiny Little Pieces" were recorded in just one take. The album presents Vu at his most mature with a trio that has honed a distinctive language for many years, and is typical of Pat Metheny, whose playing is elevated by being a sideman in this very rich musical setting, a second appearance on a record in one year in that role, which continues an investigation of new tones and textures that first appeared on Tap(Tzadik/Nonesuch, 2013) and extended through to Kin (<-->)(Metheny Group Productions/Nonesuch, 2014) and alto saxophonist Logan Richardson's Shift (Blue Note, 2016).
As an educator, Vu firmly believes in utilizing the avant garde to trace back to tradition citing that "all great art is avant garde". "Sometimes I play my students things they don't even recognize as music" but the goal he explained was to use that as a way to demonstrate that it leads back to tradition. The best avant garde music starts from the basis of inside, and regardless of whether or not it is one's particular taste he reiterated that it was of prime importance to recognize what musicians such as Cecil Taylor brought to the art form: "some of these guys are just bad ass motherf*kers". His own appreciation of classic jazz such as bebop has grown from his time teaching. Years earlier as a musician coming up he studied the style but didn't feel the need to be wedded to it in any way, a sentiment that caused consternation among some of his peers: "I would listen to music like Stravinsky and Ligeti and my friends would say, that's not jazz!" but it's all part of things that would shape his unmistakable soundprint, that he imparts to students to strive for innovation. He sometimes plays in the student ensembles in a mentorship role to guide the students the best way he can, a situation he admits is very different from the free flowing communication and comfort that he experiences in his trio with Takeishi and Poor. After moving back to Seattle after over a decade in New York, the path is even brighter for Cuong Vu.
Special thanks go to Cuong Vu for donating his generous time to speak with me, Ann Braithwaite of Braithwaite and Katz, and Melissa Cusick from Nonesuch records. The Cuong Vu Trio Meets Pat Metheny is available now physically and digitally through Amazon, iTunes and all other major outlets.