Passionate about the art of vocalese? A brief profile of maestro Giacomo Gates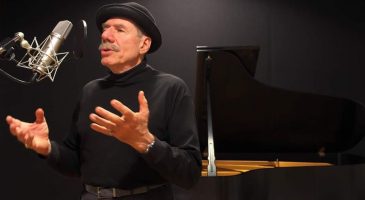 In the crowded landscape of jazz vocals, there are few like Giacomo Gates. Hailing from Bridgeport Connecticut, and later moving to Alaska for construction work the baritone singer has delighted audiences  through his absolute mastery of the art of vocalese.  While he sings pieces from the popular jazz canon  he really sought to tackle serious jazz compositions such as "Epistrophy", and "Milestones" explicitly demonstrating that vocalists are on par with horn players.  Frequently the singer engages with his band in thrilling dialogues as any number of instruments including trumpet and bass, bringing to mind such past greats as Ella Fitzgerald, and his major influences Eddie Jefferson and Jon Hendricks.  Making his debut not until the age of 40 Gates was raised in a household of music– his father was an amateur violinist, played classical music and big band music often.  While studying as a young guitarist,  Dave Brubeck's classic Time Out (Columbia, 1959) fascinated him, and he then got turned onto Thelonious Monk, Charlie Parker, Lambert Hendricks and Ross and Dexter Gordon.  Though he loves music across the entire spectrum including James Brown, Marvin Gaye, and the Four Tops, jazz always grabbed his attention.  His 2011 Savant records debut The Revolution Will Be Jazz: Giacomo Gates Sings The Music of Gil Scott Heron is one of the most important releases of his career as the vocalist was able to utterly transform such iconic material in the way only Gates can. He is the torch bearer for passing on the nuances vocalese to new generations, particularly since the passing of the late great Jon Hendricks.
His impeccable swing and rhythmic sense has allowed him to climb to the top of the pack of male vocalists, where he has a deep interest in exploring classic jazz repertoire especially from the bebop era.  In a 2017 interview, Gates remarked that he wasn't interested in singing tunes like "My Funny Valentine" because for him Chet Baker's version was definitive, instead wanting to see what he could do with material like  Monk's "Epistrophy"  as an example.  Telling a tale spiced with his signature sharp humor he explained that during the sessions for Fly Rite (Sharp Nine, 1998) his second date as a leader, the drummer for the album, the great Ben Riley (who replaced Frankie Dunlop in the Thelonious Monk Quartet) was so impressed that a vocalist would handle tunes  typically  the domain of instrumentalists.  Further, Gates is a strong believer in  the apprenticeship system, where band members truly learn on the job, cutting their teeth on the language of jazz in a way that is truly unique.  He will extol these virtues during his masterclass, which will include topics like the history of vocalese, breathing, picking the right keys, telling a story through lyrics and performance and many other topics.  For those who wish to go beyond this class, the New York Jazz Workshop offers vocal oriented courses for beginner, intermediate and advanced students with a world class faculty including Jocelyn Medina, Fay Victor and Olivia Foschi.
Mr. Gates' masterclass is on May 19th.